Sautéed Onion, Bacon & Thyme Pie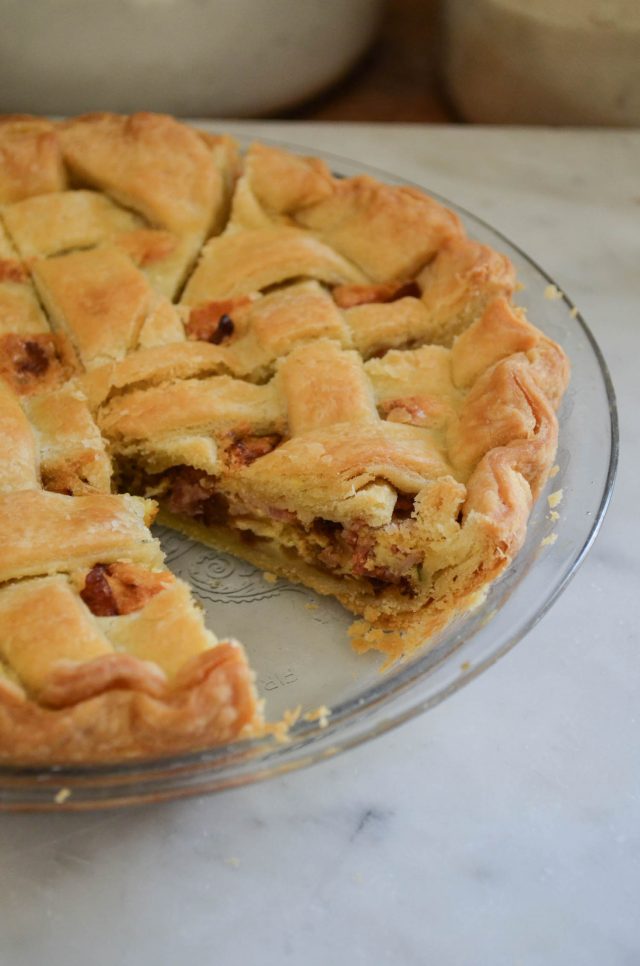 This week has been more savory than sweet pies, except for an Apple Strawberry Cardamom pie I made early in the week. After the epic Pizza di Ricotta Dolce baking sessions last week, I'm kind of okay with a few savory pies, three actually is where the tally for savory pies is at this week (I know, that surprised even me!).
This Sautéed Onion, Bacon & Thyme Pie kicked things off. I really wanted it to be caramelized onions but didn't have the patience to wait for onions to properly caramelize. The trick is cooking the bacon first, and reserving some of the oil released from the bacon to cook the onions, herein after referred to as cooking grease, which unnerves me to no end, but that is the best way to describe it really.
I toyed with the idea of adding cheese to this filling, but only had cheddar in the house, and really didn't want cheddar in here. I wanted a more sophisticated flavor profile, something you'd serve at an elegant brunch, not a weeknight dinner. So, cheese was off the table. I remembered the thyme had wintered over nicely, and picked a few sprigs from the garden.
On first taste, the thyme was barely noticeable. I'd made a mental note to tinker with this pie again in the future, and you were all very close to not hearing about it this soon. Then I was hungry the next afternoon, realizing I'd forgotten to eat breakfast. And I was too busy to even heat up a slice of the pie, so I did what any normal savage would do, and ate it cold from the fridge.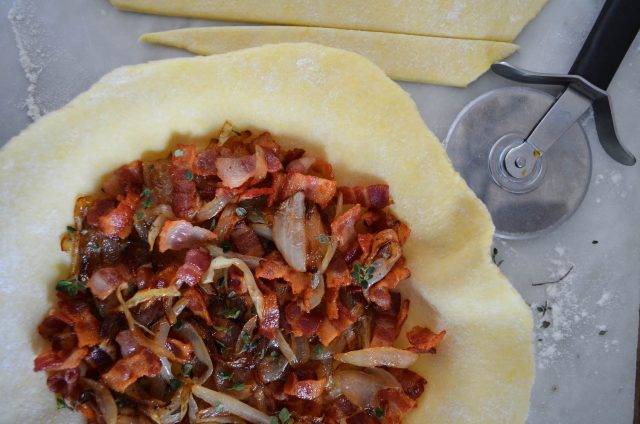 It's very unlike me to do such a thing, but it turned out to be the best decision ever. No joke. Not only was it delicious cold, but the thyme was more pronounced the next day. So, two important takeaways here—this pie is great for picnics because it doesn't need to be hot, or even warm to enjoy, plus it's a great make ahead dish because the thyme needs time to kick in.
There's a bit of egg in here, but just one, enough to keep the filling together, but not enough to even qualify it as a quiche. I suppose if you're avoiding or allergic to eggs, you could add some flour or cornstarch to the filling to help bind it. Let me know if you decide to give that a try.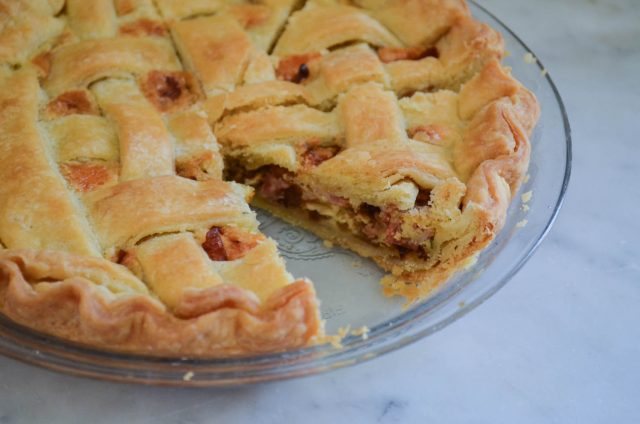 Sautéed Onion, Bacon & Thyme Pie
Ingredients
7

slices

of bacon

coarsely chopped

1

medium onion

sliced

1

tablespoon

butter

Sea salt & freshly ground black pepper

1

egg

1/4

cup

heavy cream

Few sprigs of fresh thyme

leaves only, discard stems

1

recipe Best Savory Pie Crust

recipe here

1

egg

lightly beaten with a splash of milk or cream
Instructions
Preheat the oven to 425ºF (220ºC).

Add the bacon to a 10-inch skillet over medium-high heat (no need to preheat the pan). Cook until crispy. Use a slotted spoon to transfer the bacon to a paper-towel lined plate. Spoon off all but 1 tablespoon of the bacon grease (see note).

Add the onions and butter to the pan with the remaining bacon grease, and reduce the heat to medium-low. Season with salt and pepper. Cook, stirring occasionally, until the onions are softened and deeply golden, 8 to 10 minutes. Set the pan aside, and let the onions cool for a few minutes.

Whisk the egg and cream together in a medium bowl. Season with salt and pepper. Stir in the onions, bacon, and thyme.

Roll out one of the pie crusts into a 9-inch circle. Fit it into an 8-inch pie plate.

Spread the filling into the dish.

Roll out the remaining crust into an 8-inch circle. Cut into 10 strips. Lay 5 strips an even length apart from each other over the filling. Lay the remaining strips on top in the opposite direction (perpendicular to the first set up strips).

Trim the edges of the crust, and flute, or crimp closed as desired. Brush the top of the pie with the egg wash mixture.

Bake for 15 minutes, then reduce oven temperature to 350ºF (180ºC). Bake for 23 to 25 minutes, until the crust is golden, and filling bubbly. Let cool for at least 5 minutes before serving, but also lovely eaten at room temperature.

Use It Up: Bacon Grease 101

Like any other oil, leftover bacon grease can be used to sauté, but it has the added benefit of infusing a smoky, porky flavor. It seriously ups your popcorn game if you use it to pop the kernels on the stovetop. It's also the secret ingredient to my chili. I keep a jar in the fridge, and add to it whenever I make bacon.