Smoky Potato Spinach Soup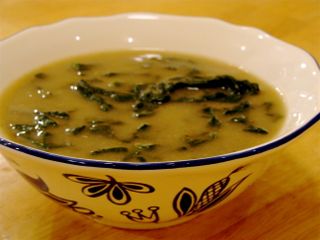 Some potatoes sitting on my kitchen counter and the need for a quick dinner option this past Sunday inspired this recent post I wrote for the Cuisinart Stand Mixer blog. If you haven't checked it out, then make that your next stop after reading this post. I write regularly for Cuisinart and am moderating a group for them on Facebook, so come on over for a visit anytime.
With a few potatoes, fresh spinach and chicken stock, I had the beginnings of something good. I started by sautéing some chopped onions in a bit of extra-virgin olive oil, then thought bacon would add a nice smoky depth of flavor. Had it occurred to me sooner, I would've cooked the bacon first and reserved some to sprinkle on top, which is what I did the next time I whipped it up (and I've written the recipe that way too). But, for the first go-round, I just tossed a few chopped up slices in with the onions and a clove of garlic and sautéed them until the bacon was crisp and the onions softened. In went the potatoes, skins on since I knew I'd be pureeing it anyway, along with the stock and salt and pepper.
I returned the pureed mixture to the pot and added a bunch of chopped spinach. It may feel like a lot at first, but it cooks down significantly. Just about 30 minutes later, the Mr. and me settled in for a delicious meal of Smoky Potato Spinach Soup with a mixed green salad and cheeseboard. Sometimes the simplest of meals are the most satisfying.
Smoky Potato Spinach Soup
The trick to getting a smooth, velvety consistency is pureeing it in the blender attachment of your Cuisinart Stand Mixer.
Serves 4
1 tablespoon extra-virgin olive oil
4 slices bacon, chopped
1 small onion, chopped
1 clove garlic, smashed
8 small new potatoes (about 1 pound), halved
4 cups chicken stock
Salt and freshly ground pepper, to taste
4 cups packed chopped spinach
1. Heat olive oil in a 4-quart pot over medium heat. Add bacon and cook until crispy. Using a slotted spoon, transfer to a dish; set aside. Add onion and garlic to the pot and sauté until golden. Add potatoes and stock; season with salt and pepper. Bring to a boil. Reduce to a simmer and cook until potatoes are tender, about 15 minutes
2. Pour mixture into the blender bowl attachment of your Cuisinart Stand Mixer. Add bacon (reserving some for garnish if you like) and puree until smooth. Return soup to pot over medium-low heat. Stir in spinach and cook until it is wilted, about 5 to 10 minutes more. Sprinkle with bacon if you reserved some before serving.