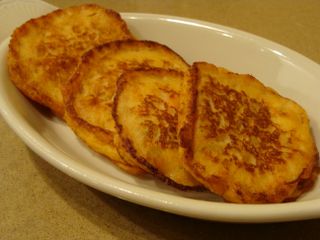 Perhaps the recession has a silver lining. I'm normally a "waste not, want not" sort of gal but heed that cliche especially so these days. Lately, I've been having lots of fun with sweet potatoes. I start out by baking up a bunch once a week, then let the creative juices flow.
So far I've made Sweet Potato Cheddar Muffins, these yummy Sweet Potato Pancakes pictured above, added a dollop to the kids' mac n' cheese a la Jessica Seinfeld and Missy Chase Lapine, and have plans to try out some sweet potato gnocchi. And that's just the beginning.
Sweet Potato Pancakes
Makes about 12 "silver dollars"
1 cup flour
2 teaspoons baking powder
1/2 teaspoon salt
1/2 cup sweet potato puree
2 tablespoons melted butter or canola oil
1 large egg, lightly beaten
Butter for the skillet
1. Whisk flour, baking powder and salt together in a medium bowl. Beat sweet potato, butter and egg with fork until well mixed. Pour over flour mixture and stir with a fork until just combined (it'll be slightly lumpy).
2. Melt a bit of butter in a non-stick skillet over medium heat. Drop teaspoonfuls of batter onto skillet and be patient. The pancakes will be ready to flip once bubbles start to form on top. Cook another minute or two and serve hot. (Alton Brown has a great technique for making pancakes if you're wondering how to know when the griddle it hot enough, etc. I saw him demo it at last year's NYC Wine & Food Festival —a real treat indeed).