spinach ricotta potato pancakes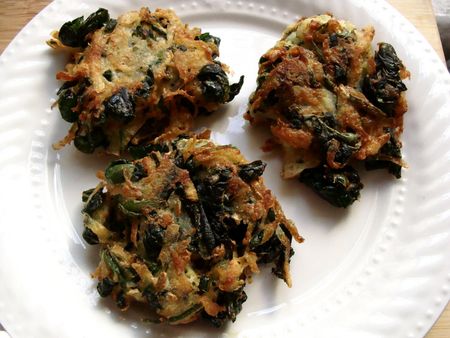 Ever since Olga told me about her recipe for latkes, I've been obsessed. The recipe was actually one she adapted from Martha Stewart and, it turns out, the key to a really crisp latke is putting the starch back into the potato. Genius, isn't it?
This recipe is kind of dedicated to Olga—but I'm not calling it a latke. Why? Simple. Out of respect for Olga. In her purist mind, latkes are only made with potatoes. And a good starchy white potato at that. Frankly, I'm a former Catholic school gal, and while I'm known for putting together a lovely seder for my Jewish mother-in-law, I'm by no means an authority on Jewish cooking. So, I defer to Olga, and it is her opinion for which I have the utmost respect.
How exactly did I make the leap from latke to potato pancake? Well, I was strolling through the supermarket recently, craving some recipe inspiration. I needed a few new tricks for getting vegetables into the kiddies. They used to love broccoli, but I've fallen into the trap of giving it to them too often. I became complacent with the easy way out, and hopefully I haven't turned them off for good. I figured before I went down this same road with peas, it was time to think fast. I can't blame them really. They've been troopers, and have been quite polite concerning the matter. Honestly, if someone had tried passing off any food, besides chocolate, that many days in a row, I'd probably tell them where to shove it.
That's when I spied the pack of spinach in the frozen food aisle. Before you gasp and wonder if I've fallen out of love with the Greenmarket, you should know that frozen veggies are actually a great way to enjoy out-of-season produce. The wheels started turning, and it all happened so fast, that next thing I knew I was home making fresh ricotta and grating potatoes into a a bowl of ice water (look at all that lovely starch in the bowl below).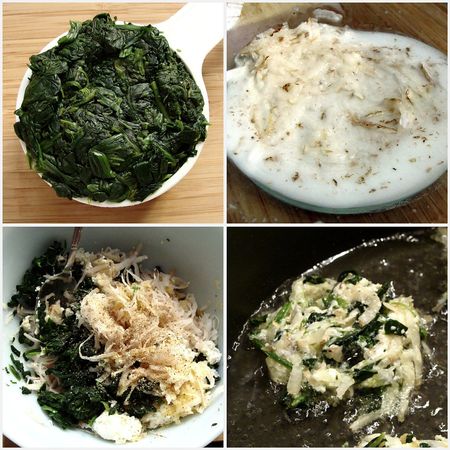 Like Olga, I much prefer to grate my potatoes by hand. The texture is rustic and makes for a more delicate latke, ahem, potato pancake. It also ensures capturing all that much needed starch. It takes as much time as cleaning the food processor too, though if I were making these for a huge crowd, I might feel differently.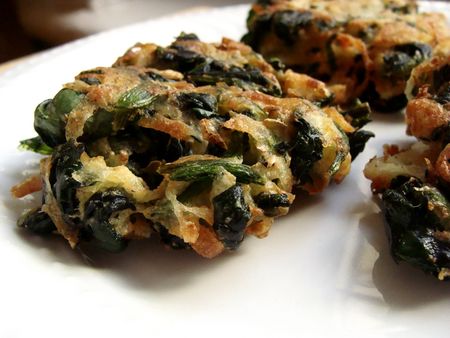 Why the ricotta? Well, you already know I'm obsessed with that too. Yes, most of my obsessions are food-related. Maybe a fishing pole rigged with treats above my elliptical fitness trainer is the incentive I need to get into a regimented workout. Anyway, eaten within minutes from the skillet, the warm pockets of ricotta are enough to make my toes wiggle with excitement. The kids and Mr. loved them just as much, and I can't wait to try them out with fresh spinach when it starts popping up at the farmers' market.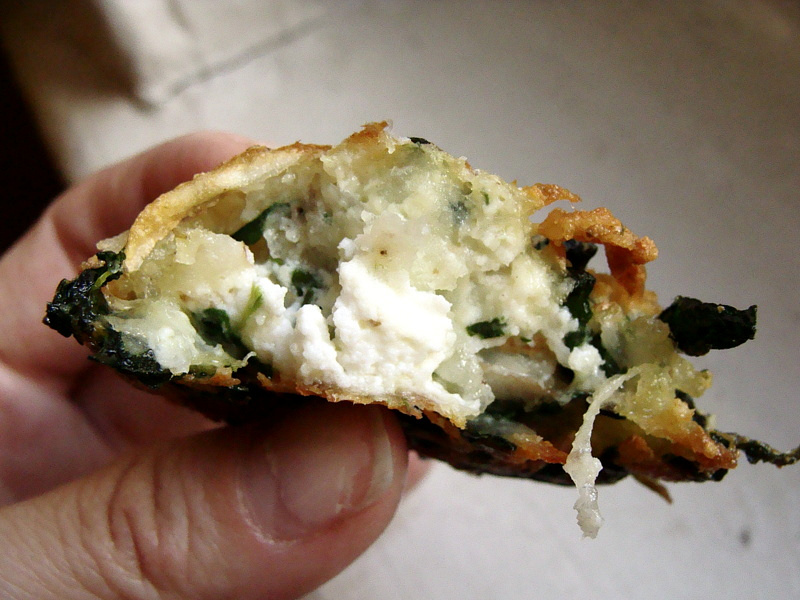 Spinach Ricotta Potato Pancakes
makes 10 to 12
1 large russet potato (10 ounces), peeled
1/2 cup packed, very well-drained steamed spinach, chopped
1/2 cup fresh ricotta (recipe here)
1 large egg, lightly beaten
2 tablespoons freshly grated Parmesan cheese
Salt and freshly ground pepper, to taste
Pinch of freshly grated nutmeg
Fill a large bowl with ice water. Using a box grater, shred the potatoes into the bowl of ice water. When done, use a strainer or slotted spoon to transfer potatoes to a kitchen towel; gently squeeze dry. Let reserved liquid sit for 10 minutes so the starch can settle to the bottom.
Meanwhile, mix the spinach, ricotta, egg, Parmesan cheese and ricotta in a deep bowl. Season with salt, pepper and the nutmeg. Carefully pour off the water from the "starch" bowl, reserving the starch. Spoon the starch into the bowl with the spinach mix. Add the shredded potatoes and stir to combine.
Fill a skillet with 1/4-inch of canola oil and heat over a medium flame. Drop generous tablespoonfuls of the spinach-potato mixture into the heated oil. Cook until golden, about 4 to 5 minutes, then flip and cook for another 4 to 5 minutes until golden on other side. Transfer to a parchment or paper towel-lined baking sheet to drain. Sprinkle with a bit of sea salt immediately, if desired. Serve warm.
Note : These also reheat with delicious results in a preheated 350º oven for about 6 minutes, turning halfway through cooking time. If you really want to plan ahead, make a double batch and freeze the cooled leftovers, stored in a zip-top plastic bag. I'd also suggest these for brunch parties instead of roasted potatoes or homefries since they're an easy make ahead dish.