A New Way to Make Basil Pesto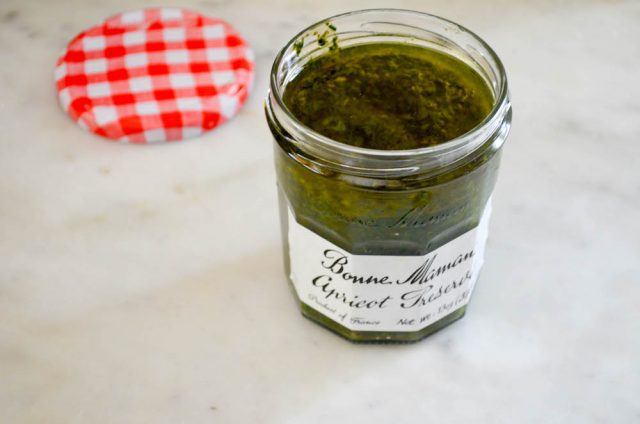 We should get one minor (maybe major?) detail out of the way upfront. This isn't really pesto, per se. It's a deconstructed idea I had to preserve the copious amounts of basil that needed rescuing from the garden recently. Think of it as a blank basil canvas, a springboard of sorts, for you to take basil in whatever direction you want, or need for a given recipe.
I'm still working my way through a small jar of pesto I made earlier in the summer. I wasn't ready to add to the stockpile in the fridge, but harvested so much basil a few days ago that I had to think quick. I wanted something that could ideally hang out on the kitchen counter, for a few weeks at least, until moving it into the fridge. 
This was yet another reason to abandon the idea of a classic pesto, since that has dairy in it and requires refrigeration. I had a long list of things to accomplish in the kitchen that day, and didn't want to add toasting nuts to the juggle—how quickly they go from just right to perfectly burnt when a close eye is not kept. So, no nuts. Two hallmarks of pesto were gone. And yet, I'm still calling this a pesto, of sorts. Perhaps I should call it pesto* or "pesto"?
This is what we do have in this herby concoction: fresh basil, garlic, salt, and olive oil. See what I mean? A pesto, of sorts. Half the oil goes into the food processor to make the pesto, and the other half is poured over it in the jar. By adding a thick slick of oil to the top, it protects the basil from air, preventing spoilage, an herby confit.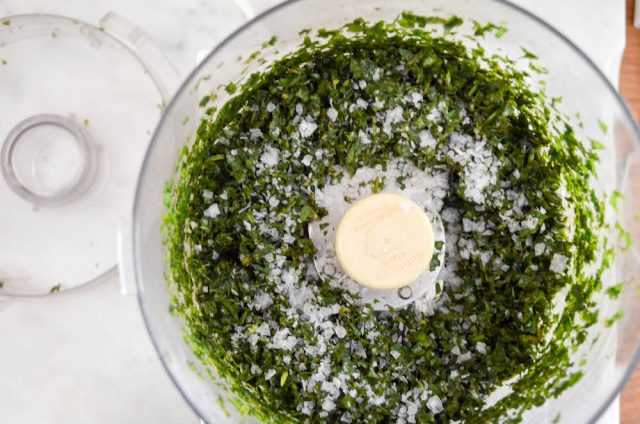 So, what can you do with this exactly? Well, if you want a vegan pesto, all you need to do is toss some with hot, cooked pasta (you can add some of this vegan parmesan if you like). You can also add a spoonful to marinara sauce in lieu of fresh basil once summer fades into fall. It would be lovely as a garnish in this, this, or this soup, too.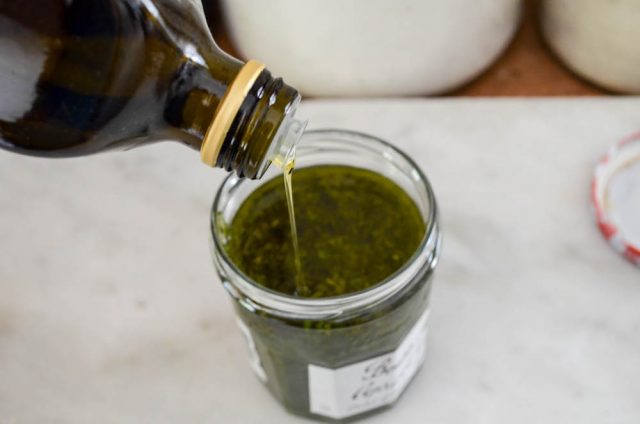 And if you do want to indeed make a full-fledged pesto, most of the work has already been done. Pound some pine nuts, walnuts, or pistachios with a mortar and pestle (or finely chop by hand). Stir them, along with some freshly grated pecorino, into some of this basil mixture, and it's an instant pesto. So many possibilities depending on your mood.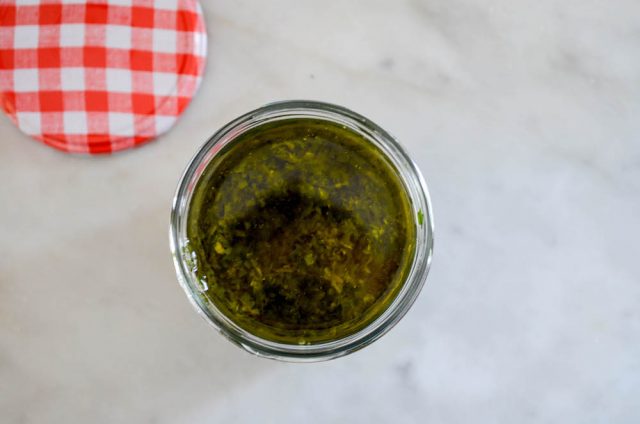 Eight Years Ago Fried Green Tomatoes, Peach Raspberry Tart, and Trutas.
Seven Years Ago Freezer Preserved Tomatoes, Cantaloupe Cooler, Peach Blueberry Cobbler Cake, Pickled Jalapeno Watermelon Rind, and Ginger Soy Marinated Flank Steak.
Six Years Ago 60-minute Chicken Stock, Cherry Slushies, and Perfect Pancakes.
Five Years Ago Crispy Baked Eggplant, Homemade Corn Broth, and Smoky Watermelon Gazpacho.
Four Years Ago Easy Peach Jam, Peach Allspice Muffins, Lemon Blueberry Scones, and Day 742.
Three Years Ago Minty S'mores Milkshakes, Cantaloupe Sorbet, Crispy Buttermilk Fried Chicken, and A Clean Slate.
Two Years Ago Roasted Beet Greens, Seriously Delicious Ribs, and Homemade Vegan Ricotta.
One Year Ago No Cook Tomato Basil Sauce, Crispy Baked Kale Chips, Zucchini Oatcakes, Sweet Butter Pastry Crust, Peach Blueberry Tart, Quick Pickles, and Pork Fried Rice Salad.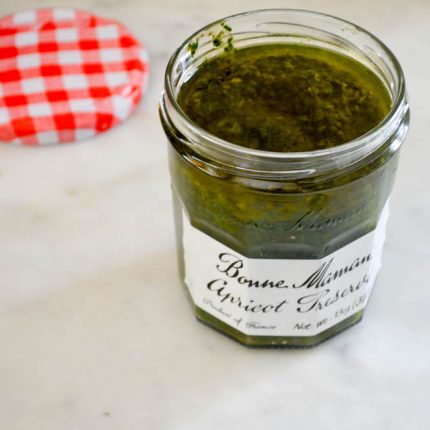 Basil Pesto, of sorts
Ingredients
A basketful of fresh basil leaves

or as much basil as you can cram into a 9-cup food processor

2

garlic cloves

peeled

1

teaspoon

sea salt

1

cup

extra virgin olive oil
Instructions
Add the basil and garlic to a food processor. Pulse until it breaks down, you may need to scrape the sides once or twice.

Add the salt. With the processor on, drizzle in half the olive oil.

Spoon the pesto in a jar. Top with the remaining oil (do not stir).

Store at room temperature, adding oil as needed to keep the basil submerged.
SaveSave
SaveSave
SaveSave