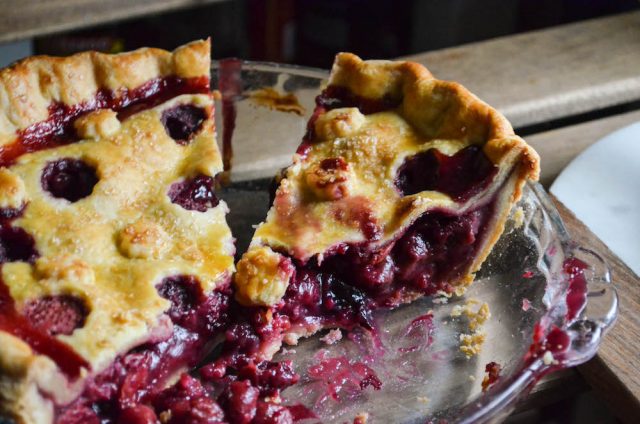 I've been meaning to share this Cherry Berry Pie recipe since I first made it a week and a half ago, but got sidetracked with life. And now, it feels rather silly even writing about pie considering what's going on in our country, and the world beyond our borders. Some days I just can't wrap my head around it all.
It feels like we're entering a period of mourning here in the U.S. for our freedoms. During the election someone told me to stop whining because as a woman in the U.S. I had more freedoms than many other women around the world, citing the Middle East as an example. Our rights are starting to feel more like illusions, though, caught in the clutches of a Republican majority that has little, or no, regard for human rights.
In some cultures the barriers are out in the open, oppression set forth plainly. What's happening in the U.S. is more covert, the protections between separation of church and state eroding as Republicans assert their religious ideologies on the country as a whole. They are anti-choice, not pro-life, when imposing their religious views on women's reproductive choices. They are xenophobic, not pro-life, when they close borders to refugees.
I don't have any solutions, but I have pie. The ritual of making it has been a constant I need these days. I found a stash of cherries in the freezer from last summer, a mix of sour and sweet ones. I didn't want to use them all on one pie, so decided to save some, and mix them with a variety of berries I found in the freezer, too. There were some blackberries, blueberries, and I think raspberries. I let the cherries thaw just enough so I could pit them. If you're in a climate where berries are in season, fresh will work fine, so go for it.
The filling is quite simple, but the first bite whisked me away to a moment last July when life felt a little more hopeful…when we still had a president who represented honor and integrity, and it seemed our country was moving towards growth, not regression.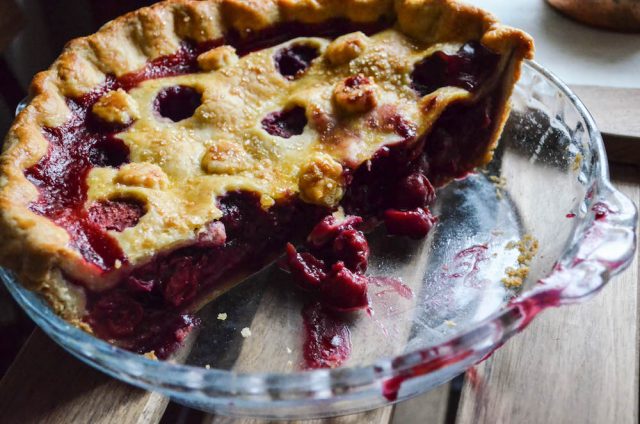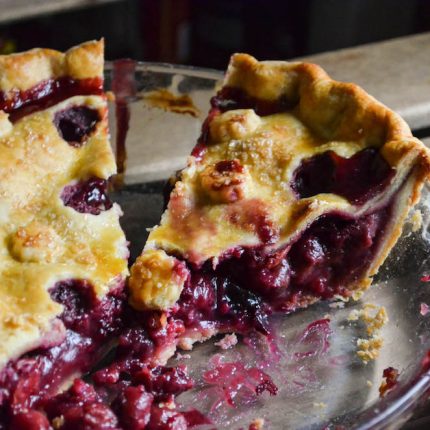 Cherry Berry Pie
If using frozen berries as I did, allow an extra 15 minutes for the pie to bake, for a total of 55 minutes once reducing the temperature to 350ºF (180ºC).
Ingredients
4

cups

1.25 kilos pitted cherries & mixed berries

3/4

cup

150 grams granulated natural cane sugar

Freshly squeezed juice of 1 lemon

1/4

cup

37 grams flour

One recipe for Foolproof Piecrust

recipe here

1

egg

lightly beaten with a splash of milk or cream
Instructions
Preheat the oven to 425ºF (220ºC), with the rack adjusted to the lower middle setting.

Add the cherries & berries, sugar, lemon juice, and flour to a deep bowl. Stir until well combined. Set aside.

Roll one piecrust out into a 10-inch circle. Gently press it into a 9-inch pie plate (not deep dish).

Spoon the filling into the piecrust.

Roll the remaining crust into a 9-inch circle. Drape it over the filling. Use a scissor to trim the edges, if needed. Pinch the seams of the top and bottom crusts together to seal them. Crimp the crust into a design, or press the edges with the back of fork.

Brush the top with the egg mixture. Using a sharp paring knife, make a few slits in the top to create air vents so the pie can "breathe" as it bakes.

Bake for 15 minutes, then reduce oven temperature to 350ºF (180ºC). Bake for 35 to 40 minutes more, or until the crust is golden, and juices are bubbling from the filling. Let cool at least 2 hours before slicing.