Strawberry, Mint & Sesame Seed Brittle Oatmeal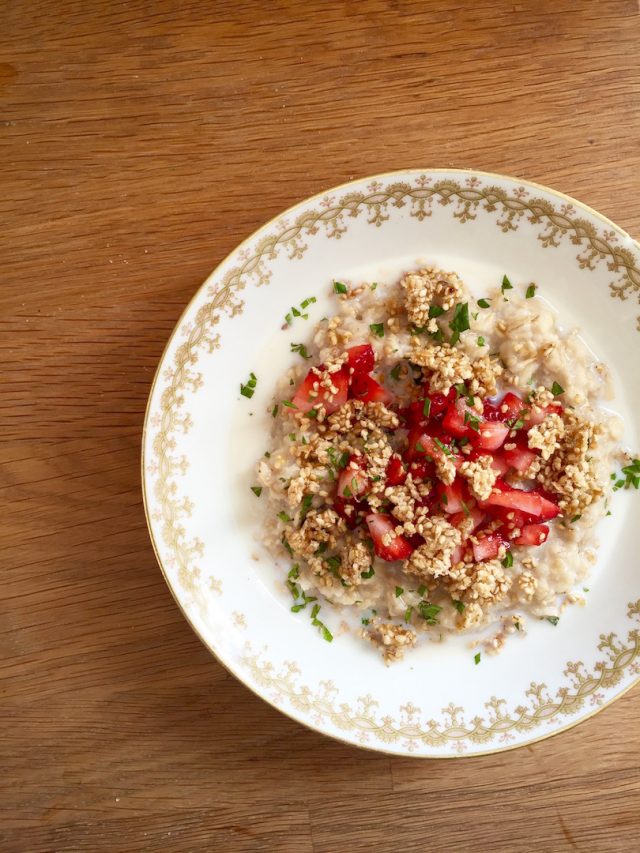 Last week I gave my oatmeal the most spectacular makeover. I put up a small pot of old fashioned oats—just a combination of water, oats, pinch of salt, and a place of vanilla extract. While the oats were cooking I had the idea to do something different. After all, if I was consuming carbs, I wanted them to fee more special than just a plain old bowl of oatmeal.
I had some strawberries in the fridge. That was a good start, but not special enough. Peeking out from under the cabinets, tucked on top of a mason jar was a bag of sesame seeds. I absolutely love sesame seeds, more than words can adequately express. They would need some oomph, though.
What to do…brittle! I know, stay with me here. Candy in oatmeal—how crazy does that sound? Well, when you think about it not more crazy than adding another sweetener like maple syrup or cane sugar. The brittle would also give it some crunch. It needed something more, still. This was Sunday after all, and if I wasn't putting up a lavish brunch with biscuits, bacon, and jam, then my oatmeal needed a little more gussying up.
I thought about what herbs were working they're way back to life in the garden alongside the house. Mint is a work horse, and weed, all at once. I plucked a few leaves, chopped them up, and my oatmeal went from humble to hello! in less than 10 minutes. I'm sharing a rough recipe with you below. Don't worry about being too exact here, although I do plan to share a more put together sesame seed brittle recipe some time in the future. For now, there are bigger things to be crossed off my To Do list. I know you'll still be able to enjoy a comforting bowl of oatmeal that manages to make you feel like a king or queen on an ordinary Wednesday morning (or any day of the week you choose to make it).
Strawberry, Mint & Sesame Seed Brittle Oatmeal
Serves One
What You'll Need:
Oatmeal, cooked to your liking
Granulated cane sugar
Hulled Sesame Seeds
Strawberries
Fresh Mint
To Make:
1. Make your favorite plain oatmeal recipe. I just use water, oats & splash of vanilla extract. No sweetener.
2. Add a bit of sugar, let's say 1 teaspoon (I just eyeballed it), to a non-stick skillet over medium-high heat. Let it cook, without shaking or stirring pan, until sugar melts. Toss in a few generous pinches of toasted, hulled sesame seeds. Now give the pan a shake to coat. Add in a splash of water. Shake the pan again, remove from heat, and let sit so it can harden.
3. Chop up strawberries & fresh mint.
4. Add oatmeal to bowl, top with strawberries, mint, and sesame brittle (you'll likely need to scrape it out of the pan with a rubber spatula).
5. ENJOY!