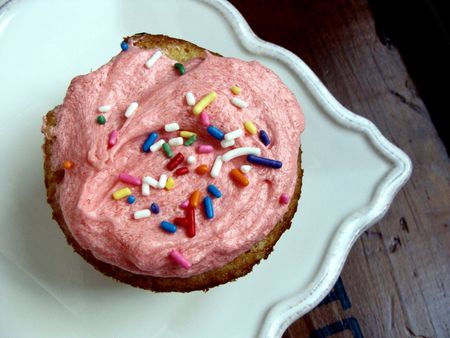 As the sun's rays streamed into the living this morning, Virginia curled up in my lap. I secretly hoped it was the sign of a good week to come. I asked if she wanted to bake today, and she promptly replied "pink cake". So,  it was decided. We would be making cupcakes today…just because.
Lord knows I could've use these last week.
It was a tough one. The anniversary of my father's death is one I anticipate. I have 364 days to prepare, yet once the actual day dawns, my world comes crashing in. The ache in my heart balloons, filling me with infinite sadness from which I know I'll never be free. It sits there, dormant most times as I busy myself with life's to-do list.
There's something about the melancholy that strikes me particularly on the day, which incidentally has been stormy ever since the day we buried him. What was different about this year, though, is I realized why it's so difficult a day. The answer is not the obvious one. The loss of a loved one, your father, the man who's genes make up 50% of your own.
No, those aren't the real underlying causes for the grief I still experience.
My father and I had a very estranged relationship the years leading up to his death from pancreatic cancer. Years of alcoholism and abuse—towards my mother and sister, not myself (why do I always feel the need to point that out?), had battered whatever bonds had been hanging on by a thread.
The last Christmas Eve he was alive he called, and asked to see me. I flat out told him he didn't deserve the right. It was two weeks later that I learned he was dying.
Much of the remaining weeks are a blur, and the details etched in my mind are ones I wish would go away sometimes. Not always. Just sometimes to give me peace.
Each year that passes reminds me another of my own living has passed, and my list of dreams is getting longer while my time here gets shorter. Perhaps I wouldn't feel this way if my dad had died an older man. But he didn't. He was only 49 years old, and lived most them a tortured soul.
Why am I bringing any of this up?
Partly because this article triggered the feelings brooding inside at the moment.
I'm tired of people extolling their mighty opinions without a care for the people left when the dust settles. What a lovely world it must for reviewers to live in, where their opinion is all that seems to matter.
After reading Neil Genzlinger's article, I wondered what fellow bloggers would think about themselves. Would they start to scrutinize every word for proof that they discovered something about themselves or their lives in each blog post?
Genzlinger may have been talking about memoirs specifically, but isn't that what so many blogs are in some way? A chronicle of our lives, presented in our own words. Mine just happens to be peppered with recipes.
Is there any point to this post? Should I have kept it as a draft? Is it worthy of your time to read? Well, only you can decide that answer for yourself.
Will I regret publishing some random rambling? Maybe. Maybe not. But I've never lived my life worrying what others think, so why start now? All I can say is thank you for sticking with me. For giving my words meaning in your own life. And if whether they help heal your heart or get dinner on the table, then I am one step closer to realizing my own dreams.
Now, it's time for me to let your process your own thoughts. Mine have turned to the sprinkled speckled pink frosted cupcakes Virginia and I made today. She's a bossy little gal in the kitchen, and these were her creation come to life. Determined, demanding and never willing to settle for anything less than her heart's desire.
I can't imagine who she takes after.
golden vanilla cupcakes
makes one dozen
Something happened when I dabbed a bit of batter into my mouth when I developed this recipe last year. One swipe of the spatula and I was whisked away to a memory of licking the beaters when I was a kid.
Crazy as it sounds, it reminded me of  the boxed stuff, sans the chemical aftertaste.  My mom may not have been Betty Crocker, but she always made sure we had a birthday cake. Who cares if it was from a box—this is one case where it was the thought that counted.
So, I consider this homemade batter the best of both worlds. 
p.s. these directions may seem contrary to everything you've been told about making cakes. The wet and dry ingredients are added together, the batter is beaten on high speed—something we've all been told is a no-no for light and airy cakes. Well, just trust me here and you'll be rewarded with the most delicate crumb imaginable.

1 1/3 cups (5.75 ounces) all purpose flour
2 teaspoons (10 grams) baking powder
1/4 teaspoon (2 grams) sea salt
1 teaspoon vanilla extract
3/4 cup (168 ml) milk
8 tablespoons (4 ounces) butter, softened
3/4 cup (6 ounces) sugar
2 large eggs
Preheat oven to 350ºF. Fill a 12-cup muffin tin with paper liners; set aside.
In a small bowl, whisk together the flour, baking powder and salt until combined; set aside.
In a small measuring cup, whisk the milk and vanilla together until combined; set aside.
In the bowl of a stand mixer, beat the butter and sugar until light and fluffy. Add the eggs and beat again until light and fluffy. Scrape down the sides of the bowl with a rubber spatula.
Pour in the milk and flour mixtures, and starting on low speed, mix until dry ingredients are combined into the wet ones. Turn speed up to high and beat for 10 seconds. Scrape down sides and beat for 10 more seconds.
Evenly spoon batter into the prepared muffin pan. Tap pans on the counter to remove any air bubbles. Bake for 20 to 22 minutes, until tops are golden and a metal skewer inserted in the center comes out clean.