Butterkekse Cookies & Classic German Baking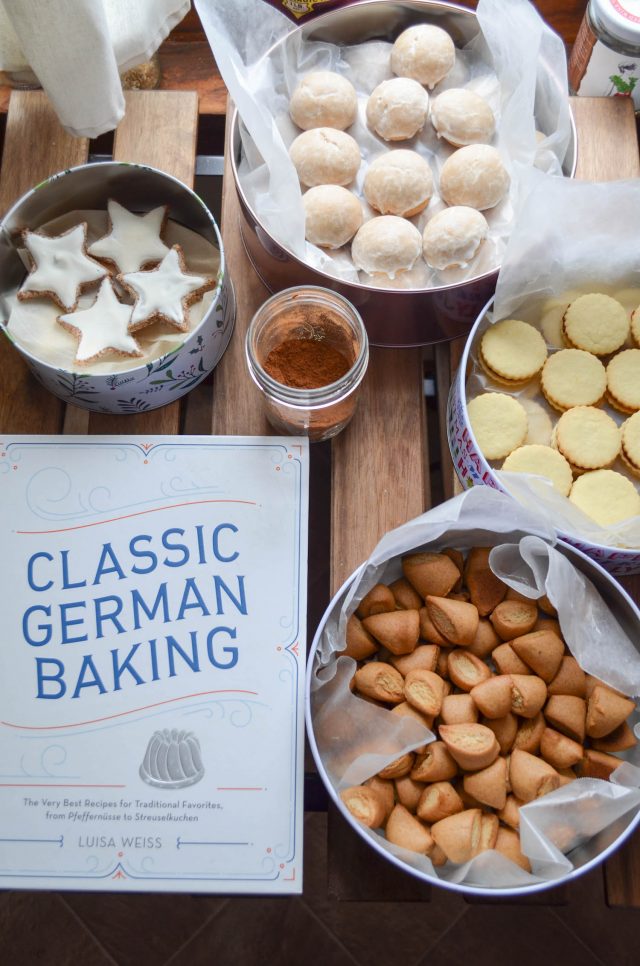 Folks, I'm really not sure where to start. If this is how I feel just writing about Classic German Baking, I can only imagine the magnitude of undertaking the topic Luisa Weiss felt as she set out on her journey to write this beautiful book. Were I to give this book a proper part of my day to write about it, we'd need to add more than the 24 currently allotted.
Classic German Baking arrived just in time to get cozy with it over the Thanksgiving holiday. In the days leading up to my mini at-home vacation, I'd curl up with the book before bedtime, reading the thoughtfully written headnotes. Each recipe has a story that compels you read them in order, every page trickling into the next to tell the story of German life through sweets, confections, and yeasted treats (and a few savory ones, too).
And frankly, it provided just the escape I needed after the election. I'm feeling the ache of it all again tonight as I write. We're leaving in a few days for Europe, and all I can think about it how close we'll be to a world where Donald Trump is really president when we return on January 5th. I'm not sure how to balance that reality with trying to unwind, relax, and enjoy our vacation. It all feels like one big illusion.
Immersing myself into the world of Classic German Baking has been one way to combat these feelings the last few weeks. The holiday spirit has been hard to channel the last few years, well, six years to be precise. That all changed from the moment I opened Luisa's cookbook. This is not just merely a collection of recipes. It's a record of Germany past and present. The stories of old, family bakeries struggling to survive amidst less expensive mass produced pastries is one I can relate to from my old Brooklyn neighborhood. As I write, I've the urge to visit my beloved Carroll Gardens neighborhood for fear that Court Pastry will be closed next time I visit.
But I digress, as you might be used to by now.
I've been baking my way through Classic German Baking this Christmas season. Never in my life have I baked a Pfeffernüsse as perfect as the ones from Luisa's book. For starters, the recipes I've made in the past were all covered in powdered sugar, as were the packaged ones my mother bought when I was a kid. This recipe delivers a springy, light cookie cloaked in a glaze that crackles ever so slightly when you bite into it.
Biberle are a new-to-me treat that I wonder how I've lived my whole life without ever tasting them. Imagine sweet almond paste wrapped in a thin, crisp (but not too crisp) layer of gingerbread. And while the Zimtsterne didn't come out as I'd hoped (or how they were described in the book), they were a fast favorite with the kids and their friends. If I make this recipe again (it's easy, but very time intensive), I'm going to bake them at a lower temperature for a longer period of time to help the meringue topping really crisp up. Mine stayed too soft, more like a stale marshmallow topping, which sounds rather awful but if you've ever had a stale marshmallow, then you know it's not so bad.
And then there's the Zuckerkuchen, not pictured because we ate it faster than I could grab my camera. Again, I ask, how can such a delightful sweet, yeasted cake (think dessert-like focaccia) have existed without me knowing? The yeasted doughs are hearty ones requiring patience, and some upper body strength to knead. I found mine needed a bit more liquid, too, 2/3 cup milk compared to the 1/2 cup called for in the recipe. I don't see this as Luisa's error, rather a difference between European flour vs. American flour. For that reason, I'd say the yeasted doughs, be them sweet or savory, are not necessarily for beginners.
Working with yeast and bread doughs is something you learn by doing. You know when the dough is just right by feel. You know that on hot, humid days you might not need as much liquid, and on cold days you might need to add more, or scale back on the flour. Yeast is a humbling experience, and not one I would say you shy away from, but be prepared to have an intimate relationship with whatever it is you're making. It's an interdependent one, requiring an understanding of what the dough feels like when it's ready.
Easing in with the cookies is a good entry point, and that's why in deciding what recipe to share from the seven I've made so far, I settled on the Butterkekse. They're not pictured here because I gifted the last batch I made to friends before I had the chance to snap a photo.
Luisa describes these as synonymous to German childhood as animal crackers are to American children. I thought that an interesting comparison because Butterkekse are simple butter cookies, except they're not buttery at all. The reference kicked into place with the first bite. Not too sweet. Not too buttery. A cookie that tows the line ever so perfectly. Baker's ammonia is key here to achieve the snap these cookies offer when you bite into them. I suggest ordering some before you buy the book so you can get straight to baking some recipes the moment you have the book in hand.
Butterkekse will undoubtedly be a frequent member of our cookie jar, as will so many of Luisa's recipes for years to come. I rarely buy cookbooks which may come as a shock to some of you, but truthfully, so few live up to the reliable and well-written standards I look for in a cookbook. Luisa delivered on both fronts.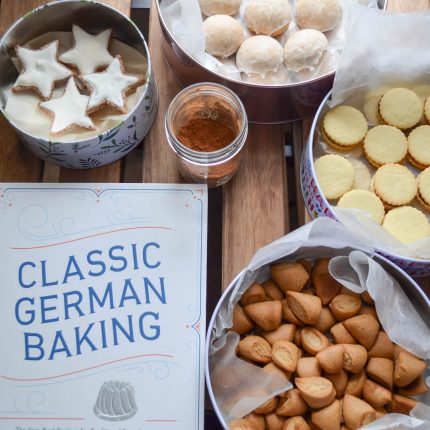 Butterkekse Cookies & Classic German Baking
Slightly modified from Classic German Baking by Luisa Weiss
I scaled the flour back a bit, and increased the heavy cream. I think this subtle change was necessary due to the differences in working with European flour vs. American flour. I also found my dough only needed 15 to 20 minutes of chilling, not the hour recommended in the book. Lastly, yes, I'm sharing this recipe mostly in metric. If ever there was a time to finally embrace baking by weight, now would be it.
Ingredients
175

grams

flour

45

grams

cornstarch

90

grams

confectioners' sugar

Pinch

of sea salt

Pinch

of baking soda

1/4

cup

60 ml heavy cream

1/8

teaspoon

baker's ammonia

1/4

teaspoon

vanilla extract

60

grams

unsalted high-fat

European butter, cut into small pieces
Instructions
Add the flour, cornstarch, sugar, salt, and baking soda to a deep bowl. Whisk to blend.

In a small bowl or measuring cup, combine the cream and baker's ammonia. Stir to dissolve. Add to the bowl with the flour, along with the vanilla extract and butter.

Using your hands (trust me on this, folks), stir the mixture together until it forms a scraggly looking dough. Continue to knead in the bowl until it comes together into a smooth dough. The whole thing transforms within a few minutes. Wrap the dough in waxed paper, or plastic film, and let rest in the fridge for 15 to 20 minutes.

Meanwhile, preheat the oven to 350ºF/180ºC. Line two rimmed baking sheets with parchment paper.

Remove the dough from the fridge, and break off a third of it. Place remaining dough back in the fridge if your kitchen is rather warm (my house does a fantastic job of retaining cold!). Place the bit of dough on a lightly floured surface, and roll it out to 1/8 to 1/4-thick. Using a round cookies, preferably a fluted one if you have it, cut out cookies. Transfer cookies to prepared baking sheet, leaving 1/4-inch space between each one.

Bake 10 to 12 minutes until golden around the edges. Use a spatula to transfer the cookies to a wire rack to cool completely. Repeat with the remaining dough.

Store cookies in an airtight tin or glass jar for up to 4 weeks, but good luck getting them to last that long if you have children.