Homemade Bagels, revisted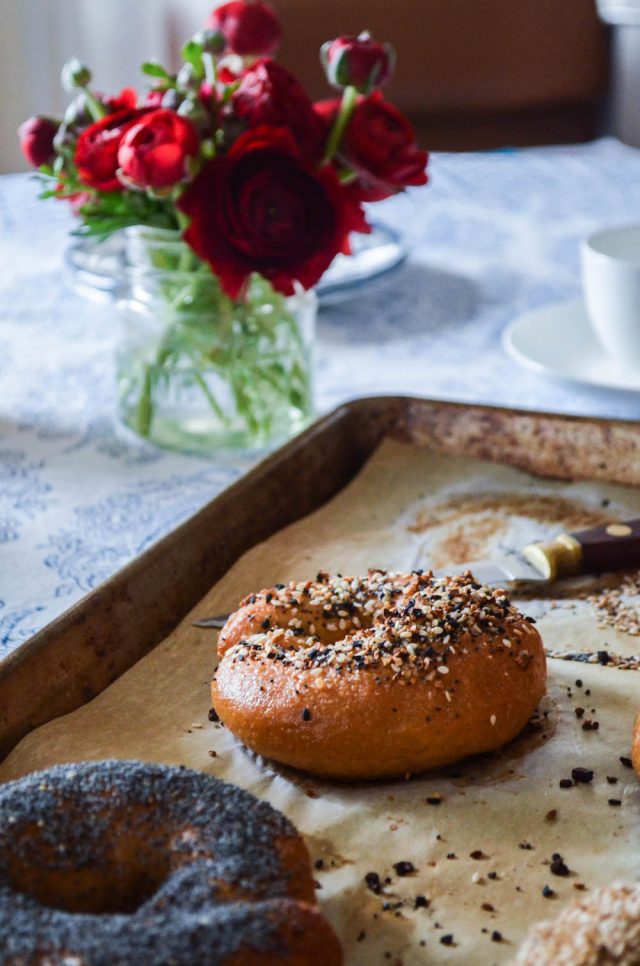 There's a million things I miss about living in New York City. It's probably easier to count the parts I don't miss about city living, like parking, exorbitant rents, and commuting in rainy weather. It's impossible to arrive wherever you're going looking anything less than a weary, wet mess on those days. For me, though, the pros outweigh the cons. Museums, movies at all hours of the day, an abundant choice of amazing restaurants (and cuisines!), and bread. Good gravy do I miss the bread, all of it.
That's what inspired my dive into bread baking a few years ago. Back in my days of growing up and living in Brooklyn, baking my own bread was more for sport, since I could walk a few minutes to the bakery and buy a loaf of warm, crackly on the outside, soft on the inside Italian bread. Let's not even talk about bagels. Well, okay, we'll go there, since that's why I'm writing here today.
Bagels were one of the first bread recipes I set out to make when I made the full-time move to Woodstock. Really Olivebridge, but nobody knows my tiny town, though it seems to be more up and coming (read: lots of too-hip-for-me people—is that awful to say?). I tried a few places but none could live up to this Brooklyn girls' memories of what a real bagel should taste like, and admittedly, these bagels aren't quite the same, but they're damn fine bagels, nonetheless.
I must confess I haven't made them in a while. They're not difficult by any means but they do require advance planning. The dough is made and shaped the night before, then proves in the fridge overnight. The next morning they get pulled from the fridge to shake off their chill for about two hours before you proceed with the recipe. That's the part where it always falls apart for me, or at least feels a little discouraging.
I love bagels for Sunday breakfast. Waking up so early on the one day of the week I try to take it slower—not so much love in that part of the process. Still, last night a craving hit me hard, both to bake and eat them. The night before prep is really easy (I promise). I set the shaped bagels in the fridge, and then did the unthinkable. I set my alarm for 7:15am (after going to bed at 1:15am), so I could pull them out to wake up while I went back to sleep until 9:15am.
The oven gets cranked to 500ºF while you bring a pot of water to a boil to give 'em a dip in a barley malt bath. Learn from my sleepy stupidity, and then awake laziness. I brought the water to a boil in a 4-quart pot. Big. Mistake. And I knew it after the water had come to a boil, but I didn't feel like having to wait for another pot to come to a boil.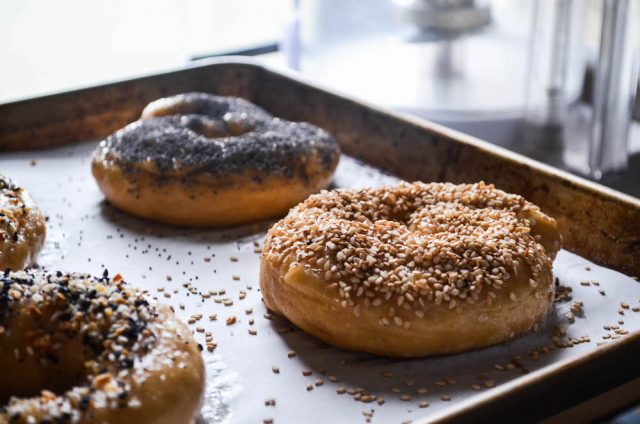 So, why was it an error? Once the water comes to a boil, you stir in the barley malt syrup, salt, and baking soda, a whole whopping tablespoon of baking soda. If you've ever done a school science project, then you see where this is going. My eyes raced back and forth between the pot and the little ramekin of baking soda.
I knew my choices, and I went with option two, which turned the pot of water into a volcano ALL OVER MY STOVE. Whatever. Sunday mornings shouldn't be about stress, and it wasn't anything a few kitchen rags couldn't clean up. I kind of wish the kids could've been there to see it but they were still in la la land.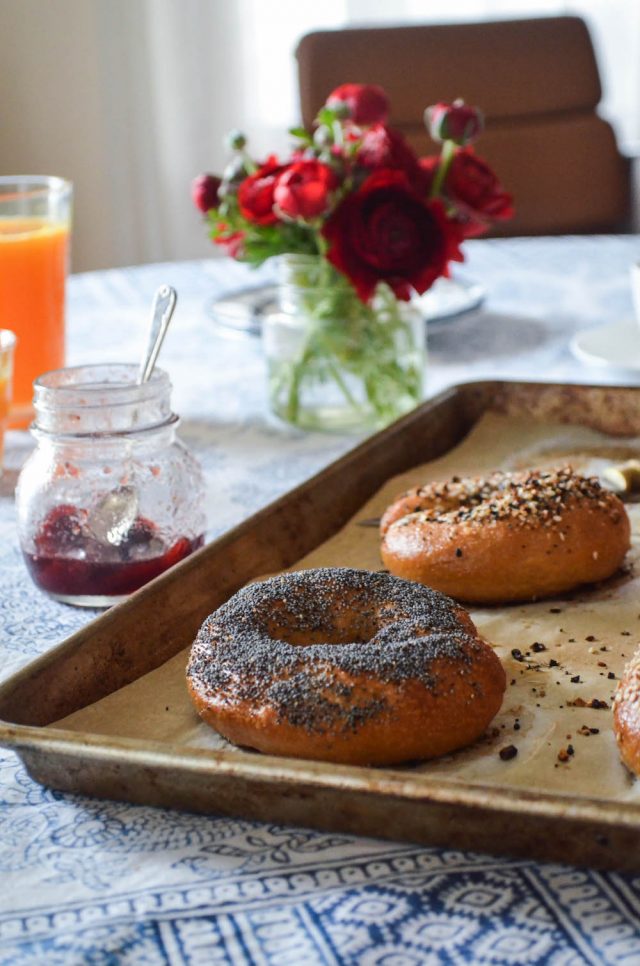 The good news for you is that I've updated the recipe I shared here a few years ago to include that very crucial note. Last night, while mixing the dough, my years of bread baking instinct kicked in, and I just knew the original recipe which was from Peter Reinhart, called for too much flour, at least according to my kitchen environment last night. I've updated it to call for a range of flour now.
In case you didn't know, bagels freeze very well (I will try to freeze almost anything once!). I find slicing them in half first is helpful, this way you can tap them on the counter to release, and pop them straight into the toaster. A nice homemade treat on routine weekday mornings to put a smile on everyone's faces.
Get the recipe for Homemade Bagels here.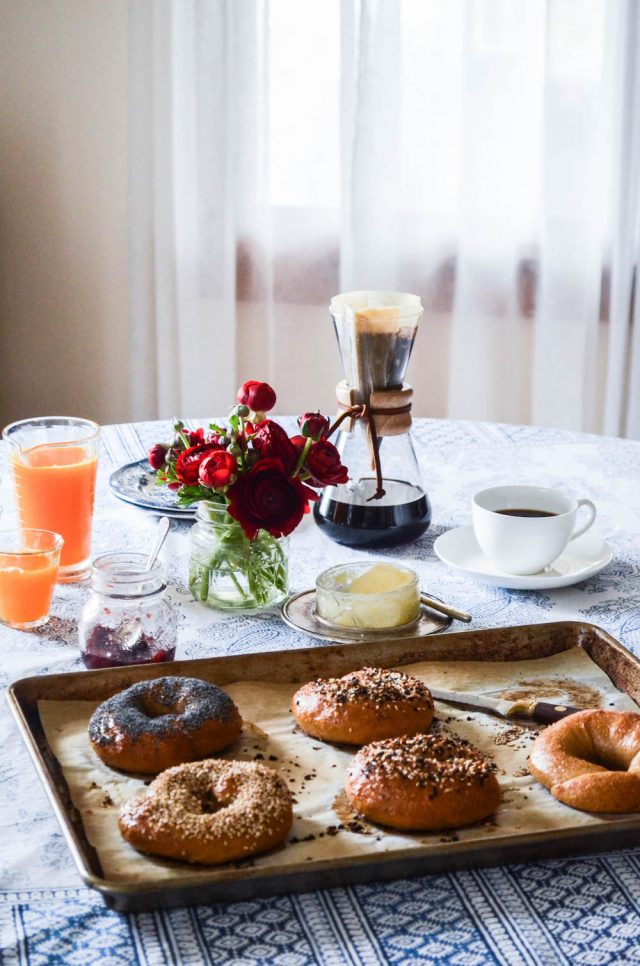 SaveSaveSaveSave
SaveSave
SaveSave
SaveSave
SaveSave
SaveSave
SaveSaveSaveSave
SaveSave
SaveSave
SaveSave
SaveSave
SaveSave