lentil burgers + crispy oven fries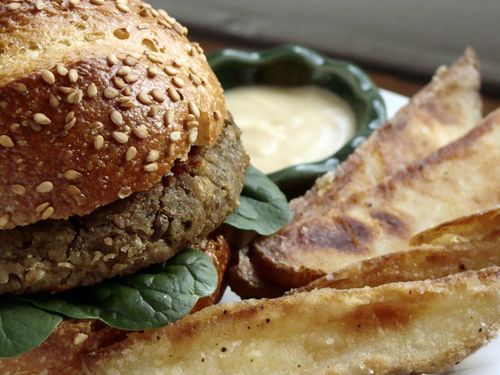 The sun is shining. Since I'm convinced I run on solar energy, this is a good thing. We may be getting some wet weather tomorrow, but for today, I will soak up the sun. I'll let it radiate and recharge me for this busy week ahead. Right now I'm doing some oatmeal raisin cookie recipe testing. I'll keep you posted, but so far it's smelling quite good in the house. And speaking of cookies, I'm off to a luncheon today for Glad to Give to help raise awareness about childhood cancer (the story behind this cause is very touching, so stay tuned for more news soon). Speaking of helping children, New York City food bloggers, you can join in the spirit of loving thy neighbor and join the national food bloggers bake sale on April 17th to benefit Share Our Strength.
The week is devoted to children's causes, now that I think about it. On Friday, I'm helping support my friend Julia at a luncheon she's organized for R Baby, a foundation focused on improving pediatric emergency care. Every child deserves a fighting chance from the beginning. Without them there would be no future. So, can you do me a big favor this week? Take a few minutes to learn about each of these causes, and join me in lending a helping hand, whether it's volunteering your time, baked goods or making a donation.
And with all this busyness, what am I cooking this week? I started off with homemade gnocchi last night baked in a tomato basil sauce and topped with generous amounts of freshly grated Parmesan cheese. Tonight will likely be chicken noodle soup—I'm thinking cheddar and apple paninis will go great with it (although I just found out it's Dr. Seuss' birthday and reserve the right to make a spinach & pancetta frittata as an Italian homage to green eggs and ham). At some point this week, I'm sure I'll be making these lentil burgers too (yes, finally, the recipe is below!). I hope you're not tired of my going on about lentils. They really are an inexpensive alternative to meat and good for you too!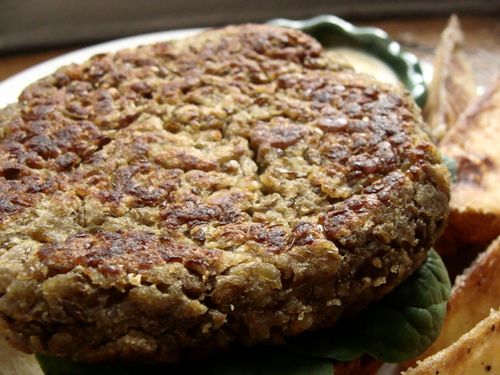 It sure looks like the real thing, right? And that City of Roses egg-based mustard you see below is perfect for dipping the oven baked fries or smearing on your lentil burger.
Lentil Burgers
makes 4 to 6, depending on size
These veggie burgers heat well wrapped loosely in foil in 350ºF oven.
1 1/2 cups cooked lentils (about 10 ounces)
1 large egg, lightly beaten
1/2 cup plain breadcrumbs
2 teaspoons extra virgin olive oil
Place lentils in the workbowl of a food processor. Pulse until mostly pureed, leaving some whole lentil pieces. Turn into a mixing bowl and stir in the egg and 1/4 cup of breadcrumbs. Cover and refrigerate for two hours, or overnight.
Remove lentil mixture from the refrigerator and stir in the remaining breadcrumbs. Shape into 4 to 6 patties. Meanwhile, heat olive oil in a nonstick skillet over medium heat. Add patties and cook until golden brown all over, about 3 to 5 minutes on each side. Serve hot on toasted buns or over mixed greens.

See the cooked outer ring on the potatoes after a quick bake?
That pre-bake is a key secret to making this super crispy oven fries.
Crispy Oven Fries
inspired The Purple Foodie's Garlicky Baked Fries
I really have to thank Shaheen for introducing me to these tasty taters. I've made quite a few changes to her original recipe—adapted from a Lottie + Doof one which was adapted from a Cook's Illustrated recipe. Nonetheless, she deserves credit for inspiring me to create my own new recipe for the crispiest oven fries ever.

And Shaheen if you're reading this, I found an alternative to the microwave and parboiling—just pop the whole potatoes in the already preheated oven for 12 minutes or so. In a way this recipe borrows the double-fry method used in traditional French fries except both steps are done in the oven for a much healthier sense of enjoyment. Bonus: they reheat exceptionally well.
serves 4
4 medium starchy potatoes, scrubbed clean
3 teaspoons extra virgin olive oil
Salt and freshly ground pepper, to taste
2 tablespoons cornstarch
Preheat oven to 450ºF Pierce potatoes with a fork a few times and bake for 12 minutes. Let cool for two minutes, then slice into thick wedges.
Brush a rimmed baking sheet with 1 teaspoon of olive oil. Add potatoe wedges, remaining olive oil, salt and pepper and cornstarch to a deep bowl, and toss to coat well. Arrange in a single layer on the prepared pan. Bake for 25 minutes, turning once, until crisp and very golden. Remove tray from oven and rest on the stovetop for a few minutes to let potatoes continue crisping up, then serve while still hot.