chocolate buttermilk doughnuts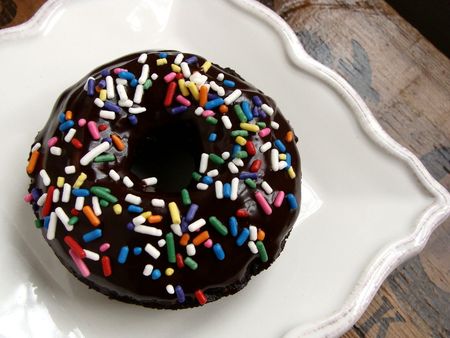 On my way home from the market today I realized I've been an adult most of my life. Sure, there was a fleeting few minutes when I felt like a kid, but as you've likely guessed most of my childhood was not spent carefree.
What makes today's moment significant is that as the thought occurred to me, somewhere between pondering making mussels or fried rice for dinner, I finally felt a sense of relief. It was as though someone had opened the window to my soul and let the hurt and heartache fly away with a burst of wind.
The memories will always be there—what matters is what I do with them. Do I let the past pull me me away from enjoying the here and now?
No.
The last few weeks, I've been focusing on small changes, the ones I can do something about. Working from the inside out, so to speak.
I started a mind and body detox. Giving up coffee was the easiest part. Allowing myself time to breathe—now that was a challenge. I used to wake around 5:45am to work before stirring the girls.
Now I spend that time doing yoga, meditating and a lot of ab work to remind myself my mid-section is meant for more than just storing sweets. While coffee has been introduced back, I now consider it a treat, and savor the aroma and taste, rather than down it like water. In the midst I've discovered how much I love herbal infusions—lemon, fresh mint and ginger, mainly, hence that marmalade last week.
I feel very centered, even in the midst of Virginia's terrible twos, though she's closer to three than I can bare to accept.
I tried keeping a diary a few times during my teen years and failed at it completely. I'd open the pages and realize I had nothing to say.
At least not to a piece of paper.
The idea of writing my thoughts down to share with myself just seemed like an odd exercise. My sister kept stacks of notepads to record her thoughts, and wrote in them quite obsessively. She used them as a way to dive deeper into her own world, shutting out those around who truly loved her.
And then I realized this today—my blog is a virtual diary, something I never imagined or intended it to become. I hide it under the guise of recipes (talk about cooking being a form of therapy), but it has allowed me to confront feelings I just don't think I could sitting on a couch, facing another human being.
Realization no. 3 for the day? I haven't been alone. Now this may seem like a silly point, but really I thought sharing my recipes would be the lure. Who wouldn't be curious about chocolate buttermilk doughnuts? It turns out so many of you come for the stories too. This post in particular resonated with a lot of you, and the way you reached out to "hold" my hand during a difficult time left me feeling overwhelmed in a good way.
So, this recipe…these chocolate buttermilk doughnuts. They're my gift to you. If I could show up on each of your doorsteps, I'd be carrying a basket of them lined with a pretty blue gingham cloth napkin.
Some of you have been regular readers for a while. Others have recently found their way here, and your comments and tweets are a ray of sunshine. 
Quite a few have become very real friends, who I've had the chance to hug, break bread and even sing karaoke with (Marc, please make sure that video never sees daylight). And then there are those who I count the days down until we finally meet.
I thank you all for sharing time from your busy days to see what I've been up to.
Especially the most important person who has made it possible for me to be here, at this point in my life.
To be there for my girls, our girls, every afternoon.
The person who allows me to savor slow mornings with my sweet baby.
The person who has seen me grow from a quiet, yet assertive young girl, into a woman.
The person who said okay when I decided I needed a break from the restaurant world to pursue my real dreams.
The person who showed me a clipping from Newsweek over a decade ago about becoming a personal chef.
I love you, and thank you for sharing this most unexpected life together.
Chocolate Buttermilk Doughnuts
makes 6
Not in the mood for chocolate? Try these lemon buttermilk doughnuts on my Cuisinart blog.
3/4 cup (3 ounces/85 grams) whole wheat pastry flour
1/4 cup (.95 ounces/27 grams) dark cocoa powder (I use Guittard)
1/4 cup (2 ounces/56 grams) natural cane sugar
1 teaspoon (5 grams) baking powder
1/8 teaspoon (1 gram) baking soda
¼ teaspoon (2 grams) sea salt
1/3 cup (75 ml) buttermilk, well-shaken
1 large (50 grams) egg
3 tablespoons brewed coffee, cooled
1 tablespoon (14 grams) butter, melted
Topping Suggestions
Confectioners' sugar
Chocolate ganache, warmed to spreading consistency
Sprinkles
Preheat oven to 425ºF. Coat one 6-doughnut nonstick baking pan with cooking spray; set aside.
In a medium bowl, whisk together the flour, cocoa, sugar, baking powder, baking soda, and salt.
In a measuring cup, use a fork to beat the buttermilk, egg, coffee and melted butter until well blended. Pour over the flour mixture and use a wooden spoon to stir together until just combined. Evenly spoon into the prepared doughnut pan and bake for 8 to 9 minutes, until doughnuts spring back when touched.
Remove from oven and let cool for 2 minutes in the pan, then transfer to a wire rack to cool completely. Use a small strainer to sift Confectioners' sugar over tops before serving, if desired, or dip the tops into a bowl of chocolate ganache and scatter sprinkles across.