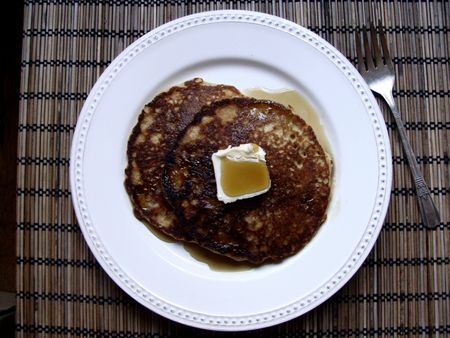 A little birdy told me that today was National Pancake Day. Since I'm convinced Isabella could live on pancakes if given the chance, it seemed fitting to dedicate a special post to her favorite breakfast food.
There's an ongoing joke during mealtimes. Once a plate hits the table Isabella asks "is there ricotta in here mom?". Growing up it was relegated to baked ziti, lasagna and sometimes a dollop on a bowl of pasta. Nowadays you'll find me spreading it on toasted bread with marmalade for a late night snack, adding a spoonful of warm, creamy curds to oatmeal, in lentil "meatballs" and waffles.
I've never been a sneaky chef, so the goal of these pancakes is not to fool anyone. It serves a dual-purpose, feeding my addiction to homemade ricotta while fulfilling her favorite breakfast request. It's also a recipe born of thrift since I first started adding ricotta to pancakes and waffles to use up any extra hanging around the fridge.
I was pleasantly surprised how it adds a delicate lightness to them—you'd think it would have the opposite effect, right? They also make pancakes more exciting in my eyes—I find them a rather dull start to the day compared to say poached eggs on a bed of lemon Parmesan flecked kale salad, the runny yolk gliding across creating a creamy, comforting dressing.
For those days when I've finished up all the ricotta, then I can still satisfy Isabella's craving with this equally yum whole wheat pancake recipe—with luck I'll have kale on hand to indulge my own urges.
Here are a few more ideas and recipes to celebrate National Pancake Day:
Book Picks of the Day: Pancakes, Pancakes by Eric Carle and If You Give a Pig a Pancake by Laura Joffe Numeroff
What's new at Simple Scratch Cooking: crisp thin crust pizza + beef bolognese

Oat Ricotta Pancakes
Makes 12  to 14 pancakes
2/3 cup (82 grams) oat flour (see how to make your own)
1/3 cup (33 grams) whole wheat pastry flour
1 teaspoon (6 grams) baking powder
2 teaspoons (12 grams) sugar
1/4 teaspoon (1 gram) baking soda
1/4 teaspoon (1 gram) sea salt
3/4 cup (200 ml) whole milk
1/3 cup(68 grams) fresh ricotta
1 large egg
2 tablespoons butter, melted
In a medium bowl, whisk the flours, baking powder, sugar, baking soda and salt together.
In a clean separate bowl, add the ricotta, milk, egg and melted butter. Whisk together to combine. Pour over dry ingredients. Using a fork, stir together just until batter has formed and there are no visible streaks of flour—it's okay if there are lumps.
Heat a griddle or skillet over medium heat. Coat with a pat of butter. Add generous tablespoons of batter to the pan. Cook 2 to 3 minutes, until the edges look set and air bubbles form on top. Flip and cook 1 to 2 more minutes until done.
Leftovers:
These freeze very well, layered between sheets of wax paper and stored in a ziptop bag. Just pop them straight from the freezer into the toaster for the quickest homemade breakfast imaginable.