Strawberry & White Chocolate Chunk Scones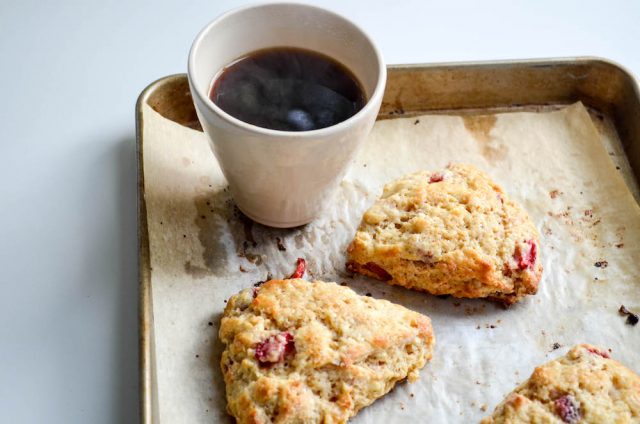 Earlier this week I sent out a strawberry-centric newsletter with a collection of the more than dozen strawberry recipes I've created for this site. It felt a little unfair to send that note out without including the recipe for these Strawberry & White Chocolate Chunks Scones, but here it is are now, so all is right in the world (at least in the strawberry breakfast world, yes?).
I made them to kick off the girls' birthweek. Some people think this is a silly or annoying habit, but  birthdays are a big deal in my life. I love celebrating the people that make my world a better place. I don't really understand birthday naysayers.
I get it, life can be hard, and lonely. And frankly, I still feel a little sad on the girls' birthdays and my own, knowing Michael has missed so much, and wanting to feel like I matter above all else to someone, but that doesn't mean we can't find joy and happiness. I still celebrate Michael's birthday, too. If he'd never been born, I'd never have known what kind, deep, truly lasting love felt like, or what to keep striving for after losing him.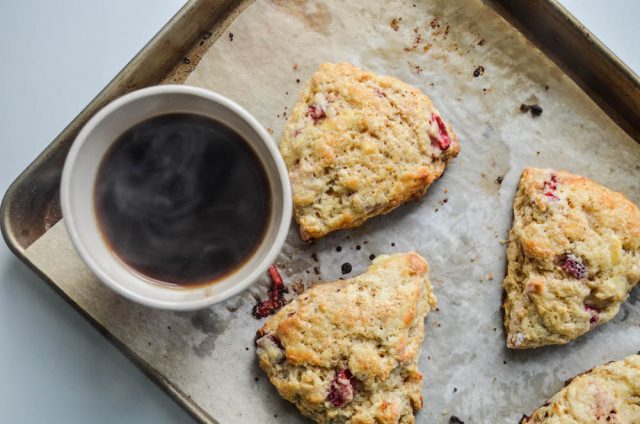 Seeing the smile on their faces, and delight from the first bite told me these Strawberry & White Chocolate Chunk Scones were a keeper. I used the Orange Scented Chocolate Chunk Scones in Homemade with Love (page 39) as a starting point, and tweaked it from there.
The real inspiration for the combination of strawberries and white chocolate began when I spied a handful of strawberries I'd left on the counter overnight. They needed some reviving, and chopping them for scones seemed like a good idea. Lemon zest brightens, and accentuates the strawberries' flavor.
I could've stopped there, but it felt like they needed a little something else. I began to think of what I could pair with strawberries, and my mind wandered to chocolate covered strawberries. And that's when I remembered another scone I once made—Lavendar & White Chocolate (they are amazing). A quick run to the basement, a handful of white chocolate discs shoved into the pocket of my apron, and the rest is history.
I mention in the recipe that you can use buttermilk or heavy cream. I tried it both ways, loved them equally, and felt the difference was almost discernible, making them interchangeable depending on what you have available in the fridge. Isabella and I both agreed, though, that the cream ones were a tad bit lighter, so I'll let you be the final judge on which you prefer to use.
p.s. If you didn't get the newsletter, maybe you're not subscribed? Easy fix—just click here! Now let's cut to the chase, and talk about these scones.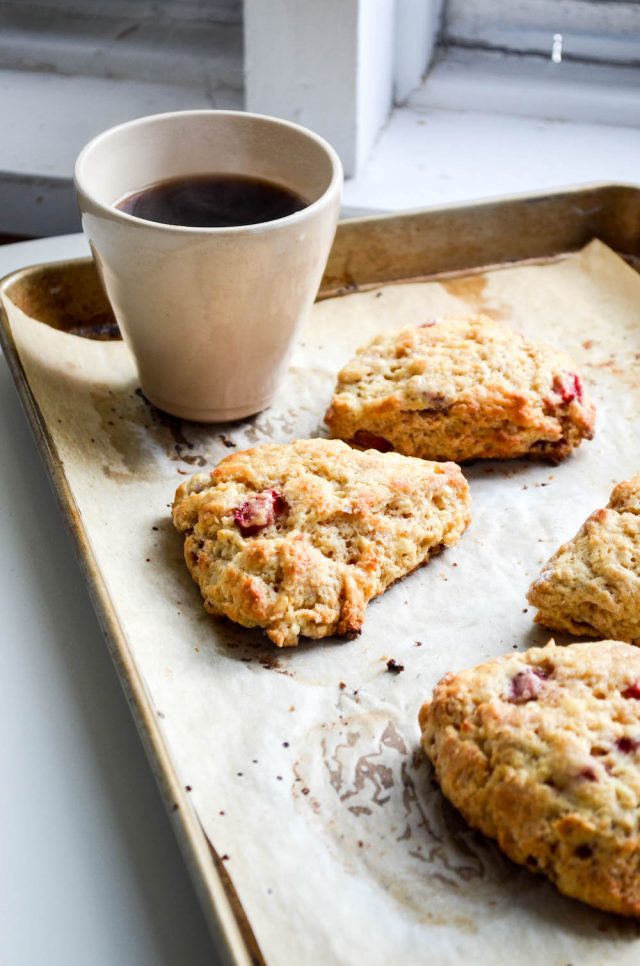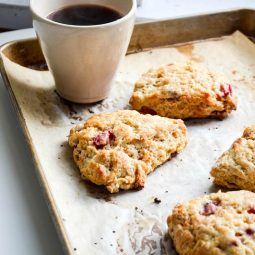 Strawberry & White Chocolate Chunk Scones
Ingredients
6

medium

75 grams strawberries, chopped

3

tablespoons

25 grams natural cane sugar

¼

cup

60 ml plus 2 teaspoons (10 ml) buttermilk or heavy cream

1

medium

40 grams egg

½

cup

70 grams whole wheat pastry flour

½

cup

70 grams all purpose flour, plus more for dusting the counter

1 ½

teasoons

8 grams baking powder

Pinch

of fine sea salt

Freshly grated zest of 1 small lemon

3

tablespoons

42 grams cold butter, cut into 6 pieces

1/3

cup

43 grams good quality white chocolate, chopped

½

teaspoon

3 grams coarse natural cane sugar, optional
Instructions
Preheat the oven to 425ºF.

Combine the strawberries with 1 tablespoon (12 grams) sugar in a small bowl. Toss to coat, and set aside.

Combine the ¼ cup of buttermilk and the egg together in a small bowl. Beat with a fork until blended; set aside.

Add the flours, sugar, baking powder, salt, and lemon zest to a deep medium-sized bowl. Whisk to combine. Scatter the butter on top of the dry ingredients and rub together quickly with your fingers, until it forms a sandy-looking texture with some pebble-sized pieces.

Stir in the chocolate and strawberries.

Pour in the buttermilk-egg mixture, and use a wooden to swiftly stir together until it forms a clumpy looking dough. Turn the dough out onto a lightly floured counter. Knead it once or twice to give the dough a smoother appearance.

Shape the dough into a 1-inch thick circle. Use a sharp knife to cut each circle into 6 triangles (as if cutting a pizza). To make mini scones, divide the dough in half, and shape it into two 1/2-inch thick circles, and cut each one into 6 wedges for a total of 12.

Place the scones on an ungreased baking sheet. Brush with the remaining tablespoon of buttermilk and sprinkle the tops with the coarse sugar, if using. Bake for 12 to 15 minutes, until the bottoms are lightly browned and the tops are golden.

Remove from the oven and set the tray on a wire rack to cool a few minutes before serving. Leftovers may be stored in an airtight container and heated in the toaster the next day.
SaveSave
SaveSave
SaveSave
SaveSave
SaveSave