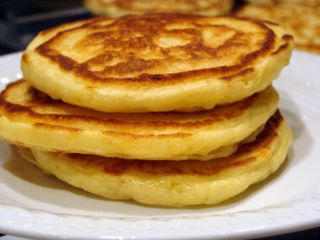 Most people hate Mondays. Not me. Truth be told, I like getting back to my schedule and structure of the weekly grind. Even though I work from home, it's still a balancing act of school schedules, shuttling to playdates and dance classes, all while trying to get a day's paid work done.
Take now, for example. The big one is at kindergarten. The baby is still sleeping (I've just jinxed myself, I know). The Mr. is at the home office (a.k.a. the bathroom). And me, well, I'm easing into my work week with a post on one of IRP's favorite meals: pancakes. They're so easy to make I often wonder why anyone would use a boxed mix. You can even premix the dry ingredients and store them in a container for quicker prep on busy weekdays.
Buttermilk pancakes are my family's favorite. There's lots you can do with buttermilk, like make biscuits, scones, salad dressing, so don't worry—that container won't go to waste. And if you want to get a yummy start to your day but don't have any on hand, you can use regular milk—just leave out the baking soda and increase the baking powder to two teaspoons.



BUTTERMILK PANCAKES
The key to making pancakes is a hot pan and patience. The skillet is ready when water sprinkled on it immediately forms tiny bubbles and evaporates. Patience is a crucial virtue to making a crisp, golden pancake. Don't flip them until bubbles appear on the surface of each pancake.
1 cup all-purpose flour
1 teaspoon baking powder
½ teaspoon baking soda
¼ teaspoon salt
1 cup buttermilk
1 egg, lightly beaten
2 Tablespoons butter, melted
1. Combine flour, baking powder, baking soda and salt in a medium-size bowl and whisk to combine; set aside. In a small glass bowl or measuring cup, combine buttermilk, egg, and melted butte.  Stir with a fork, using the same motion as scrambling an egg until liquid ingredients are well mixed. 
2. Pour liquid ingredients into dry and stir, gently, using the same form until mixture is just combined.  It will be lumpy, and that's okay, just make sure there are no pockets of unmixed dry ingredients.
3. Heat a skillet over a medium flame. Coat pan with a pat of batter and add circles of batter.  Use a teaspoon to make kid-friendly silver dollar style or a tablespoon for dad size cakes.  Flip when bubbles form on top and edges start to look dry; continue cooking for 30 to 45 seconds or until done. 
Related Links
Buttermilk Pudding – Simply Recipes
Southern Buttermilk Cornbread – Andrea's Recipes