A few years back Isabella and I were strolling through a neighborhood supermarket. Her eyes locked with a display of blueberries, and in her sweet little voice she asked if we could buy some.
It was January.
Close friends can already predict my answer. The rest of you might think me insane.
I told my then four year old daughter she couldn't have blueberries. I know, you're wondering why would anyone do such a thing.
For me the answer was very simple. Blueberries in January were a want, not a need. I didn't feel guilty at all. I didn't think I was denying her anything. I might even go so far as to say I was giving her the gift of reducing her carbon footprint.
Meanwhile, I had a draw full of apples from the Greenmarket. Locally grown apples that didn't require a passport to enter our food system.
Were they organic apples? No.
In fact, they were low-spray which means the farmer used as little pesticide as possible to cultivate his crop. But, yeah, I suppose you could say they were tainted depending on how hard and fast you draw the line.
Sure you might think peeling the skin solves the pesticide problem, but it doesn't. Residues remain, plus you lose the boost of fiber and nutrients found in the skin.
So, yes, I'm a contradiction of sorts, and perhaps the apples are an unfair example.
In truth, many local farmers are using organic methods but can't pony up the bucks for the certification. One stand I frequent knows how important growing methods are to his customers and purposely labels his tomatoes, berries and root vegetables as no-spray and pesticide free.
His apples, though, are always sprayed. I guess that's the nature of apples. I've only found one farmer at the markets I haunt that sells organically grown ones.
But enough about the apples. That's not why I brought up the organic vs. conventional question.
I had a "lightbulb" moment this morning while reading this post.
Suddenly it seemed clear to me why those of us who can afford to eat locally, seasonally and support our farmers' markets have a serious obligation to do so. I'll even go as far to say if you think you can't afford to eat this way, give your budget a once over. Start with the Starbucks habit and I bet you can add an extra $30 a week to your food budget.
Motherhood was certainly a moment of reckoning for me. Set with the task to feed another helpless human being, every item I purchased suddenly seemed to require research and more thought than I'd expected a mere apple would ever conjure.
My battle armor is on. I'm ready for your best shot. Before you fire the canons though, think about the best way to change the current food system and give a voice to all the people who don't have the luxury of choice.
When faced with a limited budget, the only answer is to make their dollars stretch in a way that allows them to put food on the table for their families.
For others, it's a matter of location. The same farmers' markets so many of us cherish, perhaps take for granted, are not a given across the country. Sometimes the nearest grocery store is miles away.
I get that. Really, I do.
This is why I utter the next words with convinction.
If those of us who can afford to choose really grasp the gravity of our buying power, then maybe we can give a voice to those struggling to put wholesome food on the table. Is it a pipe dream to think we can make real change to the conventional food system this way?
Maybe. But I'm not giving up on it.
For the time being, the blueberries nestled in the freezer from last season are just fine for me. They've got some strawberries to keep them company too. And while I panic that the peaches I canned may not last until the next season arrives, I'm well aware that's a pretty good situation to be in compared to so many other people.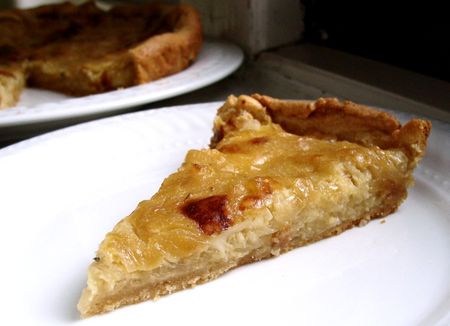 French Onion Tart
Serves 6 to 8
The seedling of an idea for this recipe started while I was making cheddar cheese crackers for the kids. The thought occurred that it might be an interesting base for a tart crust.
As I wandered through the farmers' market later that day, in search of some "late winter" inspiration, a bunch of humble onions set the ball rolling. It was at the moment I knew I wanted to recreate the flavors of a French onion soup into my tart. While the directions seem long, it really does come together effortlessly, and well worth the time it takes to caramelize the onions.
In case you're wondering, the flour is local, from Farmer Ground Flour, the onions were from Rogowski Farm, the eggs from Grazin' Angus Acres, and the paprika from Ray Bradley—a nice nod to my local farmers indeed.
For the filling:
1 tablespoon extra virgin olive oil
2 pounds yellow onions, peeled & sliced thin
2 sprigs fresh thyme, leaves removed & stems discarded
Sea salt and freshly ground pepper, to taste
1 large egg, lightly beaten
1 teaspoon sherry vinegar
2/3 cups (2 ounces) Swiss cheese, shredded
For the Swiss cheese pastry crust:
3/4 cups (110 grams) whole wheat pastry flour
1/4 teaspoon (2 grams) fine sea salt
1/4 teaspoon paprika
1 cup (3 ounces) Swiss cheese, shredded
4 tablespoons (2 ounces) very cold butter, shredded using a box grater
1 to 2 tablespoons cold seltzer
To make the filling, heat the olive oil in a heavy-bottomed pot over medium-high heat. Add the onions and saute for 2 minutes. Cover pot, reduce heat as low as it can go without shutting off, and let cook until onions have cooked down and released a lot of their liquid, about 20 minutes. 
Meanwhile, prepare the crust. Add the flour, salt, and paprika to the bowl of a food processor. Pulse once or twice to mix the dry ingredients. Add the cheese and butter, then pulse a few times until it forms a sandy-looking mixture. Add 1 tablespoon of seltzer, pulse again until a rough ball of dough comes together. If the mixture is too dry and crumbly, add more seltzer 1 teaspoon at a time (you may not need the entire 2 tablespoons), and continue to pulse until you have a ball of dough. Turn the dough out onto an unfloured counter, flatten and shape into a d
Preheat the oven to 400ºF. 
Remove cover from the pot of onions, raise heat to medium, add the thyme and season with salt and pepper. Let the onions cook, stirring occasionally to scrape the browned bits from the bottom of the pot, until onions turn golden brown, about 30 to 35 minutes. When onions are golden and very tender, stir in the sherry vinegar. Remove from heat and, using a slotted spoon, transfer onions to a medium bowl.
Place the chilled dough between two sheets of parchment paper, and roll it into a 13-inch circle. Fit dough into a 9-inch ungreased springform pan. Fold down sides of dough, leaving a 1-inch high crust.
To finish the filling, add the egg and cheese to the bowl with the onions. Stir to mix well. Pour mixture over the tart crust and spread to the edges using a rubber spatula. Bake for 25 minutes, until slightly puffed and golden. Remove from oven and let cool for 5 to 10 minutes before slicing.