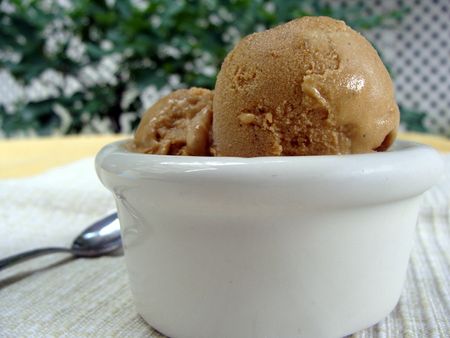 As I neared the corner, I looked both ways. Certain no one was in eyeshot on what was a hail-ridden evening, I decided to jump with all my might into a rather large puddle in the crosswalk. Water splashed up the sides of my rain boots, narrowingly missing the edges, thankfully keeping my feet safe and dry.
I glanced up to see a gentleman diagonally across the street chuckling in my direction. I'd been busted and gave him an "I couldn't help myself grin" with a wink of the eye and shrug of the shoulders.
Then I walked the few blocks home, a pint of Ben & Jerry's Late Night Snack hidden in my purse, stomping some more puddles along the way. It felt good to act impulsive outside the kitchen. At that moment I understood exactly why my girls need those puddle stomps too. What a release, almost as good as screaming out loud, except people won't think you're quite as crazy.
So from now on, I will seek out more of those puddles. Life is a messy affair anyway—I might as well do it on my terms.
Burnt Caramel & Banana Gelato
makes 1 1/2 pints
The verdict on that Ben & Jerry's flavor—eh. I loved the salted caramel swirl, but the fudge covered potato chips were too salty (and I'm rather liberal with salt in my cooking). The caramel did remind me of an older recipe I created for Cuisinart a couple of years ago. When they switched over to the new website, the older blog posts weren't archived, so I decided to share it here with all of you. Don't forget to see what I'm up to each week over there, to find more yummy recipes like this one. I'm including the original blog post with it, so you can see how the recipe came to be.
It started with a glance at the lone banana sitting on my kitchen counter. I was in an ice cream-making mood and mulling over some flavor ideas. And that banana kept creeping into my thoughts—I didn't want it to go to waste. I flipped through some cookbooks for inspiration and came across a recipe for caramel ice cream. It got my attention but felt like it needed a companion. Coffee beans, maybe. Or, perhaps chocolate chips. Then that banana kept staring at me. Stuck with caramel and bananas on the brain, my mind drifted to bananas foster.
I diced up the banana and sautéed it in some sugar. After the pieces became gooey and caramelized I set them aside and went to work on a burnt caramel base for gelato. I stock-piled fresh vanilla beans on my last trip to the Atlantic Spice Company in Cape Cod, but feel free to substitute one teaspoon of vanilla extract if that's all you have on hand. Come to think of it this gelato also reminds me of another favorite frozen dessert. It's like a banana split in scoop form. Just add some fresh whipped cream and a cherry on top.
1 cup sugar
1 banana, peeled and diced
1 cup heavy cream
2 cups whole milk
1 vanilla bean, split lengthwise & seeds scraped
4 large egg yolks
1/4 teaspoon coarse salt
Heat 1/4 cup of the sugar in a deep pot over medium heat until it begins to melt and turn golden. Add bananas and saute until well coated and caramelized. Transfer the bananas to a bowl, and set aside to cool lightly.
Heat the remaining sugar in the same pot over medium heat until it melts and turns dark brown, about 2 to 3 minutes (do not stir sugar during this process). Slowly whisk in the cream until well combined. Whisk in the milk and add vanilla bean; cook until very hot, about 2 more minutes.
Beat the eggs yolks in a medium-sized, heat-proof bowl. Slowly whisk 1/2 cup of the cream mixture into the yolks. While constantly whisking milk-cream mixture in the pot, slowly pour the egg-cream mixture back into it. Stir in the caramelized bananas. Reduce heat to low, and cook, stirring constantly, until it thickens enough to coat the back of a wooden spoon.
Transfer the mixture to a container. Stir in the vanilla bean seeds, cover and cool completely in the refrigerator (at least 6 hours, and preferably overnight). Churn according to the directions on your Cuisinart Ice Cream Maker, then store in a tightly sealed container and freeze until firm.