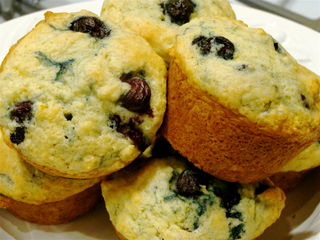 Blueberry season may be months away but luckily I froze a lot from last year's Greenmarket harvest. My stash came in handy when I needed a last minute goody to bring for brunch at a friend's house this weekend. I made it a family affair and brought my little chef into the mix to bake some lemon blueberry muffins. Over the years, I've found my five-year old gobbles up anything she helps make. I love my standard recipe, but wanted to mix things up a bit, so I decided to swap out the Greek yogurt I normally use with buttermilk. As I thought, it yielded a lighter, airy muffin and the tang is a perfect pairing to the sweet blueberries.
Make a batch and freeze whatever you don't use in a day or two in a Ziploc bag. Thaw them out overnight in the fridge or for a minute or two in the microwave. They make a great snack for the kids and a healthy "on the go" breakfast when you're running late. And don't worry if you didn't freeze any blueberries from last year —Wyman's frozen wild blueberries are a great substitute and widely available in supermarkets.
Visit the Cuisinart Stand Mixer Blog for the recipe (while you're at it, join the group I'm moderating on Facebook to get the scoop on new products and free giveaways).
Cheers,
Jennifer