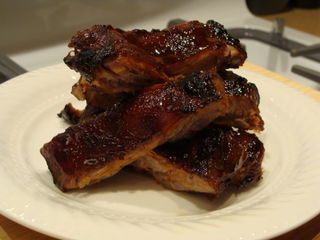 I recently impulse purchased some mighty fine looking ribs from Flying Pigs Farm at the Union Square Greenmarket in New York City. It wasn't the warm, wonderful day we're having now and I wasn't willing to brave the arctic temperatures and fire up the grill, so I decided there must be a way to capture that finger-lickin', meat fallin' off the bone experience in my kitchen.
You'll find more than a few recipes online, but don't be fooled. The golden rule of low and slow for traditional barbecue, holds true when adapting to an indoor technique. An easy-to-make dry rub and slow braise in a 250º oven yielded results to satisfy my craving. Friends agreed. I made them for my husband's surprise party a few weeks ago and the platter was empty in minutes.
Bye Bye BBQ Ribs
Serious 'cue eaters may think this technique blasphemous, but one taste and they may be bringing a side of apologies.
Serves 4 serious eaters and 6 snackers
2 whole slabs pork baby back ribs
Dry Rub
½ cup brown sugar
2 teaspoons sweet paprika
1 teaspoon garlic powder
½ teaspoon freshly ground black pepper
1 Tablespoon salt
1 teaspoons instant espresso powder
¼ teaspoon allspice
1teaspoon chipotle powder, optional
Braising Liquid/BBQ Glaze
1 cup sparkling white wine, like prosecco
2 Tablespoons apple cider vinegar
2 Tablespoons Worcestershire sauce
1 Tablespoon honey
1. Preheat oven to 250ºF.
2. Add all the dry rub ingredients to the bowl of a food processor. Pulse until ingredients are combined, about two or three 1-second pulses. Rub mixture evenly all over each rack of ribs, making sure to coat top and bottom. Place ribs, single layer, on a rimmed baking sheet or in a roasting pan and let sit, covered, in  the refrigerator for one hour.
3. Meanwhile, place liquid ingredients in a microwave-safe bowl and cook on high for 1 minute.
4. Remove rib from refrigerator. Pour braising liquid over ribs, wrap tightly with heavy-duty foil and place in oven, side by side if possible. Cook for 2 ½ half hours. Alternate pans halfway through if cooking on separate racks in oven.
5. Remove pans from oven, discard foil and pour or spoon the braising liquid into a medium saucepot. Bring to a boil, then reduce to a vigorous simmer and let cook until liquid reduces by half and becomes a thick, syrupy consistency, 20 to 30 minutes.
6. Preheat broiler. Brush the glaze on top of each rack of ribs. Place ribs under the broiler until the glaze begins to caramelize, one to two minutes (watch carefully, or all your waiting will be spoiled by burned ribs!). Slice and serve with remaining glaze on the side.
What to Drink: An old-fashioned made with Eagle Rare single barrel bourbon was the perfect partner.
This recipe