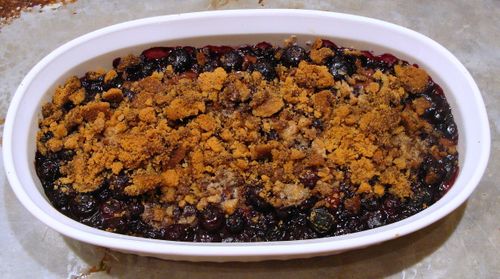 Friends always ask how I create my recipes. It's a combination of good quality ingredients and inspiration. For both, I usually head to the Greenmarket, and there's lots of inspiration to be found this time of year. Berries are in season and while they're delicious to eat by the handful, they provide the perfect landscape for quick and easy desserts. This week I got an invitation to a Scharffen Berger event at the French Culinary Institute hosted by none other than renowned chef Jacques Pepin. Pasty over at Family, Friends and Food did a great two-part post about the event and posted some wonderful pics so go check them out. I'm going to focus on what I'm doing with the free chocolate they tucked in our goody bags.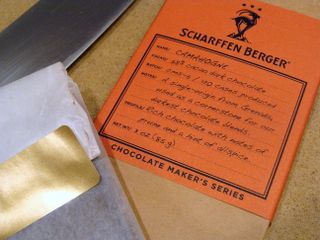 On the menu was more chocolate than you can imagine but there was a particular dessert that caught my attention. It was titled Chocolate Raspberry Gratin. Tiny ceramic ramekins emerged from the oven with a jam-like raspberry filling studded with bits of melted chocolate and crunchy butter cookie crumbs. This was the only recipe not included in the press materials, so it was up to me to recreate it at home. I had tons of blueberries on hand to support my 14-month old's pint a day addiction, so the star ingredient would have to be recast. At first I thought blueberries and chocolate would be too strong a match for each other. A bit of sugar solved that problem and made them BFFs. There were no butter cookies on hand but I did have some homemade chocolate chip cookie dough in the fridge —enough to make a dozen so we could snack while the real dessert was baking.
I'm tempted to add this to my next dinner party menu as a do-it-yourself dessert. I'd set out an assortment of berries and different cookie crumbles along with the sugar and chocolate and let everyone make their own creations in mini-ramekins. Come to think of it, it's a great playdate activity too and delicious way to meet the FDA's 5-A-Day suggestion.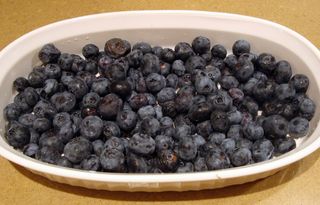 Blueberry Cookie Crumble
Serves 4
Feel free to mix this up with your favorite cookies and whatever berries are in season. Making cookie crumbs is easy—just put whole ones in a plastic zip-top bag and give 'em a few whacks with a rolling pin (also a great stress reliever).


1 pint blueberries
2 tablespoons sugar
1 ounce chopped chocolate
1/3 cup chocolate chip cookies crumbs
2 tablespoons butter, cut into pieces
1. Preheat oven to 350Fº. Arrange blueberries in an even layer in one 9-inch by 2-inch or two 5-inch by 2-inch oven-proof oval casserole dish. Sprinkle sugar and chopped chocolate over blueberries. Evenly sprinkle cookie crumbs on top and dot with pieces of butter.
2. Bake for 30 minutes, or until jammy and bubbling. Spoon into deep bowls and serve warm, with a dollop of fresh whipped cream, if desired.