You Are What You Eat: Why Organic Matters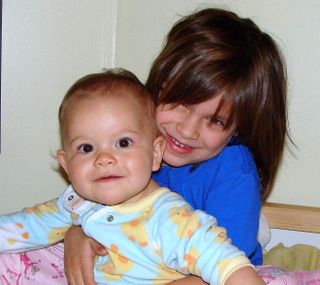 Having been raised on conventional foods and being a convenience-food kid of the 70's, I figure this body is no temple—it's been battered and abused by the industrial food system. I was a foodie long before I was a mommy, but it's wasn't until faced with the immense responsibility of caring for another human being that I began to understand the impact of my food choices.
Call me crazy, but I really believe feeding my kids an ordinary peach is akin to child-abuse (it's one of the dirty dozen). I wouldn't dream of using a household cleaner as a recipe ingredient, so why would I feed them a pesticide-laden piece of fruit, or hormone-ridden meat and dairy for that matter? That's what the recent study about about organics fails to discuss. Yes, from a pure nutrional standpoint, peaches all have the same vitamins and minerals. It's a game of semantics and the study has equated "healthier" with nutrition and thrown food safety out the window. Kate over at The Accidental Hedonist wrote a thorough post on this same topic.
Last night Ulla from Goldilocks Finds Manhattan asked if bloggers can make a difference in the sustainable landscape during the SOS Food Chat on Twitter. I say yes, and offer up my own mom as proof. We were  on the phone while I washing dinner dishes and she brought up the article. Without me saying a word, she mentioned how annoying it was that there was no mention of pesticide use in the report. My mom lives on a fixed income, clips coupons and combs sale circulars to buy organic for when the kids come over. I understand that not every family can afford to shop for safer ingredients. It shouldn't be that way and hopefully one day pesticide-free food will be a right not a privilege. So, Ulla, I say let's keep spreading the message.