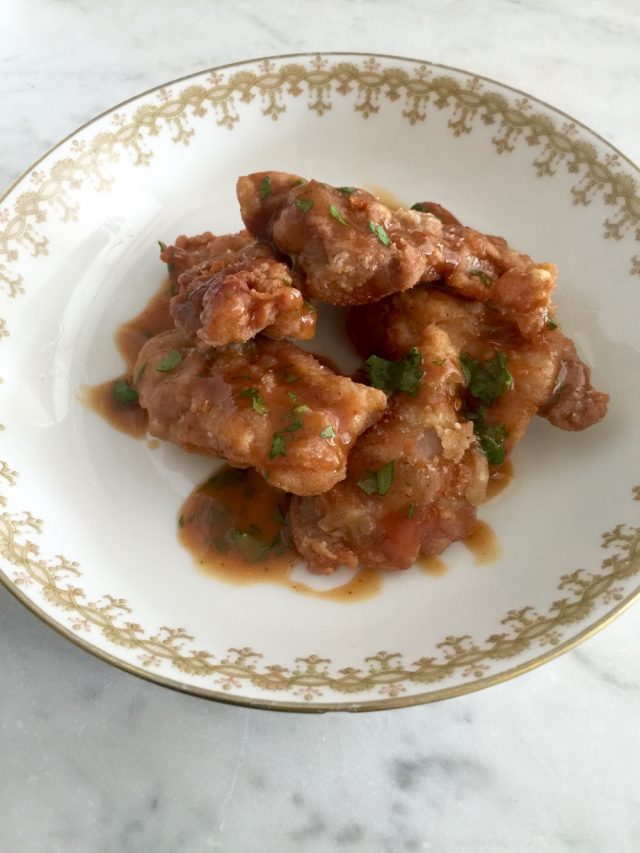 I realize one would think we live in a food fairytale from gleaning a look at my Instagram feed. I'm still a mother of two, though. While my girls are used to being around a variety of foods, they're also prone to the pitfalls of favorite "kid" foods. I write that with quotes because these fried chicken bites are not exclusively for children. One taste, and you'll become quickly addicted yourself.
Now, I firmly believe in not pandering to fussy eaters. One family, one meal is my motto. Food is very emotional, though, and for kids it's also a power struggle. Best to be gentle, patient, and understand why they like and don't like certain foods to help them build a healthy relationship with eating.
That's where these fried chicken bites come into play. Virginia loves chicken tenders. This recipe is basically a scaled down version of my fried chicken recipe, with a few tweaks. I decided not to use buttermilk to brine the chicken to keep the recipe dairy-free. The pieces are small enough so they cook quickly without drying out, which is essentially what the buttermilk does—the acid tenderizes the meat, as well as flavoring it if you use spices in the brine. If dairy isn't an issue, and you want to soak them in buttermilk, knock yourself out. Reference my original fried chicken recipe for doing so.
The trick to keeping these fried chicken bites nice and tender is using boneless thighs.
Dark meat is more tender and flavorful than white meat, but if you must, use breasts instead. I only developed an appreciation for dark meat as an adult. Just don't buy boneless breasts. They're so wasteful, and over priced. Buy a bone-in breast, cut away the meat, and freeze the bones to make stock.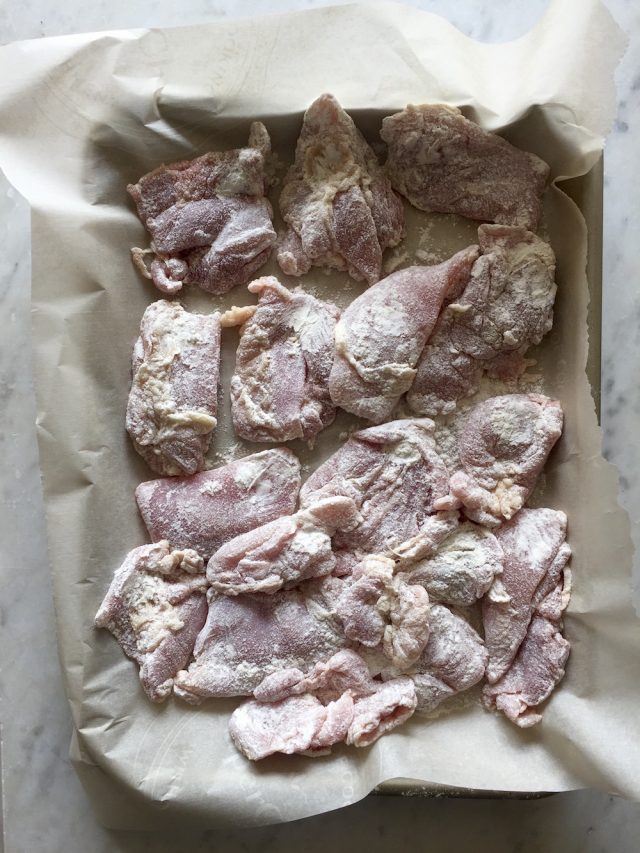 Two steps you must not skip when making these fried chicken bites, and fried chicken in general. First, pat the chicken dry (you would do this after brining, if you were soaking them in buttermilk). This is the way to ensure the flour sticks to the chicken.
Next, and really this involves no work. Wait. Yes, let your chicken rest with the flour coating for at least 10 minutes.
This is what I like to call letting the chicken become one with the flour, or as my best friend's husband calls it—PFC. Pretentious Fried Chicken. There were lots of laughs when I described that step, but this is exactly what you want to happen. The flour will absorb into the chicken, almost to the point that you think it won't form a crust. It will, don't worry.
Regarding the flour, I talk about this a bit in my original fried chicken post. I'm a big believer that White Lily Self Rising flour produces the best fried chicken. Ever. This doesn't mean you can't have amazing fried chicken if you can't find that flour. I've played around with different flours, including all-purpose white flour, "00" flour, and cake flour. They all get the job done deliciously. If I had to choose, I'd go with all-purpose white. Rice flour works, too, if you need to avoid gluten.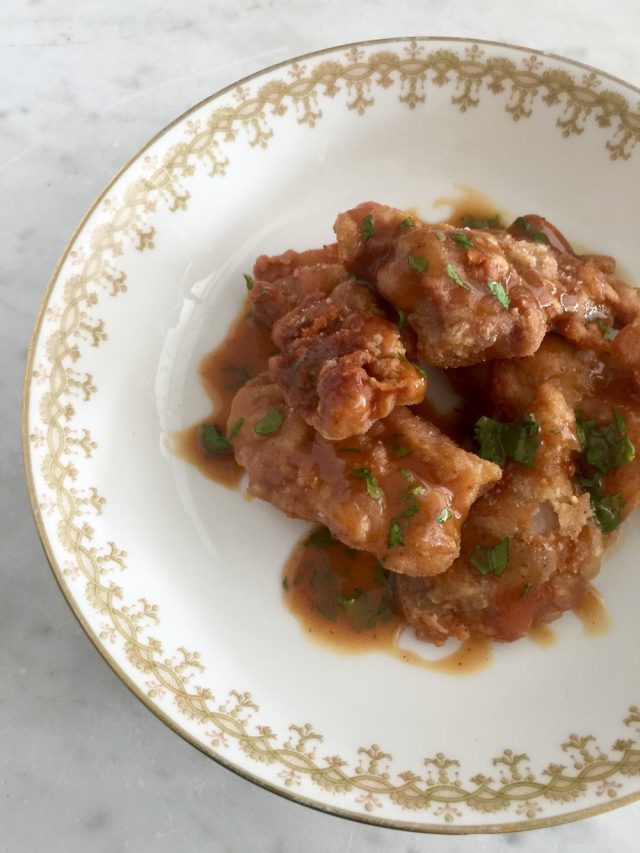 For a crispy, double crunchy crust, you can double coat the chicken. After you let it rest for the requisite 10 minutes, dredge it through flour again just before frying (don't forget to shake off the excess flour). I think these would be perfect for summer picnics. No bones means less clean up and trash to take off site. I love serving these chicken tenders with a spicy honey mustard sauce. For on the go meals, pack the sauce separately, but if serving at home, drizzling the sauce on top of hot out of the fryer chicken is the way to go.
Seven Years Ago: Homemade Granola + Bars
Six Years Ago: Roasted Chicken Salad
Five Years Ago: Strawberry Rhubarb Crumble
Four Years Ago: Lemon Olive Oil Cake
Three Years Ago: (almost) Summer Corn Salad
Two Years Ago: Strawberry Pie
One Year Ago: Somewhere Over the Rainbow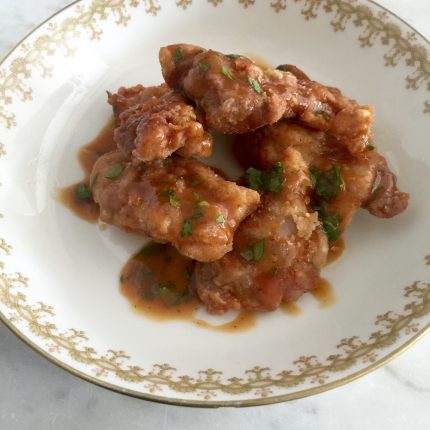 Fried Chicken Bites
The trick to keeping these fried chicken bites nice and tender is using boneless thighs. Using skin-on or skinless is your call. You'll have some flour leftover, unless you decide to double coat the chicken pieces (refer to the post for note on this). Transfer any leftover flour to a small container, label that it was used for chicken, and store in the freezer for the next time you want to make these. Regarding the za'atar, it's a middle eastern spice blend of sesame seeds, sumac, thyme, and salt. It's a nice flavor enhancer here. Feel free to leave it out if you prefer, or can't find it.
Ingredients
1/2

cup

75 grams flour (see head note)

1/2

teaspoon

3 grams fine sea salt

Freshly ground black pepper

to taste

1

teaspoon

1 gram Za'atar

1 1/3

pounds

boneless chicken thighs

cut into strips or chunks

Grapeseed or coconut oil

for frying

Spicy Honey Mustard Sauce
Instructions
Set a wire rack over a rimmed baking sheet, and set it aside.

In a small bowl, combine the flour, salt, pepper, and za'atar. Whisk to blend, then set aside.

Line a tray with paper towels. Place the chicken pieces in the tray in a single layer. Using a clean, dry paper towel, pat dry.

Drop 1 or 2 pieces of chicken into the bowl with the flour. Using your hand as a shovel, put some flour on top, then press the chicken into the bowl to firmly coat each piece with flour. Lift from the bowl, shaking off any excess flour, and transfer to a plate. Repeat with the remaining pieces of chicken. Let the chicken sit with flour coating at room temperature for at least 10 minutes.

Meanwhile, fill a 10-inch (25-cm) skillet with 1/2-inch (1-cm) of oil. Heat over medium-highish flame until shimmering. Add the chicken, working in batches so as to not overcrowd the pan. Cook until crisp and golden underneath, 4 to 5 minutes. Flip, and cook until golden and crisp on the other side, 3 to 4 minutes more.

Transfer the cooked chicken to the wire rack, and immediately sprinkle each piece with a bit of salt. Serve hot, with Spicy Honey Mustard Sauce, if desired.
Some more summer chicken recipes from my friends joining in Food Network's #SummerSoiree.
The Lemon Bowl: Ginger Teriyaki Grilled Chicken Breasts
Napa Farmhouse 1885: Grilled Chicken Breasts with Corn & Black Bean Salsa
TasteBook: Coconut Grilled Chicken with Ginger and Lime
Elephants and the Coconut Trees: Grilled Chicken with Mushroom Sauce
The Mom 100: Grilled Chicken Salad
Healthy Eats: 6 Ways to Never Tire of Grilled Chicken
Devour: Fuel Up for Summer with 4 Protein-Packed Grilled Chicken Skewers
In Jennie's Kitchen: Crispy Fried Chicken Bites
Taste with the Eyes: Grilled Chicken, Pickled Sweet Cherry Pepper Sauce
FN Dish: 6 Ways to Grill the Whole Chicken Like a Total Champ