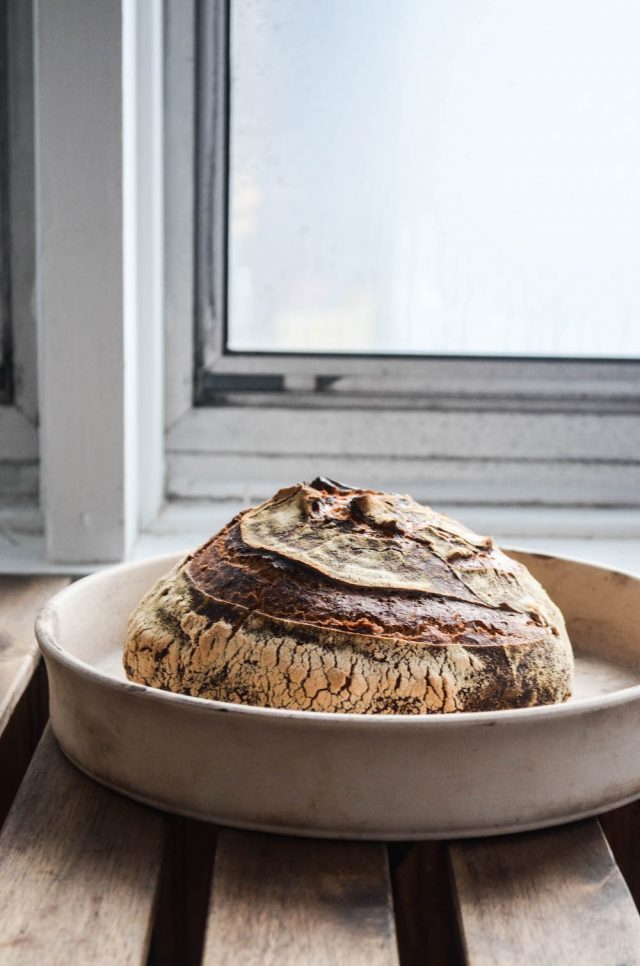 The sun is shining outside, birds are singing, and last night peeper frogs were serenading us. Alas, spring is such a tease, and feeling non-commital. The forecast for tomorrow is set to be in the mid-30s with rain and snow. For a brief moment, though, late yesterday afternoon, I got excited about the onset of warmer weather, as I perused the garden to see everything slowly waking up. Before I head outside to get my weekend underway, I wanted to pop in and share my recipe for Sourdough Boule using my starter.
I just got back into my starter routine after letting it rest (slow ferment) in the fridge during Passover. The time away was good in an odd way, and admittedly while I know many people who observe Passover miss bread for the week, for me what I missed most was baking it. The satisfaction and accomplishment that comes with making a loaf of bread can't be summed up in words—it's truly a feeling.
If you're personality is prone to needing definitives, I suggest bread baking as a way to accept the ebb and flow of life, and also as a way to hone and trust your instincts more. So, with that, keep in mind the ingredients I list below are slightly flexible based on the variables in your own kitchen (temperature, humidity, and the hydration level of your own starter).
I've used starter discard, fed starter, and biga to make this sourdough boule. The final loaf sometimes has a tighter crumb, but it still bakes up into a very worthy loaf. My biga tends to be less hydrated, so when using that, I either add a bit more water, or hold back some flour.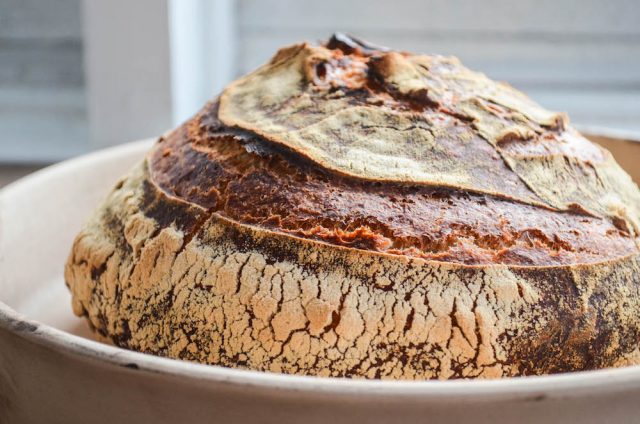 When it comes to what kind of flour to use, it all depends on my mood. Sometimes it's all white flour, other times a handful of buckwheat, spelt, or semolina make it into the dough. What matters most is that you work by weight, and stick to that amount in total. And don't forget, whole grain flours drink up liquid more than white flour, and they're also denser, resulting in a heavier loaf—essentially, a little goes a long way to adding flavor and texture, without yielding a brick when it bakes up.
Jump straight to the recipe for Sourdough Boule
Salt—do not skimp here. It's one of those things where you won't taste it, but you will taste if it's missing. Does that make sense?
Regarding the rising time, and environment. I keep a colder house in the winter because fuel is so expensive. Leaving the dough out on the counter is fine. Since I'm more than happy to pay for electricity to keep the house like an ice cube (I know, this is so bad of me from an environmental perspective), I assume an overnight counter rise will be fine in the summer, too. We'll see.
If you're house is on the warmer side, or you want to prep your dough earlier than just before bedtime, I suggest letting it rise overnight in the fridge. Take it out when ready to bake, and the dough should warm up enough during the time it takes for your oven to preheat.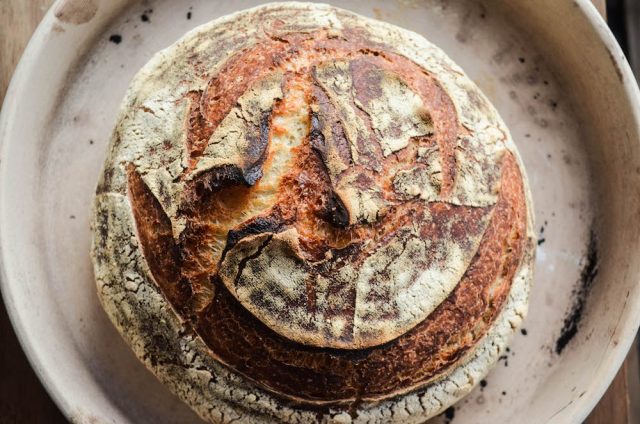 I mention a few tools in the recipe that I use when baking bread. When I bought my house a few years ago and began my deep dive into bread baking, dear friends gifted me some proofing baskets. I love them, and think they're worth the investment, but also mention a work around if you don't own/don't feel like buying them.
More recently, another friend gifted me this stone bread baker. Before that I'd been using ceramic dutch ovens with great success. Only issue was I couldn't bake larger loaves, the way my new stone bread baker allows. Yes, I'm very lucky indeed to have such kind, thoughtful friends.
Okay, little birdies, I'm going to run, and let you fly with this recipe. Enjoy!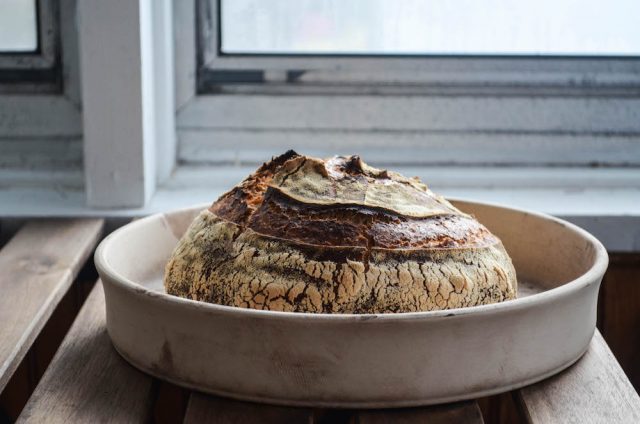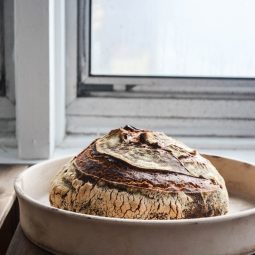 Sourdough Boule
Ingredients
125

grams

sourdough starter

fed or unfed

250

grams

room temperature or cold water

325

grams

flour

plus more for kneading

8

grams

salt
Instructions
Combine the starter, water, flour, and salt in a deep bowl. Stir with a wooden spoon until mixed. It'll be scraggly looking, don't worry.

Dust a counter with flour, and scrape the dough out onto it. Dust a bit more flour on top. Knead until it forms a smooth dough, 8 to 10 minutes, dusting lightly with more flour as needed.

Shape the dough into a round, and add to a floured proofing basket, if you have one. Alternately, you can line a deep bowl with a clean, non-terry dish towel. Generously flour the towel, and place the round of dough in it.

Cover the proofing basket with a piece of plastic film. Let rest in a cool spot overnight, or 6 to 8 hours.

The next morning, add a stone bread baker, or ceramic dutch oven to the center rack of your oven. Preheat the oven to 500ºF (260ºC).

Remove the stone pot from the oven, and gently, but swiftly, turn the dough out of the basket and into the pot. Make slashes, as desired with a sharp paring knife or razor. Cover and bake 30 minutes. Remove cover, and let bread bake 10 to 15 minutes more until the crust reaches your desired level of doneness. Best to start checking at 10 minutes if you prefer them less well-done.
SaveSave
SaveSaveSaveSave
SaveSave
SaveSave
SaveSave
SaveSave
SaveSave
SaveSave