Orange & Sesame Stir-Fried Tofu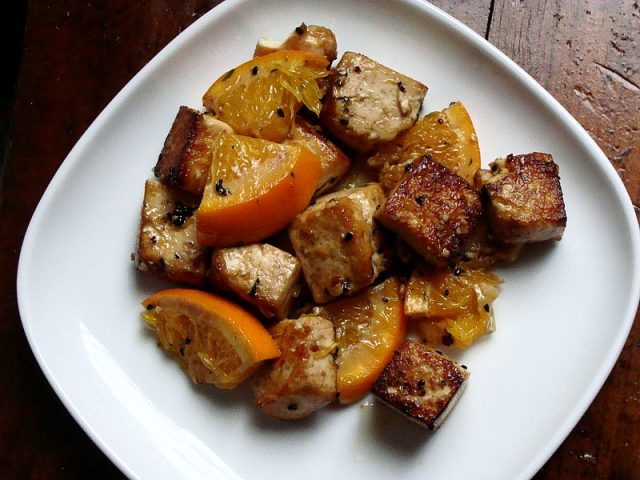 Last week was a blur. No kidding, folks. I just had to look in my calendar to see what I actually did. How did life get so busy that weeks suddenly seem to fly by?
It's the same with kids. Lately I find myself staring at IRP wondering how she's possibly turning seven years old in just two months. I remember the look of terror the Mr. and I exchanged as we sat in the car, freshly-minted baby in the back. At least we had time to watch her grow and savor each and every second. With two kids, now, I always feel like it's a race against time. The clock mocks me at every turn of the hand.
This weekend though, I stopped running. I took time to enjoy the quiet little moments. The girls and I took a stroll for some ice cream at Sweet Melissa. IRP and I had some alone time for a fun girls' day at the New York Hall of Science. Then we capped the weekend off with a late afternoon park outing before heading home to cook dinner.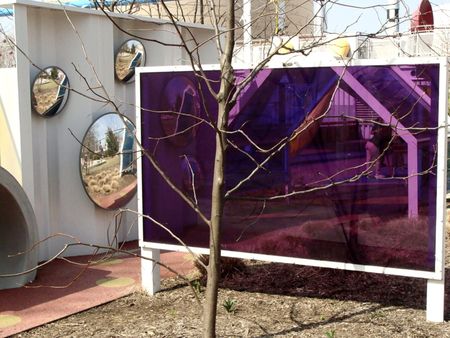 A quiet escape in the Science Playground at the New York Hall of Science.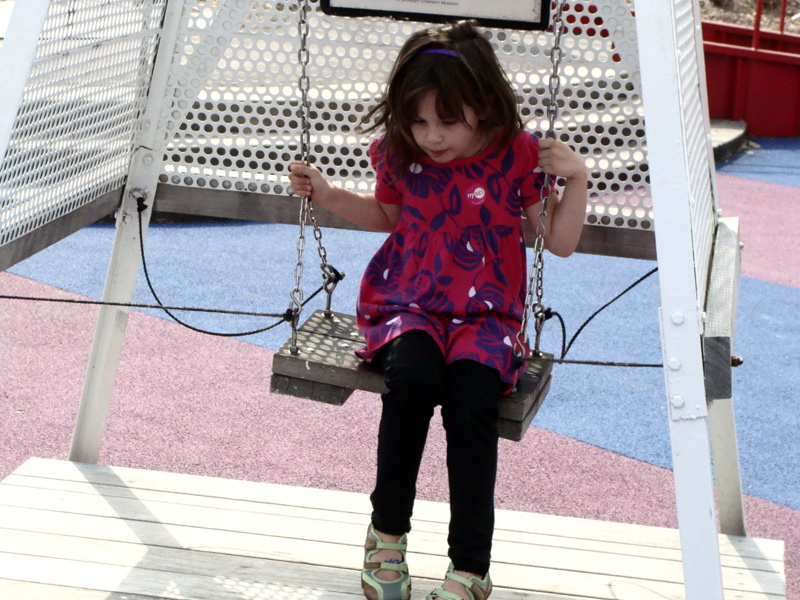 IRP trying to power a windmill…on a swing. Yes, it was pretty cool.
By time Sunday evening rolled around, I realized I hadn't gotten any of my planned work done.
And, you know what? I wasn't stressed out. It felt good to slow down. To leave work at the "office" so to speak. That is always my challenge come the weekend, and a hazard of working from home. Work is always with me, tapping me on the shoulder, saying "ahem".
My girls will only be little once, though, and this weekend it felt good to just be a mom. Not a writer. Not a chef. Just mommy.
Last weekend, I made this Orange & Sesame Stir-Fried Tofu. It seemed perfect to post for Meatless Monday. When I first envisioned the dish, I'd wanted to make it with chicken thighs but the local supermarket only had boneless skinless thighs from Bell & Evans. No bones, no skin…why bother?
I remembered I had some organic tofu in the fridge. Oddly enough, it had been a dollar less than the regular stuff so I added it to my cart earlier that week. In the end it all worked out, and this dish was super quick to make and a crowd pleaser with three out of four—the baby just isn't a tofu fan…yet. So when you need a few minutes to slow down and just enjoy life, add this dish to the dinner line up.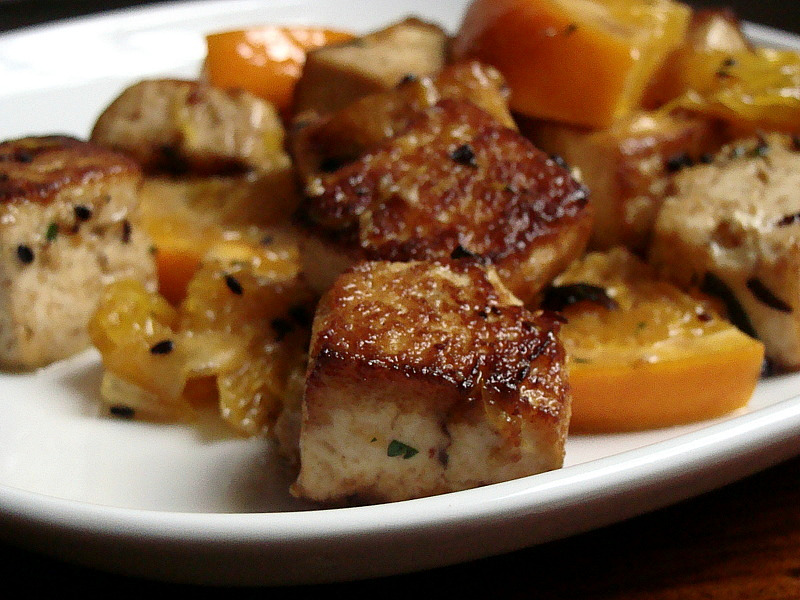 Orange & Sesame Stir-Fried Tofu
serves four
1 orange, cut into 1/4-inch thick triangles
1 clove garlic, smashed
3 tablespoons soy sauce
1 tablespoon sesame oil
Splash of white wine, optional
Salt and freshly ground pepper, to taste
1 pound extra-firm tofu, drained and cubed (see pics below on how to drain)
Fistful of fresh cilantro, chopped
1 tablespoon olive oil, plus more as needed
1 teaspoon black sesame seeds
Place the oranges in a deep bowl and mash them until juices are released (my bar muddler worked perfect for this step). Add garlic, soy sauce, sesame oil, white wine, if using, salt and pepper. Stir with a fork, using the same motion as scrambling an egg. Add tofu and cilantro, toss well to coat with a rubber spatula. Let sit, covered in a refrigerator two hours or overnight.
Separately drain the tofu and orange slices, reserving the marinating liquid. Heat olive oil in a wok or deep skillet. Add tofu and saute over high heat until nicely browned on all sides, adding more olive oil if needed to keep tofu from sticking to pan; transfer to a dish to keep warm (you may need to do this in two batches depending on size of work or skillet). Add the orange slices to the skillet and saute until heated through. Return the tofu to the wok, add the sesame seeds and reserved marinating liquid. Toss well, and saute two more minutes. Serve with hot jasmine rice.