a kiss to build a dream on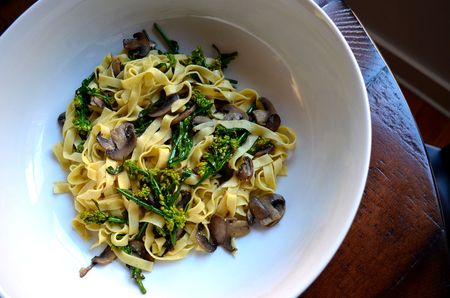 Navigating life without my sidekick is lonely. There's no one who gets my Seinfeld references. I often feel alone in a crowded room. It's easy to let this get me down, but I work minute-by-minute to temper my sad feelings with the memories of all the good ones.
Making pasta is one of those good memories. I'd never made it until I met Mikey. For a single guy, he had a relatively good collection of kitchen equipment. A blender, an assortment of pots and pans, a demitasse coffee maker, and an Atlas pasta maker. I don't remember if he had ever attempted making it before we met. In fact, I don't remember the first time I even made it. I do remember shedding many tears over the years of failed attempts though, mostly from not enough liquid in the dough.
Over my 16 years of making fresh pasta, I've learned three key things. First, room temperature eggs make a difference. They blend more easily with the flour. Pasta dough needs to nap, so once it's kneaded, wrap it in plastic wrap and let it rest on the counter, at room temperature, for at least 20 minutes, and up to an hour if you have the time. My last trick is using some semolina flour. It helps add elasticity to the dough, making it easier to roll out.
There are many people who will say you must only use egg yolks. You can certainly use only yolks, but like everything in life, it's not the only way. Whole eggs work absolutely fine. I first learned how to make pasta from Guiliano Bugialli in his book Classic Techniques of Italian Cooking. It was a gift from Mikey the first Christmas we were together, back in 1995.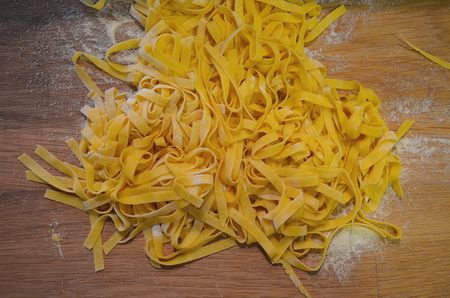 That picture you see above is of the second batch of pasta I've made since he died. I went from making pasta twice a month to a dry spell. Not a noodle was rolled or cut since August 7th. I had actually planned on making it for dinner the day that he collapsed.
I'd been meaning to buy a new pasta maker long before Mikey passed away. That old Atlas he bought many moons ago was getting squeaky. I tried using some olive oil on the gears, but it didn't make a difference. Since the pasta machine did the job effectively, albeit loudly, buying a new one was more a wishlist item, not a necessity.
A month ago I found myself at Sur La Table, and figured since homemade pasta would be a recipe in City Girl, Country Kitchen, then a new hand cranked pasta machine was no longer an indulgence. It was a justifiable expense. I'm not a fan of the motorized ones or stand mixer attachments. Hand cranking the dough makes me feel more connected to it, and in control.
The truth is, I don't think I can ever use that old pasta maker again. Every time it squeaks, it'll just remind me he is no longer here to make fun of it. I don't intend to ever get rid of it either, so now it will become a mantle piece. That should be a conversation starter.
I set out to make pasta again last night, and currently there are eggs sitting on the kitchen counter coming to room temperature too. Homemade pasta is in our future again tonight. A dry spell for 33 weeks, and now fresh pasta three times in four days. I think I'm trying to reconnect to our early days together, emotionally searching for a way back to him.
He was much more than just my husband. He was my best friend and biggest cheerleader. He gave me the confidence to leap, always. He was the safety net to my often fearless and reckless way of just following my heart.
I don't have a new recipe to share today, since that pasta I've been talking about is for the cookbook. I do have something special, though. I'd like to share my love of making pasta by giving away an Atlas 180 pasta maker. Think of it as a just because gift. Those are always the best kind.
The Fine Print: Really, you'll be able to choose anything you want from Sur La Table because it'll be a $150 gift card you receive, enough to cover the pasta maker, including tax and shipping. Leave a comment, and the winner will be selected randomly using Random.org on April 5th, 2012. The gift card will be sent electronically, so comments must have a valid email address to be eligible.
4/5/12—comments are now closed on this post. A winner will be selected and contacted shortly.
4/6/12—congrats to Deanna, comment 777, chosen using random.org, on winning the Sur La Table gift card.