the road ahead—reflections on day 111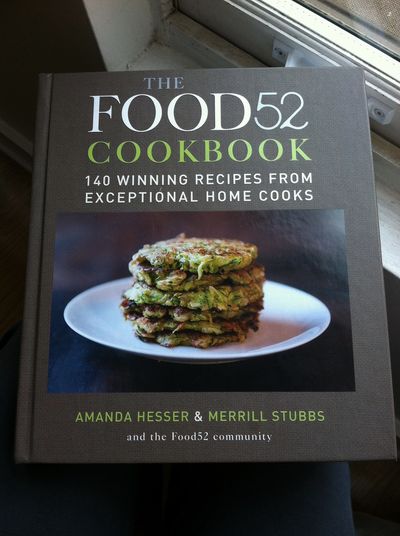 I'm staring at the keyboard, not knowing what to title this post. Needless to say, I've been a mix of emotions the last few days. I want to say we got through our first Thanksgiving without Mikey, but "got through" doesn't do the day justice. We spent it with a very dear friend and her family. I spent the day cooking, and for the first time in 109 days I felt really alive.
I was in my element, at the stove.
I made cinnamon buns for breakfast, then proceeded to make chocolate chess pie, brown butter apple pie, caponata, sauteed mushrooms, mashed potatoes, and roast turkey.
Even once they left, the calm that had settled over me remained, and I started to feel guilty for not crying. I mean tears are supposed to signify my sadness, right?
I woke the next morning, the day after Thanksgiving, and went back to the kitchen. This time I took out the White Lily flour MJ sent me, and made fluffy, buttery biscuits for bacon and egg sandwiches. The girls and I went to see the Muppets, and when we came home I headed into the kitchen again to make pizza for our Friday night ritual.
This was our first pizza Friday in the new apartment. We've eaten pizza here a few times now, but those were takeout. Those pizzas didn't count.
This pizza, the one with thin slivers of cacciatorini leftover from the Thanksgiving antipasto, those bits of dried sausage crisped up into what tasted like sausage chips.
He would've loved this pizza.
And as the girls sat in the next room, watching Olive the Other Reindeer, I wept. Soon the weeping led to a pool of tears sopped up by the cloth napkin in my lap. And that's when I realized that as much as cooking is my path to healing, the journey is going to break me first.
The walls need to crumble before I can figure out how to fix them. My memories will shore them up, as I rebuild my life and create a new foundation for new memories, memories that my life with Mikey will inevitably shape.
I will remember what happened as I made the apple pie on Thursday morning, and use that to soften the blows when my world seems to come crashing in. As I sliced apples at the counter, I felt a breathe of warm air on my neck, as if he were watching over my shoulder, and I smiled. He was near me in spirit, and in some crazy way breezed through the barrier of heaven and earth to make me feel his presence.
And so here we are, on a lazy Saturday morning. I took out some mixed berry conserves to spread on our toast, and read the date on the jar—July 2011. Mikey was alive when I made them. The sweet burst of summer reminded me of the day I went overboard buying berries, and decided to make a quick conserve out of them. That slather on my toast this morning bridged my past and present.
When The Food 52 Cookbook came in the mail last week, I felt happy and sad simultaneously. I have three recipes featured in the book—3 out of 140! He was so proud when I won the first contest, for my sweet and savory tomato jam. Then came my seriously delicious ribs, a wildcard winner. But the one I was most proud of was the one for my manicotti. As an Italian-American I felt especially reaffirmed that our culinary heritage is one to be embraced and respected.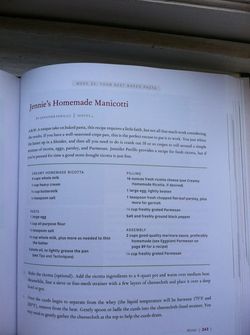 Mikey didn't live to see this, the day when my recipes finally appeared in a cookbook. Recipes that were tested and given the seal of approval from two food writers and recipe developers I respect and admire, and voted as the best in their category from home cooks, people like me and you creating meals and memories for their families.
Yet on day 109, he came to me in the kitchen, with a whisper of warm of on my neck.
***
Jennie's Homemade Manicotti
Serves 4
For the pasta crepes 
1 large egg
1 cup flour
¼ teaspoon salt
¾ cup whole milk, more as needed to thin the batter
canola oil, to lightly grease pan (see note)
For the filling
16 ounces ricotta cheese (here's my homemade recipe)
1 large egg, lightly beaten
1 teaspoon freshly chopped parsley, plus more for garnish
¼ cup freshly grated Parmesan or locatelli cheese
Salt and freshly ground pepper, to taste
To Assemble the dish
2 cups marinara sauce
¼ cup grated Parmesan cheese
Add the pasta ingredients to the bowl of a blender. Blend, adding more milk one teaspoon at a time, until batter is a thin, almost runny consistency. Heat a nonstick 8-inch skillet or crepe pan over medium-low heat. Brush pan lightly with oil, if needed (see note). Hold pan at an angle, and swirl pan as you pour in enough batter to coat bottom of skillet. Cook 30 to 45 seconds, flip and cook for 15 more seconds. And don't forget, the first one or two might end up being sacrificial until you get the hang of swirling the pan. Transfer to a flat dish or tray. Repeat with remaining batter.
Preheat oven to 350ºF. Spread ½ cup of marinara sauce into the bottom of a 9-inch by 13-inch casserole dish. Combine all the filling ingredients in a medium bowl; mix well. Lay pasta crepes on a flat surface and spoon an event amount of filling in a long strip down the center of each one. Roll crepes closed, and place seam-side down into the casserole dish. Evenly pour remaining sauce over filled crepes. Sprinkle remaining grated cheese over top and bake 20 minutes, until golden and bubbly. Garnish with fresh chopped parsley and serve immediately.