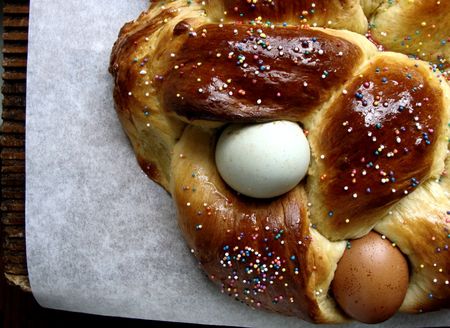 It's hard to believe that just a year ago we felt complete and normal. I've tried to find the words to start this post for a week now. Nothing flows freely from my fingertips, but I wanted to share this recipe for Easter Bread with you. I hadn't realized how close we were to Easter until I went to the local pastry shop with Virginia last week. Lamb-shaped cakes and rounds of sweet bread filled with colored eggs adorned the counter tops.
Last year our house was overflowing with homemade Easter Bread, as I was testing it to be featured in the Washington Post. I read the old post I wrote back then, with tears dripping from the corners of my eyes. How was that my life just one year ago?
Then there's this picture I have of Virginia kneading the dough with Mikey. People constantly tell me she's too young to be as deeply affected by his death as Isabella, and it's infuriating. She may be barely four years old, but she's not stupid. One day she had the most loving, caring, involved daddy, and then he disappeared as quickly as flipping a light switch.
As I type these words, I'm beckoned back to last April, the scents of my new kitchen filled with those from my past. There's an Easter Bread in the oven, one I started way too late, since it's now 11:36pm and I really should be sleeping. Below is a picture of Mikey and Virginia kneading the dough last year. I keep it in my phone, and she stares at it with a longing look, and ache in her heart.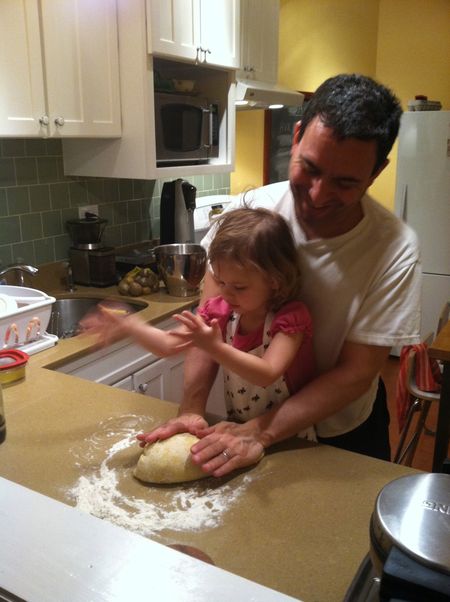 The bread in the oven right now posed a challenge. The ingredients were measured properly, the dough felt and tasted right, but something was off. Something was missing. I continued on, determined to see the recipe through. Afterall, I made more than half a dozen loaves in just one week last year. This was a tried and true, tested recipe. And yet on this night, my bread is a little mishapen, the bottom a littler darker than I prefer. It was finicky, but all was not lost. In the end it came together, baking up into a buttery, sweet ring of goodness. Perhaps it's a metaphor of things to come.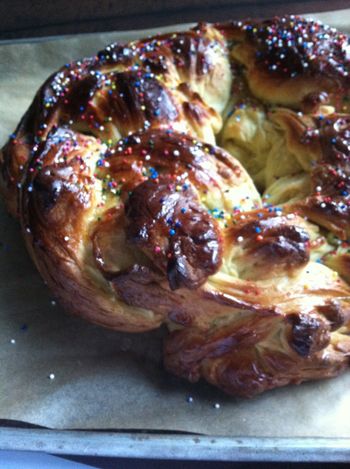 Italian Easter Bread
Makes one 12-inch ring (10 to 12 servings)
The dough needs to rise first for about 1 1/2 hours, and a second time for about 35 minutes, so make sure you plan accordingly. Wrapped in parchment paper, the bread will stay soft for 2 to 3 days. (If you added whole eggs for decoration, remove them and refrigerate; re-seat them before serving). Stale leftovers make a nice base for bread pudding; just scrape off any remaining nonpareils.
p.s. Normally I give metric measurements for everything, but realized I didn't weigh my egg yolks here. I'll add those in the next time I bake up a loaf, which hopefully will be in a couple of days.
p.p.s. If like me, you realize you ran out of lemon extract, just swap in freshly grated zest from one lemon and 1/4 teaspoon of almond extract. Oddly, enough, this mimics the flavor of the lemon extract.
16 tablespoons (2 sticks) unsalted butter, at room temperature, plus more for greasing the bowl
4 teaspoons (17 grams) active dry yeast
1 cup (250 ml) scalded regular or low-fat milk, cooled to 110 degrees
1/2 cup (100 grams) sugar
4 large egg yolks, plus 1 large egg white beaten with a splash of cold water
1 teaspoon (5 ml) lemon extract
6 cups (900 grams) flour
1 teaspoon (4 grams) kosher salt
4 to 6 large colorful eggs, for decoration (optional, see headnote)
1/4 cup simple syrup, for glazing (see note)
Multi-colored nonpareils, for garnish
Use a little butter to grease a deep glass mixing bowl.Combine the yeast and milk in a medium bowl. Let the mixture sit for a few minutes until it has dissolved.
Combine the 16 tablespoons of butter, the sugar, egg yolks and lemon extract in the bowl of a stand mixer fitted with a paddle attachment; beat on medium speed for 1 to 2 minutes, until creamy. Stop and scrape down the sides of the bowl. Add 5 cups (750 grams) of the flour, the salt and the milk-yeast mixture. Starting on the lowest speed, beat just long enough to form a soft dough that pulls away from the sides of the bowl.
Switch to the dough hook; beat on medium speed for 3 minutes. The dough will be soft. Sprinkle a clean work surface with a 1/2 cup (75 grams) of the remaining flour. Transfer the dough to the surface; knead the dough to form a smooth, elastic ball. Place in the buttered bowl, cover tightly with plastic wrap and let rise in a warm, draft-free area for about 1 1/2 hours, or until it has doubled in volume. Line a large baking sheet with parchment paper.
Turn the dough out onto a clean surface. Sprinkle with the remaining 1/2 cup (75 grams) of flour, and knead for 1 to 2 minutes so that flour is absorbed. Divide the dough into 3 equal balls; form each piece into a 20-inch long rope. Braid the ropes and shape into a circle. Tuck in the uncooked whole eggs into the braids now, if using (as many as will fit, to your taste). Transfer the ring of dough to the prepared baking sheet; cover loosely with a barely damp towel or plastic wrap. Let rise for about 35 minutes or until the ring has doubled in size.
Meanwhile, preheat the oven to 375 degrees. Uncover the ring of dough. Brush the top of bread with the egg wash (being careful to avoid the eggs if you've added them to the braid), and bake for 33 to 37 minutes, until the bread is a deep golden brown. The internal temperature should read 185 degrees on an instant-read thermometer. Transfer the bread to wire rack to cool completely.
If desired, liberally brush the top of the bread with simple syrup, then immediately sprinkle with the nonpareils. The top will be sticky at first, but will set after a few hours.
Note: To make simple syrup, combine 1/2 cup of sugar and 1/2 cup of water in a small saucepan over medium heat, stirring until the sugar dissolves. Bring to a slow rolling boil, then reduce the heat to medium-low and cook for 5 minutes. Transfer to a heatproof container and let cool to room temperature.