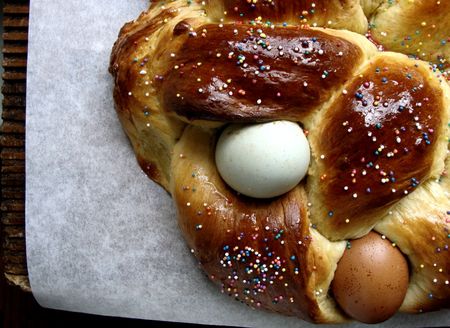 Last night I hosted a Passover seder for my in-laws. Today my Easter Bread recipe is featured on The Washington Post. It's a poetic juxtaposition of the two worlds I float between.
But I have Kim in my head, whispering "be happy for the moment". So I will let my quandry of how to raise the girls with a spiritual guidance rest for just a few minutes.
I will push that feeling of limbo, my wonders of what really happens in the afterlife—if there is an afterlife, to the recesses of my brain for a few moments and enjoy what I have worked hard to achieve.
Sure, I've been published before, but this Washington Post article is something special. When I was in college, I subscribed to the paper. I figured what better way for a local gal, studying journalism at Brooklyn College, to start taking her craft seriously.
Why did the Washington Post feel more important than the gospel of my hometown, The New York Times?
Maybe it was because it represented a wider world, someplace further from where I grew up and settled for college—my mom and I knew nothing about scholarships back then.
I took courses day and night to fit in three jobs so I could pay for college. Between classes I was a nanny to a child model and actress, tutored ESL students at the campus language lab and was a stock girl at the Gap on nights and weekends. I even pushed a popcorn cart at the local movie theater during one summer.
There were no silver spoons. While it may seem easy now, looking in on my daily life, peeking to see what simmers and stirs in my kitchen, my story is truly one made from scratch. The memories of my past serve as sustenance to keep me working towards my dreams for tomorrow.
And little bursts of sunshine like this one in The Washington Post are an important reminder.
Almost 20 years later, after a very winding, and sometimes uncertain path, it looks like I really am gonna make it after all.
This recipe is now on my new site, Simmering. Click here to subscribe.