lemon thyme & hummus egg salad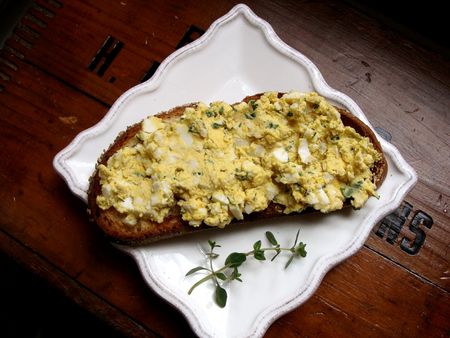 If you had asked me a few weeks ago about egg salad, I probably would've smiled politely, then let my mind wander to thoughts of something I actually enjoy eating.
By now, you've probably realized I'm not finicky about my food choices. During my years at Gramercy Tavern and Alain Ducasse, I ate many foods I wouldn't have ordered on my own. Some I enjoyed more than expected, and others I wish to never eat again—sweetbreads rank high on this list (please take note if I'm ever invited to dinner. I can't even be polite and force a swallow).
I've tasted bear, at a diner in upstate New York no less—and pretty much every part of a lamb, except the genitals (vegetarians, my apologies if you're feeling faint). I didn't like lamb before that, and am finally coming forward to say I still don't.
Compared to a lamb heart, egg salad should be a no brainer right?
Not exactly.
Mayonnaise terrifies me. I'd eat lamb heart before ever ordering egg salad in a restaurant.
This has been a problem my whole life because BLTs, done right, are my favorite sandwich. I always stress no mayo when ordering, and my heart quickens as I see the dish make its way to the table. The dreaded moment when I look down crestfallen, to see white goopy stuff spilling out the sides. What's worse is when I remind the server I ordered it without mayo and my sandwich returns with just new bread, the remnants of mayo clinging to the top layer of the filling, sullied forever and destined to never touch my tongue.
At this point there's no sense in returning said sandwich. Lord only knows what kind of revenge the cook might exact. This isn't a problem at a Gramercy Tavern, but at your local diner I'm not taking any chances. I'll just avoid the BLT.
I should mention I will eat my own homemade mayo. I even have a recipe for homemade egg-white mayonnaise—it's quite good too!
But, enough about bacon, lettuce, tomato and mayo.
Last week, I received a copy of You Can Trust a Skinny Cook. I'd tell you how happy this book has made me, but after this post on Simple Scratch, I'm worried Allison might send a virtual restraining order my way.
See, I have a girl crush on Allison Fishman. Once you pick up her new book, you will understand why.
Allison has a recipe for crisp bread with egg and avocado in You Can Trust a Skinny Cook. It's insanely simple—take a hard boiled egg, mash it with some lime juice and salt, top a multigrain crisp bread with avocado slices, smear on the egg "salad" and eat.
Before reading this I'd never thought to make an egg salad without mayonnaise.
Please stop rolling your eyes. My life has been busy with a rough childhood, and now two kiddies of my own. I haven't committed any food crimes. I've just been too preoccupied with life to give egg salad any real thought.
Allison's book arrived the day before I set out to make some Italian Easter Bread. I decided to cook it with eggs this time, which meant I'd be left with four hard-cooked ones. I usually add them chopped up to tuna salad, made with olive oil and red wine vinegar, not mayo.
After reading Allison's recipe, though, I decided to venture out on my own.
See what I'd been missing all these years.
I just so happened to have some of that white bean hummus in the fridge too. It's white and creamy, so I thought it would make a nice binder to hold the egg salad together. I snipped a sprig of lemon thyme too—why not?
I'll confess, I half-expected to take one bite, shrug my shoulders and look for something else to satisfy my hunger.
What happened next was as surprising as the Grinch's heart growing three sizes that day.
It turns out I do love egg salad.
I will eat it on a bus, in a plane and on a train.
I'd eat in on a sunny day, cloudy and in the rain.
Please just hold the mayo, and give me white bean hummus once again.
lemon thyme & hummus egg salad
serves one
1 hard boiled egg, peeled and cut into pieces
2 teaspoons white bean hummus
Sea salt and freshly ground black pepper, to taste
1 spring of lemon thyme, leaves removed and stem discarded
1 slice toasted country bread
Add the egg to a small bowl and mash it with the back of a fork. Add the hummus, salt, pepper and lemon thyme, then use the fork to stir it together, until mixed well.
To serve, spread the egg salad on the bread and eat immediately.