Mediterranean Mackerel Salad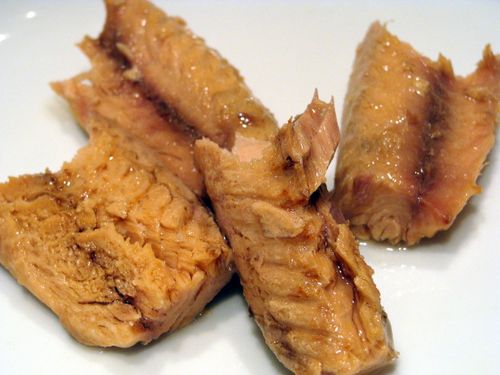 My husband is the tuna king in our family. The man can't step into a diner without ordering a tuna melt on rye with Swiss cheese. It's pretty rare I even get a craving for the stuff, but when such an occasion rises, I head to the Italian market a few blocks from my house for some of the good stuff. Even if tuna is one of your staples, you must treat yourself to some high-quality fillets packed in oil from Italy. I know you're saying wait a minute, I thought this was a mackerel salad. Well, it is but that only happened by chance.
I woke up a few weeks ago thinking I should try feeding the baby hard boiled eggs. Then I thought, hmm how many peole know how to make a really good hard boiled egg. And well (parents will appreciate this next line, the rest of you can google Laura Joffe Numeroff), if you give Jennie a hard boiled egg, she's going to want tuna salad to go with it. And by the way, the baby didn't care for the consistency, but she's only 14 months and still developing her palate.
Back to my story. Off I went to the market only to find they were out of my favorite jarred tuna. I saw another jar filled and asked the owner for his opinion and that's when I learned this particular jar was filled with mackerel fillets, not tuna as I thought (I haven't retained much of my high school Italian, and couldn't read the label).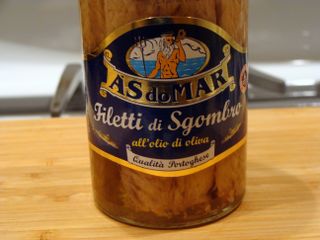 It turns out I like mackerel better than tuna (and so does the cat, who swooned the second I popped the lid). The flavor is a bit more subtle than tuna. Tossed with some hard boiled eggs (from Grazin' Angus Acres, of course), onion, Kalamata olives, dressed simply with evoo and fresh lemon juice and tucked into a crunchy wedge of baguette, it was the perfect lunch break. I'd even consider tossing it with hot pasta for a dinner twist.
Mediterranean Mackerel Salad
Serves 2 to 4
Making a perfectly cooked hard boiled egg, a key ingredient here, is really easy. Put eggs in a small pot and cover with cold water. Place over high heat. Remove pot from heat just before it comes to a boil—you'll see little bubbles begin to float to the top. Cover pot with a lid, and let stand for 10 minutes. Place eggs in a bowl of ice cold water to stop cooking process, then peel and eat, or store in fridge for up to two days.
1 250g jar of mackerel fillets, broken into small chunks
8 Kalamata olives, pitted and chopped
1/4 cup red onion, chopped fine
2 hard boiled eggs, peeled and chopped
handful of flat Italian parsley, chopped
for dressing
1 tablespoon extra virgin olive oil
Juice from 1/2 a lemon
Freshly ground black pepper, to taste
In a deep bowl, mix the mackerel, olives, onion, eggs and parsley with a rubber spatula or spoon. Add the olive oil, lemon juice and pepper; mix well. Serve on a crusty baguette or over mixed greens.