vegetarian matzoh ball soup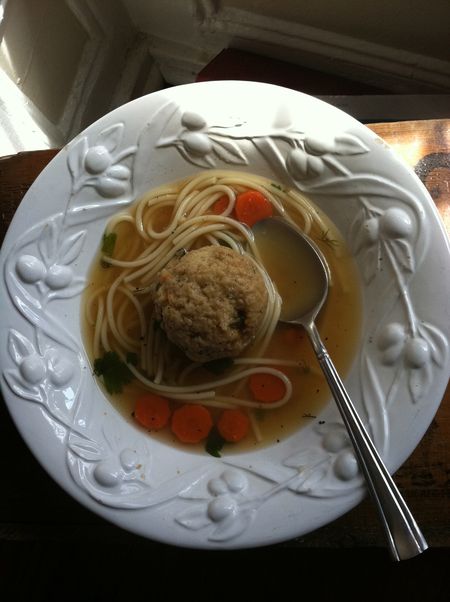 I know, my Jewish friends out there will think this picture is torture. Hours away from the start of Passover, and I'm posting a photo of matzoh ball soup with pasta in it. The picture is from last year. The soup was made for the last Passover we celebrated with Mikey. I didn't use the pasta in my shiksa seder the night his parents came over, but I did add it to the leftovers. A no-no still for observant Jews, but being a recovering Catholic, I was able to play by my own food rules.
A few days ago I had coffee with a new friend, and her words have been echoing in my mind ever since. Then I came across this quote in the December issue of Whole Living magazine—I'm quite behind in my periodicals as you can tell.
"Avoid getting trapped in someone else's story. Be the author of your own life."
Michael and I shared a story. It was a beautiful one. It was filled with love, friendship, honesty, trust. Part of his story has ended, not all of it, of course. He will forever live on in our daughters. The love he left me with radiates with my every breath, as unbearable as they feel to take without him here.
But his death is not the end of my story. It may define how I feel at this moment, but it does not decide who I get to be as the days, weeks and years move forward. I am not ready to give up.
I feel lost.
I feel broken.
I feel incredibly sad beginning this holiday weekend as everyone gathers with their families to continue collecting memories for their story.
Like it or not, August 7th began a new story for me. Not a chapter. My life with Mikey was a book in itself. I'm trying to embrace my life as a series, and now this is but another book in it.
This is my life. This is my story to make what I want of it.