homemade vegetable egg rolls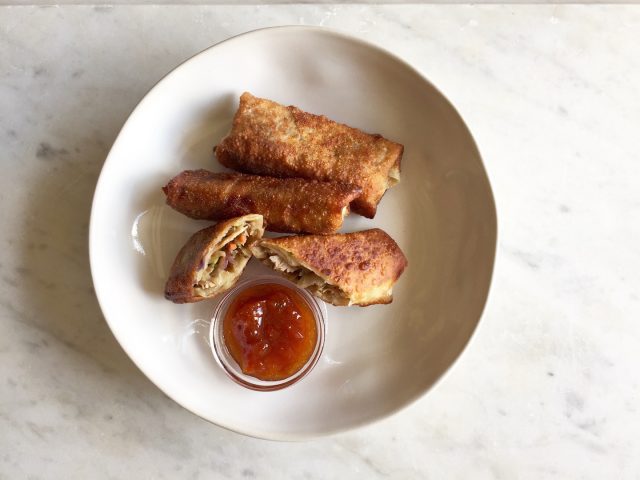 Before we go any further, I owe an apology for the RSS feed if you're a subscriber (if you're not, click this link). The last couple of weeks the images have been wonky, and not exactly matching the actual post. There's so much admin work to do when you're a one-woman shop like myself. Much as I try to dot every "i" and cross every "t", something falls through the cracks. It kills me like you can't imagine.
Sooo, until I can sort out with my web developer why the image doesn't auto fill when a new post goes live, I have to manually go in and change it. Even worse than having to do it manually is I have to remember to do it. My apologies, and I hope it hasn't deterred any of you from clicking through and reading. I will try to get better about it!
Now, let's talk about egg rolls. Specifically, homemade egg rolls. I don't know why it took me this long to make them, but you know what they say about better late than never.
Contrary to what you might be thinking, homemade egg rolls are super easy to make. I'm not kidding. The light bulb moment came when I saw a tip for using coleslaw mix to make the filling. Bingo. The thing that was stopping me from making egg rolls was the prep work. I know that sounds impossible, but it's true. I love making homemade veggie wontons, but also know that's it quite the commitment for all the chopping and prep work required. Using pre-sliced coleslaw mix helped get me over the hump, and give homemade egg rolls a try finally.
I prefer using the coleslaw mix from Whole Foods. It's as fresh as what you'd use if you were slicing it up yourself, as opposed to the pre-packed bag stuff which always tends to look unappealing and dried out. I realize it's pricier than buying the cabbage and doing it myself, but that package goes such a long way. It's also a great way to encourage eating my veggies (moms need a helping hand, too). I find myself plucking a handful to use in tacos, adding some to stir-fry, and mixing in with kale for salads. Simply stated: the pre-sliced cabbage is my prep chef in the kitchen.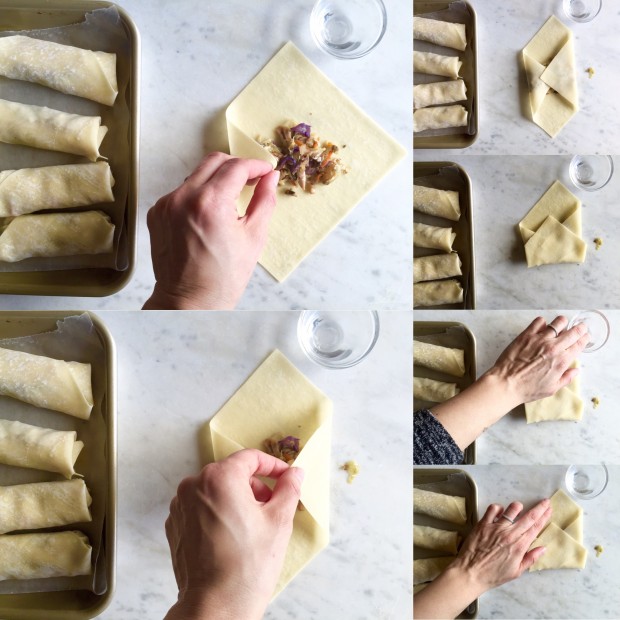 I'm sharing a video with this post so you can see how I folded the egg rolls. Please don't give me grief; I know I'm not using the technique showed on the packaging. I find it much easier to fold, and have them come out looking neat, using my method. I say go with what feels right to you.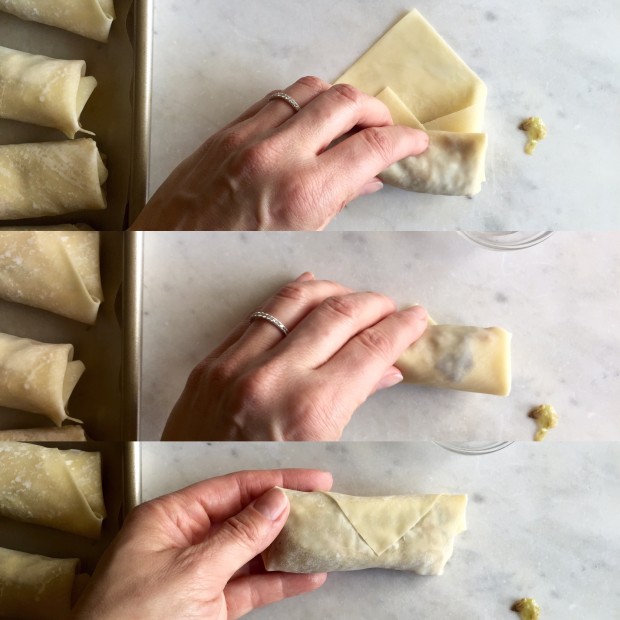 As for the cooking, I like to fry mine up. Nothing compares to a freshly fried egg roll. I've made them in the oven, too, with very good results. The egg rolls crisp up, just not in the way I prefer. Again, do what you love best. It's also a great way to use up those little bites left in the fridge that aren't enough to make a whole meal. If I have some extra cooked chicken, as I did from making soup last week, then great. Otherwise, you can swap in pork, beef, or leave it out all together. And you'll see this is a roughly written recipe. I give you some guidance, but don't sweat about making these too much. That's the beauty of egg rolls. No rules. Just deliciousness. At least that's how this Italian gal from Brooklyn now sees it.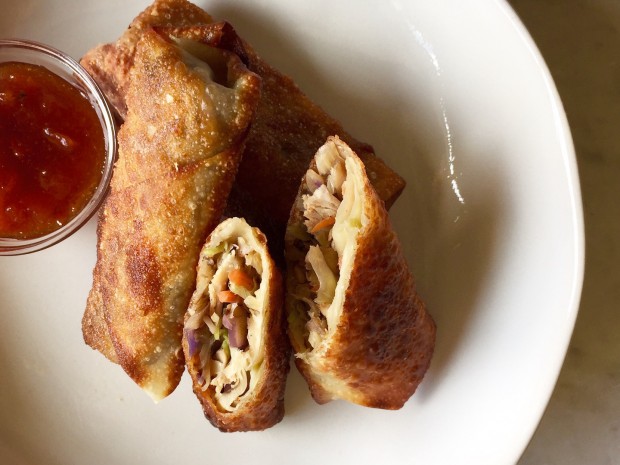 More from In Jennie's Kitchen
7 Healthy Smoothies for Dessert Lovers
Finder's Feast: 6 Ways to Use Up Leftover Corned Beef & Cabbage
Homemade Egg rolls
Makes 8
Sesame oil or grapeseed oil (I prefer sesame oil)
3 handfuls of coleslaw mix
Sea salt & freshly ground black pepper
1 celery rib, minced
1-inch knob of ginger, minced
1 garlic clove, grated or minced
2 scallions, chopped
Handful of leftover cooked chicken, shredded (optional)
Few shakes of soy sauce
8 egg roll wrappers
Duck Sauce, for service (click here for the recipe)
Swirl a bit of oil in a 10-inch skillet; just enough to coat the bottom of the pan. Heat over medium flame until oil is shimmering. Add the coleslaw mix and celery. Season with the salt and pepper. Cook until the cabbage wilts a bit, 1 to 2 minutes. Stir in the ginger, garlic, and scallions. Cook 1 minute more. Stir in the chicken, if using. Add a few splashes of soy sauce, give everything a good stir, and remove the pan from the heat.
If you plan to bake your egg rolls, then preheat the oven to 375ºF (190ºC). Line a sheet pan with parchment paper for easy clean up, and to prevent sticking.
Place an egg roll wrapper on a cutting board or counter, with the wrapper in the shape of diamond. Spoon a bit of the filling in a straight line (side to side, not up and down) across the middle. Fold in the left tip in towards the center. Now fold the right tip towards the center, slightly overlapping. Fold the bottom tip of the wrapper up, tucking it under the filling the best you can (don't fret too much on this).
Dab a bit of water over the unfolded edge. Using a gentle pulling motion towards you, roll the wrap closed. Repeat with the remaining wrappers and filling.
To bake the egg rolls, arrange them in a single layer on the prepared pan. Brush them lightly with grapeseed oil. Bake for 15 to 20 minites, turning halfway through, until golden all around.
If you prefer to fry your egg rolls, add a 1/2-inch of grapeseed oil (sesame oil will not work for this step) to a 10-inch skillet. Heat the oil over a medium flame until shimmering. Meanwhile, set a wire rack over a pan or tray.
Add the egg rolls to the hot oil, making sure not to crowd the pan (cook them in 2 batches, if needed). Cook 2 minutes, or until golden. Turn, and cook until golden all around, about 2 minutes more. Transfer the egg rolls to the wire rack, and let the oil drain for 1 minute. Serve hot.
Make Ahead: If you want to make a double batch, these freeze very well. Line a sheet pan with waxed paper. Place the rolls on it in a single layer. Set the tray in the freezer until the rolls freeze (this is called flash freezing), 20 to 30 minutes. Store the egg rolls in a ziptop bag. Cook straight from the freezer; no thawing necessary.