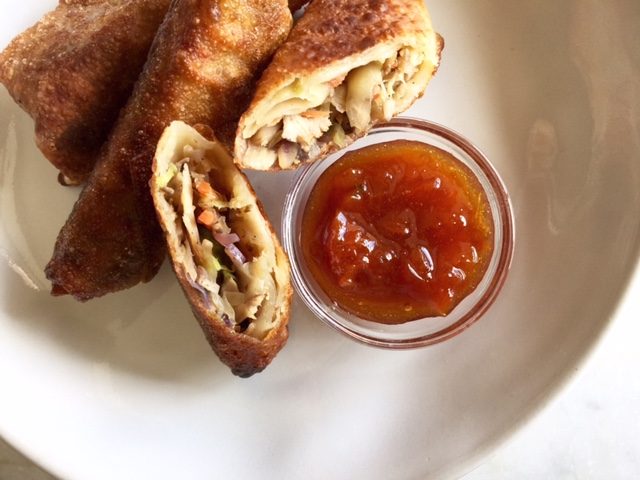 Chinese food may very well be the official language of NYC. If you grew up in Brooklyn, chances are you were weaned on Chinese take out. Now, when I refer to Chinese food, I'm referring to Chinese-American food. Much like Italian-American, it's not considered part of authentic Chinese cuisine. Still, some foods just pull you back into your childhood, and for me, walking into an old school place, with a heaping bowl of fried noodles, and bowl of duck sauce feels like traveling back in a time machine. A time when food was less fussy, when people didn't snap the perfect photo before digging in.
I've managed to master my wok, teach myself to make dumplings, fried rice, wontons, and more recently eggrolls (coming soon!), but one very important thing was missing to reclaim a bit of my childhood: duck sauce. More than once I reached for a jar of it in the supermarket, and I just couldn't go through with it. The ingredient list was too daunting. I tried a few passes, making my own, using dried apricots. Eh. Better to forgo it all together.
I had a hunch the recipes calling for plums would yield good results, but they're not in season right now. Perhaps I'd have to wait until summer to give it a try. Summer…my mind wandered to making jam. And that's when it happened. I remembered there was some homemade apricot jam in the cupboard from last summer. Eureka!
Most of the duck sauce recipes I researched had some combination of apricots, sugar (or other sweetener), and vinegar. Jam combines the fruit and the sweetener in one. What would happen if I just mixed a little vinegar into it? Worked like a charm! White vinegar is my preference, but red wine vinegar will do if that's all you have (or can't find the white vinegar, as happened to me one night). I wouldn't suggest apple cider vinegar since it's a bit sweeter, and won't balance out the apricot jam as nicely.
And about the jam. If you have some homemade stuff, as I did, great. If not, don't worry. Use your favorite brand (I love Bonne Maman's apricot jam).
More Asian-Inspired Favorites
Ginger Soy Marinated Flank Steak
2-Ingredient Duck Sauce
makes 1/4 cup
3 tablespoons apricot jam
1 1/2 tablespoons white vinegar (red wine works in a pinch)
Add the jam and vinegar to a small bowl. Using a fork, stir until well-blended. May be stored in a covered container, in the fridge, for up to 2 weeks.