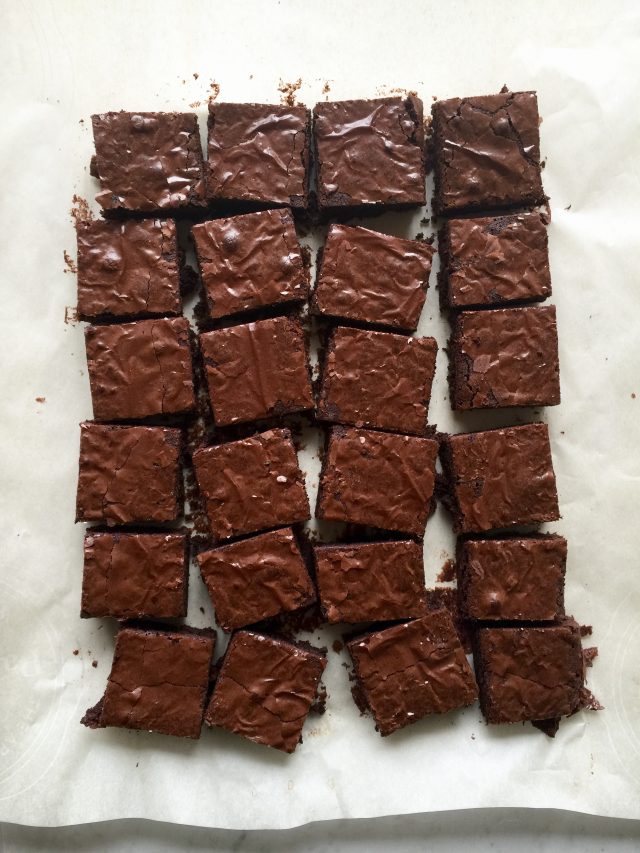 Recently, I began playing around with cassava flour. A reader whom I had the pleasure to meet in person a few months ago mentioned it as a good grain-free, gluten-free alternative. I'd been meaning to Google it ever since. Then I happened to see a bag of it at my local health food store. Talk about sticker shock when I saw the price ($17 for a 2-pound bag!). I wondered how many people like myself were curious about it, but too scared off by the price tag. Into my cart went the bag, delegating myself the official taste tester, and risk taker, for all of us collectively.
Cassava flour isn't a perfect fit for every recipe, and it certainly isn't an even swap, regardless of what the packaging says. I'll do a more detailed post on this in the coming weeks. I still have a bit more playing around to do with it. I've shared a recipe for grain-free brownies before, and hot dang they are amazing. But you can taste the almond flour bits in them (I don't mind that), and since they have nuts, they're not well, um, nut-free. Which is what prompted me to develop another grain-free brownie recipe last week using the cassava flour.
Since the chocolate has a powerful flavor, it stands up pretty well to the distinct taste of cassava.
These dark chocolate brownies are also refined sugar-free, and dairy-free. Sorry folks, but not vegan, since they have eggs in them. If you decide to tinker around with an egg substitute in this, please share the results with us in the comments.
I have to say, I love these brownies so much. They're not overly sweet, thanks to the maple sugar. If you're a dark chocolate lover, then you will absolutely swoon over these. If you've got a major sweet tooth, then this brownie recipe will likely be more your speed. This Dark Chocolate Brownie recipe goes into the collection here amongst some stiff competition. It's kind of crazy how many brownie recipes I've developed, all with varying degrees of chocolate intensity, different sweeteners, and flours. I shall never tire of developing, or eating, them.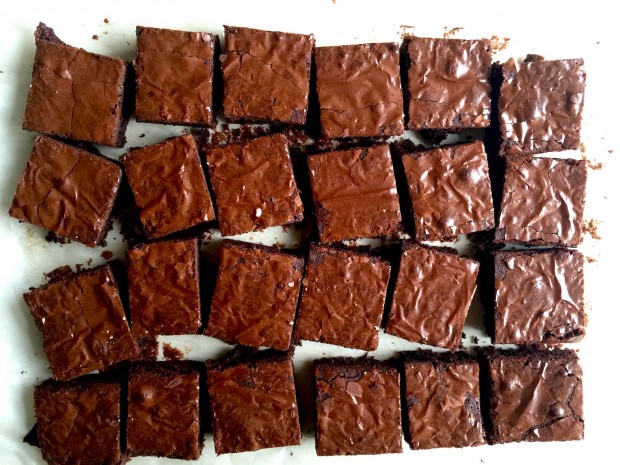 Check out all of my brownie recipes, plus lots more inspiration, here.
Seven Years Ago: Easy, Cheesy Crackers
Six Years Ago: Orange & Sesame Stir-Fried Tofu
Five Years Ago: French Onion Tart
Four Years Ago: Everyday Banana Bread
Three Years Ago: That Girl…
Two Years Ago: Crispy Oven Fries
One Year Ago: Irish Soda Bread
Dark Chocolate Brownies
Makes 30 two-inch square brownies
250 grams bittersweet chocolate chips
3/4 cup (187 ml) canola oil
1 1/2 teaspoons (7.5 ml) pure vanilla extract
3 large (150 grams) eggs
1 1/4 cups (175 grams) granulated maple sugar
6 tablespoons (50 grams) Cassava flour
1/4 cup plus 2 tablespoons (37 grams) dark cocoa powder
3/4 teaspoon (3 grams) fleur de sel
Preheat the oven to 350ºF. Cut a piece of parchment paper large enough to cover the bottom and sides of an 9-inch by 13-inch by 1-inch rectangular baking pan (also called a 1/4 sheet pan). Grease one side of the parchment with a nonstick cooking spray (I use a spray grapeseed oil), and fit it (ungreased side down) into the pan.
Add the chocolate to a medium, microwave-safe bowl. Cook on high power in the microwave in 30 second intervals, stirring in between each cycle, until the chocolate is melted. Be careful not to burn the chocolate. Set aside to cool slightly.
Add the eggs and sugar to a clean, large bowl. Whisk until they become thick and pale yellow, 1 to 2 minutes. Whisk in the melted chocolate mixture. Add the oil and the vanilla extract; whisk to combine.
Sprinkle the flour, cocoa, and salt on top. Fold the mixture using a rubber spatula, just until there are no visible traces of flour.
Pour the batter into the prepared pan, spreading it evenly to the sides. You can give the pan a tap on the counter to help it settle, too. Bake for 40 to 45 minutes until the center is set and the edges gently pull slightly away from the sides of the pan. Let cool completely (at least two hours) before cutting into 30 two-inch squares.