peanut butter cereal treats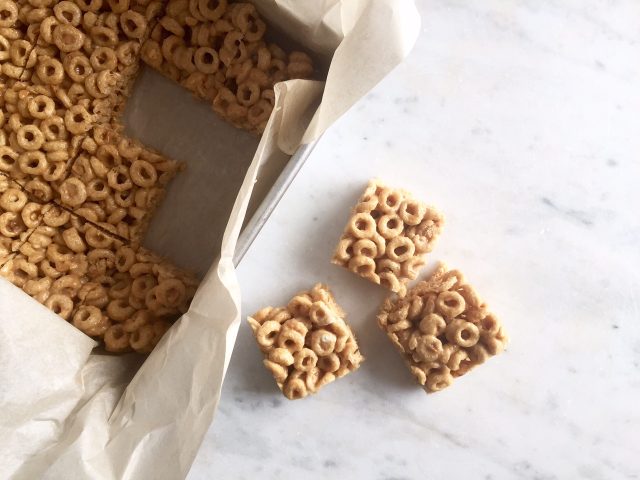 It's funny how my girls would eat the same lunch and dinner for days, perhaps weeks, on end, if given the choice, yet breakfast is where they crave variety. This makes it feel a bit like a yo-yo, with me trying to constantly provide options tempting enough to get a meal in them before a long day at school.
Some mornings I make a hot breakfast, but they're not so keen on that during the school week. I think they prefer to be lazy, and enjoy their hot meals without the rush of getting ready for school. I do make a big batch of waffles every week or two, and store them in a zip top bag for Isabella can heat them up in the toaster. Granola is a phase, too, but not always a given. If I make it too often, the batch lingers, their interest having waned.
One thing they often ask for is cereal, and I've got to admit, it irks me so much. With all the homemade options, they always insist on buying cereal when we're grocery shopping (which is 1 of 379 reasons I try to not shop with them). I grew up eating cereal every day. My body probably still has remnants of Froot Loops running through it. At this point in my life, I can honestly say I'd be happy never eating another bowl of cereal (sorry, Jerry).
I try not to be a total fun sucker, even though the list of ingredients on every box (even the "healthiest") is pretty daunting. My compromise is that I will only buy one box of cereal at a time. This causes more tension than one might imagine. Then again, parents with more than one child understand immediately that it draws a line in the sand; evoking whines of "you love her more", or "she always gets her way" from one of them. They rarely agree on the same cereal, except for the delusional moments when I break down, just wanting to escape the grocery store with some bit of sanity intact, and say yes to Lucky Charms.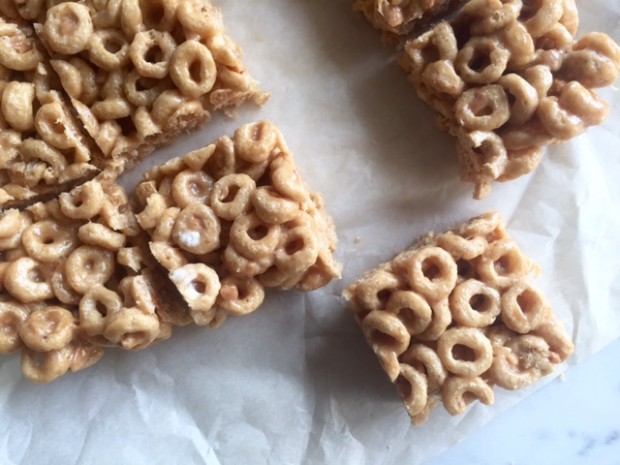 And so, my dilemma is what landed me with a box of a "healthier" honey nut o's cereal. Yep, Honey Nut Cheerio knock offs. I bet you can hear the sighs, and imagine the sad eyes when those came into the house a few weeks ago. One kiddo doesn't even like the real version, and the one who does was not thrilled with my brand selection. We were at a Mexican standoff. There was no way I was buying another box of cereal until every last "o" had been eaten.
Some time in the interim, my mind wandered to making crispy rice treats. I was all out of the usual Erewhon Crispy Brown Rice I buy for making them, but remembered the box of cereal, sitting atop the fridge. Something told me they would need more convincing to give these treats a try, so I reached for the peanut butter. I'd like to brag about the joy I felt as they devoured these peanut butter cereal treats, but that wouldn't be very adult-like, now would it? I'm just glad that cereal finally got eaten, even if it wasn't for breakfast after all.
Breakfast Highlights from In Jennie's Kitchen
Prosciutto & Fried Egg Tartine
Perfect Sunny Side Up Eggs Banana,
Walnut & White Chocolate Chunk Scones
Peanut Butter & Banana Smoothies
Peanut Butter Cereal Treats
Makes 16
4 tablespoons (56 grams) butter
6 tablespoons (98 grams) peanut butter (creamy or crunchy)
5 ounces (140 grams) marshmallows (mini or regular, I usually buy this brand)
1 teaspoon (5 ml) vanilla extract
4 cups (120 grams) honey nut o's cereal
Line an 8-inch (20-cm) square pan with a sheet of parchment paper long enough to hang over the sides.
Add the butter, marshmallows, and peanut butter to a 4-quart deep pot. Cook over medium heat until the mixture begins to melt. Add the vanilla. Using a rubber spatula, stir until the marshmallows are mostly melted, and the peanut butter is dissolved. Remove from the heat.
Add the cereal to the pot, and stir with the spatula, quickly, until the cereal is well coated. Scrape the mixture into the prepared pan. Use the spatula to press it out to the edges of the pan, and into an even layer. Let cool for about 30 minutes, until it's set. Using the ends of the parchment paper as handles, lift the treats from the pan. Cut into 16 squares. Store in a tin, in a cool dry place, for up to 3 days.