homemade hazelnut chocolate spread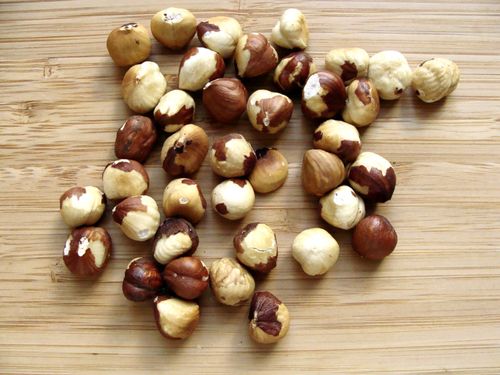 When I first mentioned last week that I was attempting a homemade version of Nutella, a twitter friend said I was going too far. Oh, how does his lovely wife Michele live his incessant teasing? They are a very cute couple, by the way, and I'm so glad to have met them in person last year.
Ah, but I've gotten off track, and so soon into this post. That may be a record for me. Alas, my goal in making my own nutella wasn't to improve upon the original recipe. And when I say original, I mean the one in the glass jars that are imported from Italy, not the plastic containers made domestically in the U.S.—they used to contain HFCS, and while that ingredient has been removed it still is made with palm oil. My goal was to simply recreate the recipe as stated on the label of those glass jars I'd been paying $5.79 for to support Isabella's habit.
Well, at least that was my original intent. Of course, I decided to push the envelope, and we'll see what Chef John has to say about it. The ingredient list is short, and um…sweet: zucchero (sugar), olio vegetale (vegetable oil), nocciole (hazelnuts), cocoa magro (which translates to thin cocoa, which I interpreted to mean cocoa powder) and from here there are three more ingredients with very funny literal translations, but they're basically powdered whole milk, powdered skim milk, emulsifiers and flavoring.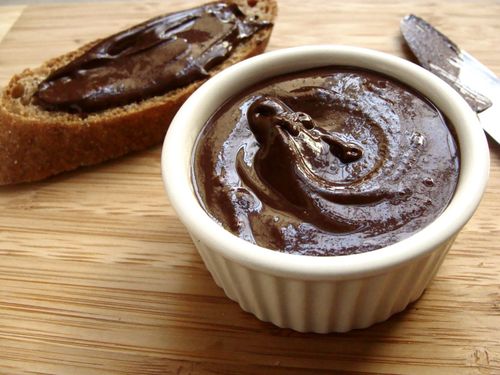 What that translated to in my Italian-American kitchen was confectioners' sugar, hazelnuts, melted chocolate, cocoa powder, vanilla bean seeds, and a few drops, I really mean just a scant amount, of vegetable oil—for an ultra smooth spreading consistency.
Here's where I may have gone too far. I was going to use Scharffen Berger cocoa powder. But right next to it on my pantry shelf was that alluring dark box of Valrhona cocoa. It's as if it was batting its eyelashes, saying "you know you want me".
I caved.
Then there's the matter of the chocolate. I could've used milk chocolate, which would've better recreated the exact flavor.
I could've. But I didn't.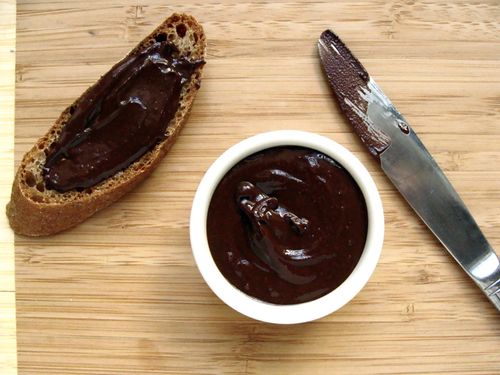 I used some Guittard 55% chocolate wafers. The resulting flavor is a quite decadent treat, as if Nutella in itself doesn't scream decadence spread on toast…for breakfast. Back when I was in middle school—I believe my daughter thinks that's when dinosaurs roamed the earth, we used to rent an apartment from an Italian family. I was always jealous of their morning Nutella ritual but my mother said chocolate wasn't for breakfast.
Now that I'm a grown up, I can have it whenever I want. I also get to be a pretty cool mom when I let the kid have a tiny smear on toast before she goes off to school—hey, it's whole wheat bread and it gets her to eat something in the morning, as well as drink a big glass of milk.
So, while this recipe is richer and has a deeper chocolate flavor, it's pretty darn good and kid approved. If you really want to be a purist and crave more of that creamy, milk chocolate undertone, by all means swap in milk chocolate discs and regular cocoa. Trust me you won't be disappointed by either version.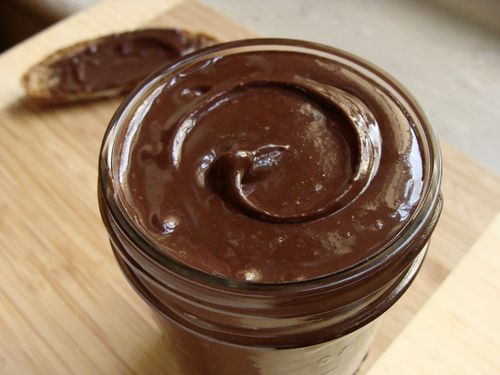 hazelnut chocolate spread
makes one generous cup
Hazelnut oil is used in many other recipes out there for homemade Nutella. I found the flavor from the ground hazelnuts to be all this one needed. And while I really adore using vanilla beans, please feel free to replace it with 1/2 teaspoon of pure vanilla extract if they're too expensive or you just don't have it on hand.

1 cup shelled, toasted hazelnuts, skins removed
4 ounces bittersweet chocolate discs, melted
2 tablespoon cocoa (Valrhona)
1/2 cup confectioners' sugar
1/2 split vanilla bean
a few drops, vegetable oil (optional)
Add hazelnuts to the bowl of a food processor. Pulse until it becomes a smooth peanut butter-like
consistency. Add the melted chocolate, cocoa, sugar and vanilla. Process until smooth and well-mixed. Add vegetable oil one drop at a time, and pulse to a smooth, spreadable consistency, if necessary. Store in a tightly sealed glass jar and use as desired.
Some helpful notes: You'll want to use a just-right sized food processor for this recipe. I made my very first batch in a large capacity one (11 cups) and it proved too challenging to attain the desired consistency with such a small batch. Of course, if you're tripling this baby, then you'll be fine (trust me you'll want to after making it once).
Also, give it the extra few seconds to minute you need to really make sure the hazelnuts are a peanut butter-like consistency. And when it comes to roasting and de-skinning hazelnuts, place them single layer on a rimmed baking sheet and roast in a 400º oven for about 8 to 10 minutes, until they become very fragrant. Immediately transfer them to a cloth towel and rub like mad to remove the skins. Not all of them will come off, and that's absolutely fine.