Old Fashioned Blueberry Crumb Muffins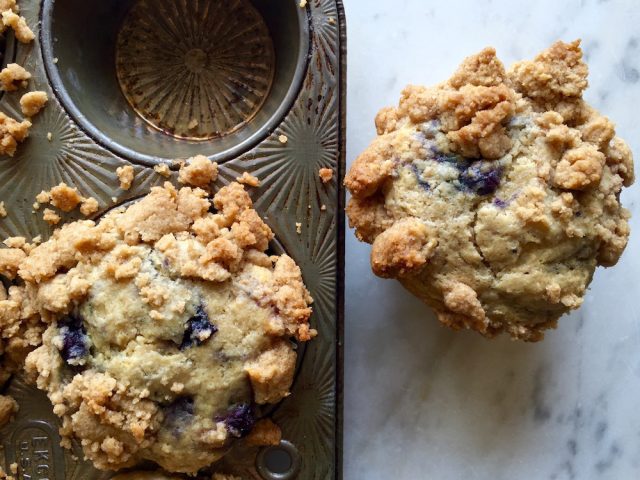 The last 10 days have been non-stop, and the last three days have felt like one never-ending Monday. Oddly enough, I used to love Mondays, but that was a long time ago, in what feels like a faraway land. Virginia and I would curl up on the sofa, and dip toasty points of bread into sunny, orange hued poached egg yolks. And occasionally, I'd make these Old Fashioned Blueberry Crumb Muffins.
There's something so soothing about baking up a batch of fresh muffins in the morning. It gives a feeling of accomplishment, creating something before I've even dressed for the day. Michael used to often say I accomplished more in the hours before he woke than he got done all day long. But that is neither here nor there since these days prying myself from bed takes more effort than I care to admit.
I've had Father's Day on my mind for a few weeks now. I remembered the last one we spent with Michael, and the gift Virginia made him in her daycare. Isabella could patiently hold her school gifts until the day her teachers told her, but Virginia could never contain her excitement. She still walks in the door promptly, and says, "open this now, Mommy".
On that last Father's Day, they'd made construction paper ties decorated with Cheerios. She was still young enough that I used a stroller, and on the walk home she decided to snack on Michael's gift. No joke. One by one, she plucked off the cereal, and ate each piece. I should've been more concerned, but by kid number two you let things like this slide since Elmer's glue is labeled non-toxic (please do not shatter any disillusions here, what's done is done).
When Mikey walked in that night, she ran to the door, jumped in his arms, and said "For you, Daddy. I got hungry." He burst into laughter, and while everything about him lately feels so distant, and dreamlike, I can almost, ever so faintly hear him. He had the best laugh, infectious in a good way, the kind that dared you not to laugh along.
Eight Years Ago: Chocolate Chip Cookie Dough Ice Cream
Seven Years Ago: Date Night Mac n' Cheese
Six Years Ago: Strawberry Rhubarb Crumble
Five Years Ago: Hello June, It's Nice to See You
Four Years Ago: The Sunny Side of Life
Three Years Ago: Simple Strawberry Pie
Two Years Ago: Perfect Chocolate Chip Cookies
One Year Ago: Fried Chicken Bites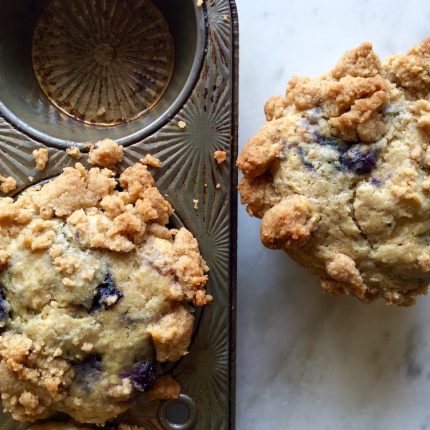 Old Fashioned Blueberry Crumb Muffins
My girls love muffins, but as with most things, they never agree on the same kind. That's where this blueberry muffin comes in handy, inspiring a temporary truce. With just the right ratio of crumb to muffin to blueberries, the only arguments are over who gets to eat the last one. Make Ahead: Once baked, let muffins cool completely. Wrap them individually in plastic film, and store in a tightly sealed ziptop bag. Take muffins out the night before you plan to eat them, and let them thaw in the fridge overnight. Make It Your Own: This is basically my master recipe for muffins, the fruit changing with the seasons. Raspberries, blackberries, and diced peaches are a few of my other favorites. You can also play around with the spice in the crumb topping. Swap out the cinnamon for allspice, cloves, or ground ginger.
Ingredients
For the Crumb Topping:

3/4

cup

115 grams whole wheat pastry flour

3

tablespoons

40 grams granulated sugar

3

tablespoons

40 grams brown sugar, light or dark is fine

1/2

teaspoon

2 grams sea salt

As much cinnamon as you like

I err on the side of a generous pinch

6

tablespoons

84 grams butter, melted

For the muffin batter:

1 3/4

cups

262 grams flour

1/3

cup

70 grams granulated sugar

1/2

teapsoon

2 grams sea salt

15

grams

baking powder

2

large eggs

4

tablespoons

56 grams butter, melted

1

teaspoon

5 ml vanilla extract

1

cup

237 ml wel-shaken buttermilk

1

cup

127 grams frozen wild blueberries
Instructions
Preheat the oven to 400ºF (200ºC). Line a 12-cup muffin tin with paper liners.

To make the crumb topping: add the flour, sugars, salt, and cinnamon to a deep bowl; whisk to combine. Using a fork, stir in the melted butter, making sure there are no dry bits of flour; set aside.

To make the batter: add the flour, sugar, salt, and baking powder to a clean deep bowl. In a small bowl or large measuring cup, combine the buttermilk, egg, and melted butter. Beat with a fork.

Pour the buttermilk mixture over the flour mixture. Stir with a fork until just combined. Using a rubber spatula, fold in the berries.

Evenly spoon into the prepared muffin tin. Evenly sprinkle the crumb topping onto the muffins, pressing it in gently so it sticks.

Bake until a deep golden brown, 25 to 30 minutes. Remove from the oven. Set the tray on a wire rack, and allow muffins to cool at least 10 minutes before serving.