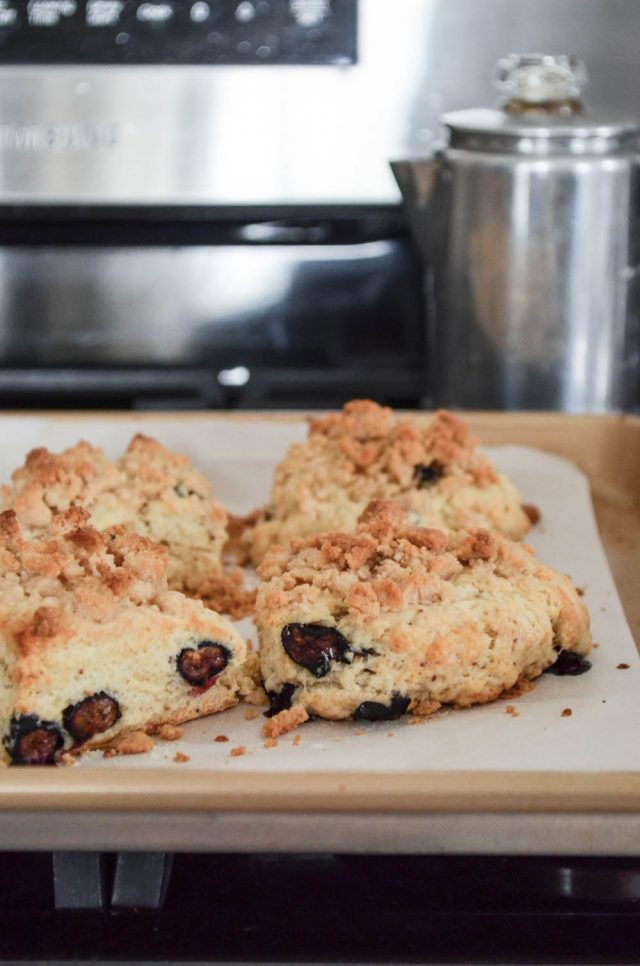 I had a moment this weekend that left me feeling genius-like, though I'm sure it's been done before by someone else who felt they were a genius, too. The thing about cooking and developing recipes is it's all derivative. Sure, technology's upped our game with gadgets, and there are certainly new products that offer opportunities for new ideas and creations, but at the core, I think everything that's old is new again, both in fashion and food.
Often it's about looking at the current landscape of ingredients, time and equipment available to see new ways of utilizing old methods to create unique variations. Such is the case with these Blueberry Crumb Scones.
It began with an urge to bake something on Saturday morning. Virginia's friend was sleeping over, and my mind wandered to the grand breakfast spreads I used to make when the girls had sleepovers. In fact, I used to make elaborate breakfasts every Sunday morning. As the girls grew older and more self-sufficient, I let this weekly ritual lapse. Hearty, homemade brunches became more of a once a month (if we were lucky) sort of thing.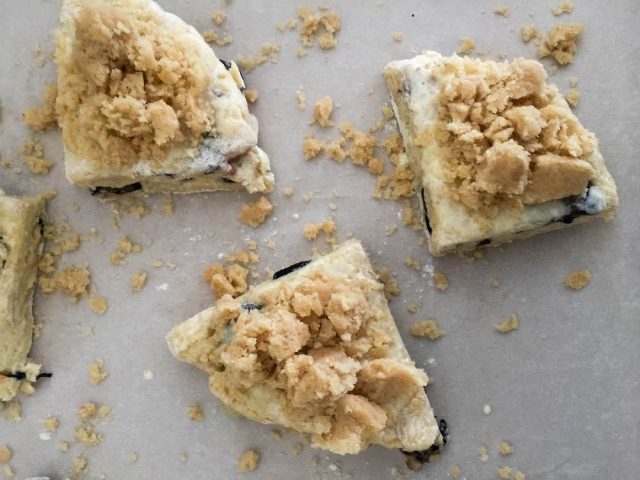 Life is very different now, and while I have the same 24 hours in a day as I did back then, they feel harder to manage all the things that need doing. This perplexes me a bit because you'd think it gets easier as the kids grow older. Little did I know those long, lingering days were finite.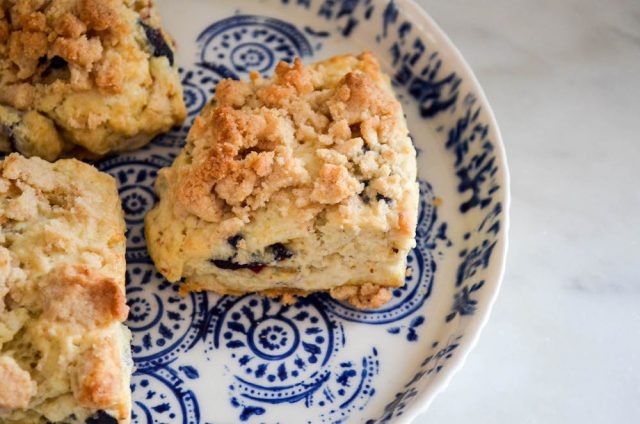 Anyway, I was torn on whether to make muffins or scones for breakfast yesterday. I wanted the sturdiness of a scone, but the buttery, cinnamon-scented crumbly topping of a blueberry muffin. And then it occurred to me I didn't have to choose. I could have the best of both breakfast pastry worlds by simply sprinkling crumb topping over the scones.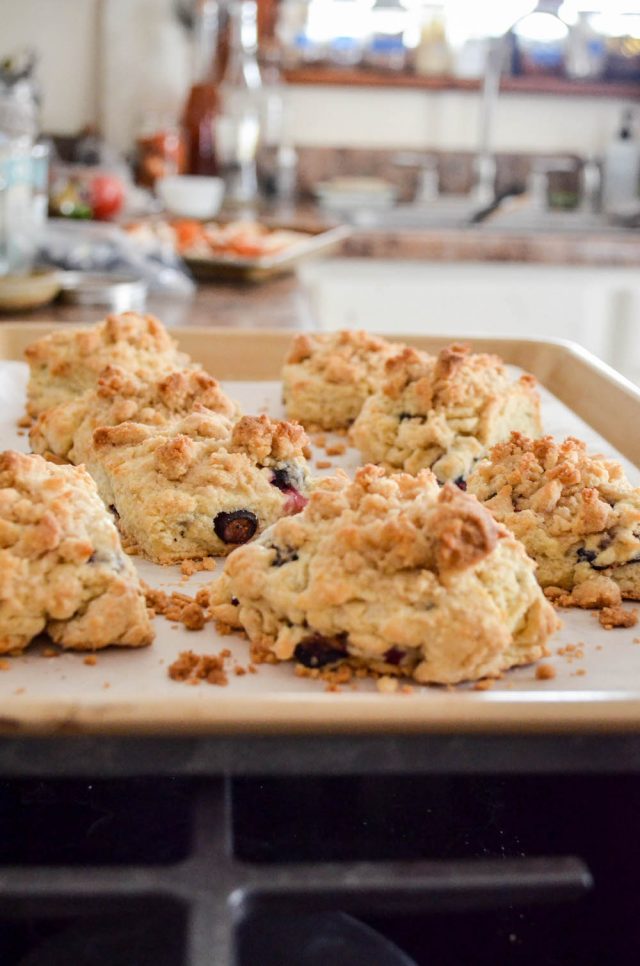 The recipe below makes more crumb topping than you'll need for this batch of Blueberry Crumb Scones—that's intentional. By making a triple batch of topping you're one step closer to making these scones more often, and you'll only need to make the scone dough.
Crumble the extra topping on a sheet pan, freeze until frozen-through, then transfer to a container or ziptop container. No need to thaw when you need it, just use it straight from the freezer. You can also use the topping on muffins, cakes or any other scone recipe you're craving some crumb topping on.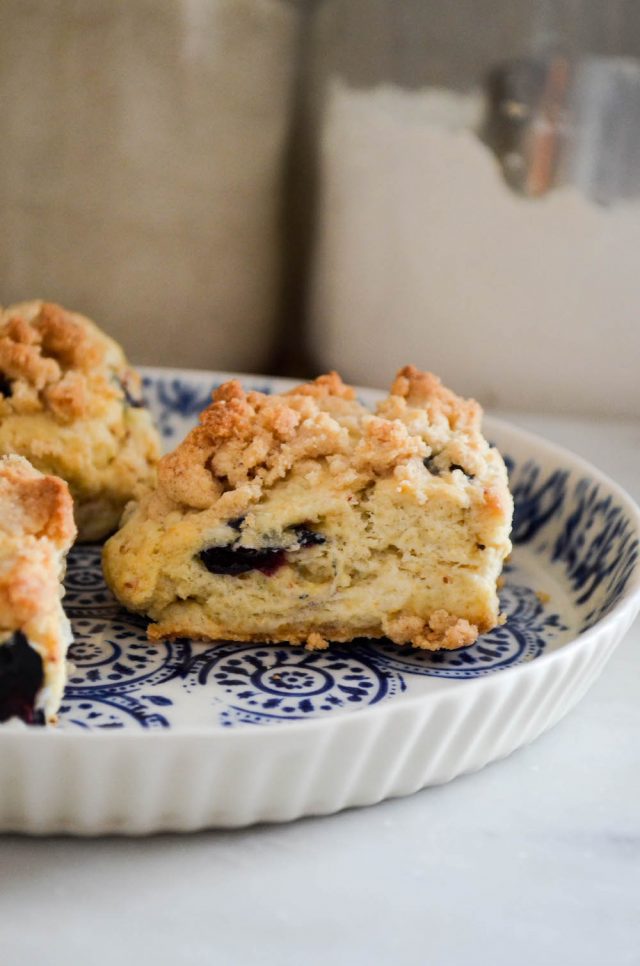 10 Years Ago: Seriously Delicious Ribs, Recycled Breakfast
Blueberry Crumb Scones
Ingredients
Blueberry Crumb Scones
Makes 8
For the crumb topping
¾ cup (115 grams) flour
3 tablespoons (40 grams) granulated sugar
3 tablespoons (40 grams) brown sugar, light or dark is fine
½ teaspoon (2 grams) sea salt
As much cinnamon as you like (I err on the side of a generous pinch)
6 tablespoons (84 grams) butter, melted
For the scone dough
1 ¾ cups (245 grams) flour, plus more sprinkling
2 tablespoons (30 grams) granulated natural cane sugar
2 teaspoons (10 grams) baking powder
⅛ teaspoon fine sea salt
6 tablespoons (84 grams) very cold unsalted butter, cut into 12 pieces
⅔ cup blueberries, fresh or frozen
1 large egg
6 tablespoons plus 2 teaspoons heavy cream
Instructions
Preheat the oven to 425ºF (220ºC). Line a rimmed baking pan with parchment paper.
Make the crumb topping first: combine the topping ingredients in a medium bowl, and stir with a fork (or rub with your fingertips) until well blended. It should be a clumpy, wet sand-like mixture. Set aside.
For the dough, beat the egg and 6 tablespoons cream together in a small bowl; set aside.
Combine the flour, sugar, baking powder and salt in a medium bowl. Whisk to blend. Scatter the butter over the flour mixture, and rub together with your fingertips to blend in the butter, making pea-sized pieces.
Stir in the blueberries, then stir in the egg-cream mixture until it forms a scraggly-looking dough.
Turn the dough out onto a lightly floured counter; dust top with flour. Knead it a few times to give the dough a smoother appearance, dusting with more flour if dough is too wet. The blueberries will crush a little; don't fret. Using your fingertips, press the dough out into two - ½-inch thick circles. Cut each round of dough into 4 triangles, for a total of 8 scones.
Place the scones on the prepared baking sheet, and brush with tops with the remaining 2 teaspoons of cream. Grab clumps of crumb topping, and rub it between your fingertips to sprinkle bits of it on top of the scones. You'll only need about ⅓ of the topping for this. Pack the rest in a container or ziptop bag and store in the freezer for another use.
Bake 15 to 17 minutes, until bottoms are deep golden and the tops are golden. Remove from oven and rest tray on a wire rack. Let cool at least 10 minutes before serving.