Amlou, a Moroccan nutella, of sorts
Today is President's Day, a day that frankly many of us probably never considered beyond the fact that it meant the possibility of a three day weekend. In light of the last four weeks, we should all be doing more than taking advantage of sales today (though, admittedly I did use my 30% Barnes & Noble coupon to pick up the first book in Karl Ove Knausgaard's autobiographical series). Of course, one, many in fact, will argue that a lot of us should've been doing more all along to avoid the train wreck that shook our country last November.
I'm thinking today is a good time to sit down and watch All the President's Men with the girls, and restore some faith that justice, order, and reason will prevail. In a world where SCROTUS screams legitimate news outlets are an enemy of the people, while retweeting links to a fascist, truly fake news website, we need to both remember, and remind people, that a free press is an essential part of any democracy.
Another ray of hope lies in our judicial branch, which is why blocking a Supreme Court nominee is so crucial. The power for justice to prevail, and protecting the tenets of our constitution was evident when federal judges refused to reinstate the Muslim Ban. In thinking about the ban, my mind has this way of bouncing around, thoughts connecting in odd, unsuspecting ways to even myself, but nonetheless, they settled on my trip to Morocco a few years ago, and this recipe for amlou. I've been meaning to recreate, and share it here for four years. Today is the lucky day, and a day where once again, I'm reminded that immigrant is my food (and if you love pizza, then immigrant food is your food, too).
Morocco was an incredible, beautiful dream-like blur, and yet my memories of those 48 hours are still so vivid. Agadir is an interesting place, juxtaposed by a luxury beachfront with high-end stores and hotel, and a very rough and tumble feel to the streets once you venture from the boardwalk. On my only full day there, I went for a hike in the High Atlas Mountains, with a local guide. Never have I experienced something so magical. In the middle of the mountains was a little rest stop, the gentleman who was the host was a cousin of our guide.
We refreshed with a meal, humble looking on sight, but so perfectly cooked. A vegetable tagine that I still dream about making, some amlou, and warm, fluffy pita that I watched him bake in a clay oven. Many people refer to amlou as a Moroccan nutella. I suppose that makes sense since it's a finely ground blend of nuts, oil, and sweetener, but really they are very different.
Amlou starts with a base of deeply roasted, fine ground almonds. You want to use skin-on almonds, and I always opt for roasting my own rather than buying roasted almonds—I like being able to control the roasting process. It's important to take the almonds further than you might think, without burning them, of course. This intensely roasted flavor is tamed by the honey you add to make the amlou. I prefer a creamy, churned honey, but I'd say use what you have in the house, or simply like best.
The key ingredient here is argan oil, something not readily available in grocery stores, so apologies for that. It is quite easy to order online. Be sure to buy an argan oil that is for cooking purposes, as this is also a big trend in toiletries, too (hair oil, shampoo, soaps, etc.). And choose a pure oil, not a blend. I suppose if you must, as I know someone will ask me this question, you could use a substitute oil to make amlou, but for me that would be like saying it's okay to use anything but olive oil to make a classic, basil pesto. In this case, I really do prefer to stick with tradition. I won't tell you what to do in your own kitchen—that is your own space to exercise your own creativity and necessity. Perhaps if you do decide to venture forth with another oil, you can come come back here and leave a comment to help guide others wondering the same thing.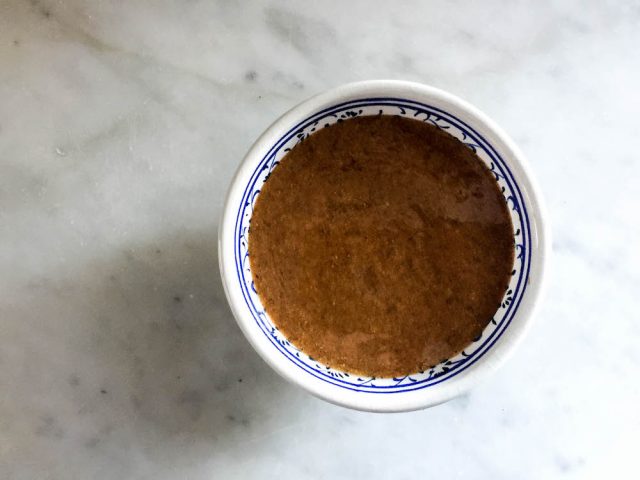 Amlou, a Moroccan nutella, of sorts
One taste, and you'll find this Moroccan dip, reminiscent of a loose nut butter, rather addictive—at least that's what happened to me. I've noted a range of amounts for the argan oil (and you should really use this, as it's a key ingredient, see the original post for places to order it). The reason for the range is so you can make the amlou to your desired consistency. As a dip, I prefer it thinner. If you wanted to use this as you would peanut butter, then a thicker texture is better for spreading on sandwiches. Some recipes also call for cinnamon, which you can add a pinch if you like. I prefer it without.
Ingredients
¾

cup

100 grams skin-on, raw almonds

4 to 6

tablespoons

40 to 60 grams pure argan oil

Scant 2 tablespoons

35 grams honey, preferably a creamy churned style

Sea salt

to taste
Instructions
Preheat the oven to 350ºF.

Spread the almonds on a sheet pan. Bake 15 minutes, until deeply toasted, and very fragrant (it might almost smell like their too toasted, don't worry). Set the tray aside until the almonds are completely cooled.

Add the cooled nuts to the bowl of a food processor. Pulse until they're finely ground.

Add the honey, argan oil, and salt to the bowl. Process until the almond mixture is very smooth—it'll look like a loose nut butter.

May be stored in a tightly sealed container for up to 1 month.