chili & pecorino roasted broccoli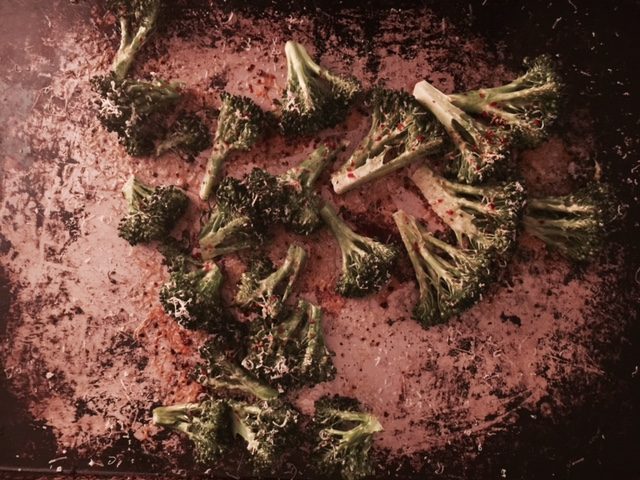 Let's get the apology for that photo out of the way at first. I can't tell you how many times I'm making something at night, and don't bother to share it here simply because the lighting is not suited for photography. Last night, though, I cooked up a head of broccoli that made me fall in love with it all over again. Now, love and broccoli are two words you don't necessarily see together in the same sentence. I mean, it's broccoli. Either you like it or you don't; perhaps tolerate would be the better choice of words when it comes to my children. But, love?
I stopped at the little market to pick up fixings for mac n' cheese, and swung through the produce aisle to look for some veggie inspiration. As I turned the corner, there it was. A big box of broccoli crowns for only 79 cents a pound. The combination of a stellar price, and the fact that it looked so beautiful made it to hard to pass them up. I knew immediately that I wanted to up my broccoli game that night. The girls haven't been into it lately, so I was going to make a broccoli side that I wanted to eat, casting their plain jane taste preferences aside.
Heat was the first thing that popped into my mind; spice, that is, not the cooking method. I'd already decided I would roast it to coax out some of it's nutty flavors. A sprinkling of Korean chili flakes, generous handful of fresh grated Pecorino, were the stars, with some help from olive oil, salt, and pepper. I roasted it just long enough to be fork-tender, but still have a little bit of bite. My, oh my. I'm so smitten with this preparation, I can't wait to get home and eat the leftovers straight from the fridge (though I bet they would be a nice addition to fried rice, too).
Seven Years Ago: Spur of the Moment Kale Soup
Six Years Ago: Preparing Dry Lentils
Five Years Ago: Cheddar Rye Muffins
Four Years Ago: Chocolate Pistachio Madeleines
Three Years Ago: Perfect Roasted Potatoes
Two Years Ago: A Simple Roast Chicken
One Year Ago: Naughty & Nice Smashed Avocado Toasts
Chili & Pecorino Roasted Broccoli
Serves 2 to 4, depending on size of head (and how much you love broccoli!)
Now, I used broccoli crowns to make this, but I can tell you it was about the same amount from a full head of broccoli. If you go the whole head route, save the bottom, larger stalks for another use. They make a great slaw. If you do decide to use the bottom stalks, this is my advice. Cut them into rounds, no more than 1/4-inch thick, so they cook evenly with the florets.
You'll see this isn't a recipe so much as it's a suggestion. I've kept all the measurements loose, so you can add as much or as little of them as you want. Just go light on the olive oil. You want enough to barely coat the broccoli. The broccoli will release some its liquid as it roasts, so you want to go light on the oil to avoid making it soggy. You can always finish it with a drizzle of olive oil before serving if you feel it's too dry.
1 head of broccoli, cut up (save bottom stalks for another use)
Extra virgin olive oil
Korean chili flakes, to taste
Freshly grated Pecorino-Locatelli cheese, to taste
Freshly ground black pepper
Sea salt, to taste
Preheat the oven to 350F (180C).
Spread the broccoli into a single layer on a rimmed sheet pan. Drizzle with olive oil. Sprinkle chili flakes and Pecorino on top. Season with black pepper and salt (but remember the Pecorino is salty, too). Bake for 20 minutes, or until the broccoli is to desired tenderness, and cheese is golden. Serve hot.