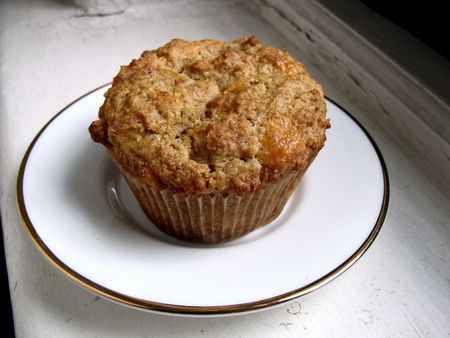 People often ask how I create recipes. I take baking and cooking very seriously as an art form. For years I felt saddened that I didn't inherit my father's ability as an artist. Although having the talent and doing something with it are two entirely different things. It turns out instead of pencils and paper, skillets became my canvas and ingredients my palette.
Many people are too frightened to make the leap, afraid of the unknown, especially in the kitchen. Food is expensive these days whether shopping at a farmers' market or the supermarket, so it's understandable that the thought of wasted ingredients affects how bold and creative we dare to become in our cooking habits.
Remember my post about pattern recipes? It may seem baked goods are in their own category, relying on science and reactions to yield the expected outcome, but that isn't necessarily the case. A year ago I started working with my own pattern recipe, except I hadn't categorized it as such in my mind. To me, it was simply the best muffin recipe I'd ever created.
A tender, light crumb.
Adaptable to both savory and sweet.
The fact that it's egg-free is a bonus for those with food allergies and from a cost perspective—the eggs I choose to buy are rather expensive at the farmers' market.
But back to how I approach recipe development. The moment I taste a new finished recipe, two things happen. First I decide if the recipe as-is yielded the results I wanted. Second, my mind fills with thoughts of how I could make it different, into something new.
So, for those still needing the comfort zone of a recipe, this one is all ready to go. Enjoy.
And if you're ready to start adapting, and feel comfortable flexing your skills in the kitchen, I've made some suggestions on what you can do to put your own spin on this perfect little muffin. Think of it more as a base recipe for whole-grain muffins, and let your creative juices flow from there. I should preface that these are not tested suggestions, rather just the thoughts that popped into my head as I inhaled the scent wafting through the kitchen as I waited for them to cool. Having done this for quite some time now, though, I'm very confident they're all very workable theories.
New on Simple Scratch Cooking: crisp thin crust pizza.
Follow me on Twitter and Facebook for more great conversation.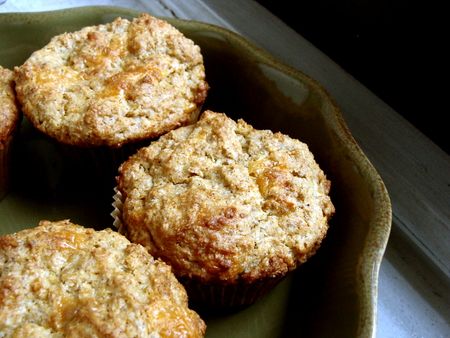 cheddar rye muffins
makes one dozen
1 1/4 cups (6.5 oz/186 grams) whole wheat pastry flour
1/2 cup (2.10 oz/60 grams) rye flour
2 tablespoons (29 grams) natural cane sugar
1 tablespoon (12 grams) baking powder
1 teaspoon (6 grams) baking soda
1 teaspoon (4 grams) coarse salt
6 tablespoons (3 ounces) very cold butter, cut into tiny bits
4 ounces sharp cheddar cheese, shredded
1 1/2 cups (337 ml) well-shaken, very cold buttermilk
Preheat oven to 400ºF. Grease one 12-cup standard size muffin tin or fit with paper liners; set aside.
Add flours, granulated sugar, baking powder, baking soda and salt to a deep bowl. Whisk to combine. Add butter and using a pastry blender, or your fingers (my preferred method), blend until it forms a pebbly-looking mixture. Stir in the cheddar cheese.
Pour in the buttermilk and stir, using a wooden spoon, until just mixed and there are no visible traces of flour. Evenly spoon into the prepared muffin tins and bake 20 minutes, until tops are golden and spring back when touched. Remove from oven and let cool 5 to 10 minutes in the tin, then transfer to a wire rack to cool a bit longer before serving.
Make It Your Own
Substitute an equal amount spelt flour for the rye. You may need to add an extra tablespoon or two of buttermilk, since spelt absorbs liquid differently, but start with the amount directed first, and as needed.
Swap in another similar-style melting cheese, like Gruyere or Swiss cheese.
Try subbing maple syrup as the sweetener instead of sugar. Instead of adding with the dry ingredients, whisk into the buttermilk before adding the liquid to the flour mixture.
Add some fresh chopped herbs, like dill, chives or thyme. Dried thyme might also work nicely here.
Stir some chopped caramelized onions into the batter.
Scrap the cheese altogether and add fresh berries, diced apples or pears to make a whole-grain fruit muffin.