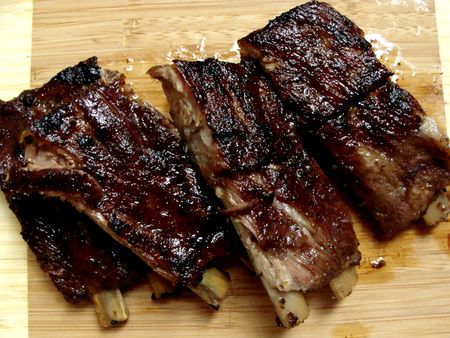 The last 8 weeks have been an exploration. I'm amazed how much we really can learn about ourselves if we dig deep beneath the surface. It's like opening a watch and seeing all the moving parts, in an effort to see what makes us tick.
I've learned I'm stronger than I sometimes give myself credit for being.
I've learned as hectic as my life is on daily basis, I love it—even when Virginia is full-on tantrum mode.
I've learned my relationship with food is an ever-changing one. It's not solely about the immediate gratification of taste. It is about living in harmony with our mind and body.
I've learned I can happily live without bacon—this is still boggling Isabella's mind. When I served it with breakfast this past weekend, she begged me to just eat a piece for her. I had no desire to, and assured her I would not stop cooking it and she was welcome to indulge much as she liked that morning.
I've also learned that just because I don't crave meat anymore, I'm okay with preparing it. This was one thing that concerned me—a lot. My livelihood is based on developing recipes. If I lost the will to create ones with meat, it would mean a whole new way of doing things. I'm well-aware that this may be something happening in stages. Perhaps what I'm able to do today, I'll be lacking tomorrow.
That is why it's so important to live in the here and now. Much as we like to think we all have a plan, all it takes is a gust of wind to set our sails off course.
All this prose for a rack of ribs? The irony of such thought is not lost on me. The ribs reminded me of all of you. They symbolize our self-worth.
People often reach out and ask me if an opportunity is worth the offer. Many offers start the way this email did that landed in my inbox eight months ago.
"We are trying to create a diverse community of food experts and chefs, and we would love to partner with you and invite you to participate as a Featured Chef.
 
Could we set up a time to speak about this opportunity in more detail? I think there are a few ways to approach this, such as working out a co-branding opportunity for…and In Jennie's Kitchen. We could send out a weekly recipe email to our base of 30,000 (and growing) customers. This could be solely recipe-based but could also include cooking tips, expert advice from some of your prominent chefs, instructional information."
 
I've been around long enough to know that these requests usually lead to a pat on the back and nothing of monetary value, but this one was from a very prominent food purveyor. They are often featured on Top Chef—the owner of the company has even been a guest on the show.
This is an evergreen topic in the food blogging community. People are constantly being approached by companies that want to "collaborate", when really they should be honest and include something along these lines in their pitch "We have no financial compensation, but believe the reach of our 30,000 readers is of great benefit".
Since this was a big-time company, I figured it was worth meeting them halfway, and offered to develop two recipes on spec. They sent product, I created two killer recipes, including these ribs and BBQ duck tacos. I was very clear that any long term relationship would need to include paid compensation. Our email exchanges included this one:
It might be fun if you deconstructed a restaurant-y, super cheff-y or iconic recipe (such as a veal Milanese, coq au vin or boeuf Bourguignonne) into something more approachable for the home cook. We can figure out what (if any) constraints you want to put on yourself—5, 10, 15 ingredients, under an hour of active cooking time, spending only $15 on ingredients other than our somewhat pricey product. Inspiration for these recipes could easily come from any number of places—cookbooks, something you eat out in a restaurant, a super-classic dish that you've always wanted to tackle.
Is it possible they really didn't understand just how much of my time they were asking me to devote for free. Oh wait, they were offering me duck breasts. Thankfully I have all the breasts I can handle, and at some time in the past they also nourished my children.
And so, our exchanges went no where. I should say the person I dealt with was very lovely, and I understand her hands were tied. Unfortunately the company she works for didn't value the intellectual property of bloggers. I know a few friends who were also approached with this "opportunity". They decided it was beneficial for them, and a good way to get their name out there. As you can see, this is a very personal decision.
There is no one-size-fits-all answer. It is about self-worth, and we all have a different set of standards based on our own personal and professional goals. Had this been a small, upstart who had a product I believed in, I might have made a different choice.
So while I don't have a solution, I hope I've provided you with some food for thought. And while you're mulling it all over, give these ribs a try—they may just bring me to my knees next time I make them.
Cocoa-Spice Rubbed St. Louis-Style Ribs
Serves 4 to 6
An interesting side note I discovered while researching if this was a gluten-free recipe. Lea & Perrins Worcestershire sauce sold in the US is gluten-free. As of last year, the one sold in Canada isn't because it contains malt vinegar, so keep that in mind if you're making for a friend with celiac. As for cocoa powder, I use Guittard which according to their website is gluten-free.
For the Dry Rub:
3/4 cup (6 ounces) brown sugar
1 teaspoon (4 grams) paprika
1 teaspoon (2 gram) garlic powder
1/2 teaspoon (2 gram) coriander
1/2 teaspoon (2 grams) allspice
1 teaspoon (2 grams) cocoa powder
2 teaspoons (8 grams) kosher salt
For the Braising Liquid:
3/4 cup (168 ml) white wine
2 tablespoons apple cider vinegar
2 tablespoons Worcestershire sauce
1 tablespoon molasses
For the Ribs
2 racks St.Louis-style pork ribs, about 6 pounds
Always a savvy business gal, I decided to use this recipe for the Cuisinart blog I write, so in the end my creativity paid off. Go read the post to get the directions for these easy oven-braised ribs.