warm smashed potato salad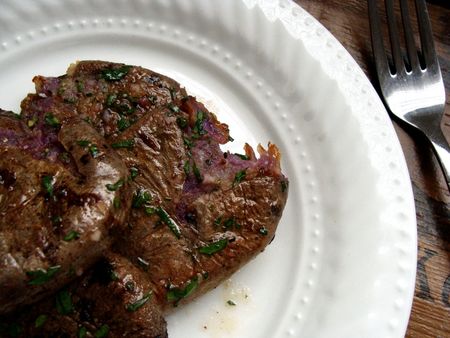 These potatoes remind me of my heart these days, except the damage done was deliberate and enhances the flavor. The potatoes, that is.
Today I had a moment of reckoning. It occurred to me that I am suffering from a broken heart, and I need to learn a new way to live. Figure out a way to exist without the demons constantly pulling me back into my childhood skin. Having my own daughters now, watching the love they shower upon their daddy and seeing it reciprocated is too much to bear. Somewhere deep in my subconscious it sets off sadness and feelings of loss.
Just typing the words feels shameful. These are my girls. I'm supposed to want a better life for them.
I do want a better life for them.
The problem is it's a reminder of the deck I was dealt. The one I didn't ask for but was unavoidable having been born into a relationship destined for years of misery. No matter how perfect I try to make this new family of mine, I can never erase the memories of the one I escaped.
The emptying of bottles of booze while he was in a drunken slumber. The numerous runaways by an older sister looking for her own way out. Too broken herself to this day to be the sister I long for and the aunt my daughters deserve. A lot of my journey now is truly accepting the past is just that—the past. It cannot be undone, and sometimes needs to be treated like a badly infected limb.
An amputation of sorts is in order, of the memories, not the heart—that I am not willing to give up on yet. The way my heart skipped a beat on my last date night with the Mr. tells me there is much more love to give, and receive.
For the moment the memories are tucked in the mental attic, until I can figure out how to purge them for good. And when it really becomes too much to bear, smashing the hell out of potatoes to make a simple salad helps too.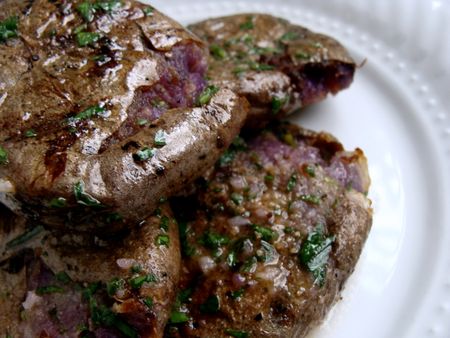 warm smashed potato salad
serves 4
12 ounces new potatoes
Extra virgin olive oil
Salt and freshly ground pepper
1 clove garlic, sliced in half
Juice of 1 meyer lemon
Splash of red wine vinegar
Fresh chopped parsley
Preheat oven to 450ºF. Add potatoes to a cast-iron skillet and toss with a drizzle of olive oil; season with salt and pepper. Roast until tender enough to pierce with a fork, about 35 minutes.
Using a flat meat tenderizer or flat-bottomed glass, press the potatoes down to smash them slightly—just until the sides burst. Turn oven up to 500ºF, return pan to oven with potatoes and cook for 15 more minutes, turning halfway through to crisp both sides.
Meanwhile, rub a deep bowl with the cut sides of the garlic. Add an amount of olive oil double to the amount of juice from the lemon (so, 1 tablespoon of juice means you'll need 2 tablespoons of olive oil, and so on) to the bowl. Add the vinegar and whisk until it looks creamy—you've just created an emulisification (fancy word for properly blending the oil and vinegars). Season with salt and pepper to taste, remembering the potatoes have already been pre-seasoned in the pan.
Add the warm potatoes to the bowl with a bit of parsley and toss well to coat. Let sit for 5 minutes to soak up the dressing. Serve warm.
Some more potato salad ideas from my friends at Food Network's Summer Soiree:
Chez Us: Baked Potato Salad
The Heritage Cook: French Potato Salad with Haricot Vert (Gluten-Free)
Weelicious: Blue and White Potato Salad
Napa Farmhouse 1885: Mom's Potato Salad (the Best Ever!)
Red or Green: Spicy Potato Salad with Jalapeno and Vinegar Vinaigrette
Feed Me Phoebe: Healthy Greek Potato Salad
Elephants and the Coconut Trees: Creamy Potato Salad with Mint
FN Dish: 10 New Ways to Do Up Potato Salad