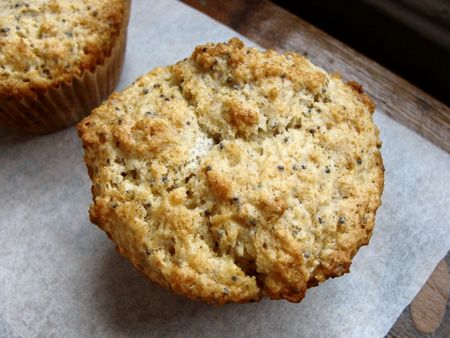 There was a period when my favorite lunch was a corn muffin and chicken soup. It was my senior year of college and one of my part-time jobs was working as a bank teller at Manufacturers Hanover Trust on 14th street in the city. 
I felt swanky commuting from campus at Brooklyn College in my business suit. Beneath the facade, though, was just a girl with simple needs. So simple, that my favorite lunch, when I wasn't brown bagging it, was at the local diner—a toasted muffin and bowl of chicken soup. It was a comforting and relatively inexpensive treat, especially on stressful days.
I still enjoy a bowl of chicken soup when the sniffles strike, but my love for muffins runs deeper than the occassional fever. Perhaps it's because I always fancied toasted muffins and a cup of coffee such a grown up thing to eat. Back then my favorite was corn, preferably split and crisped on a griddle—a totally different experience than simply popping in the toaster.
Not that I'm a fair-weather friend, but today there's something about a good lemon poppy muffin that makes me raise an eyebrow. And while Manufacturers Hanover Trust no longer exists—it merged with Chemical Bank which later became Chase, my affinity for a crisply toasted muffin with a thin smear of butter is still going strong.
New at Simple Scratch Cooking: crisp thin crust pizza.
lemon poppy muffins
makes one dozen
Two things you should know about these muffins. First, they follow my basic biscuit-style technique which means they're simultaneously a dense, flaky and tender crumb. They're also egg-free which is a bonus if you have an egg-allergy.

1 cup/4.25 ounces/120  grams all purpose white flour
1 cup/4.25 ounces/120  grams whole wheat pastry flour
1/4 cup/2 ounces/56 grams natural cane sugar
2 teaspoons/10 grams baking powder
1/2 teaspoon/2 grams baking soda
1 tablespoon/tk grams poppy seeds
Freshly grated zest and juice of 1 lemon
1/4 teaspoon/1 gram coarse salt
6 tablespoons/3 ounces cold butter, cut into 12 pieces
3/4 cups/168 ml) whole milk
makes 12
400ºF 18 minutes
Preheat oven to 400ºF. Grease one 12-cup standard size muffin tin or line with papers; set aside.
Add flour, granulated sugar, baking powder, baking soda, salt, poppy seeds and lemon zest to a deep bowl. Whisk to combine. Add butter and using a pastry blender, or your fingers (my preferred method), blend until it forms a sandy-looking mixture.
Combine the milk and lemon juice in a measuring cup. Pour over the dry ingredients and stir, using a wooden spoon, until just mixed and there are no visible traces of flour (the dough will be somewhat stiff, like a drop biscuit dough). Evenly spoon into the prepared muffin tins and bake 18 minutes, until tops are golden. Remove from oven and let cool 5 minutes in the tin, then transfer to a wire rack to cool a bit more before serving.
Make It Your Own
Instead of lemon zest, lemon juice and/or poppy seeds try these ideas for a variation on this citrus-inspired muffin:
orange zest, freshly squeezed orange juice, popy seeds
freshly squeezed orange juice, dried currants
lime zest, freshly squeezed lime juice, poppy seeds
lime zest, lime juice, shredded coconut