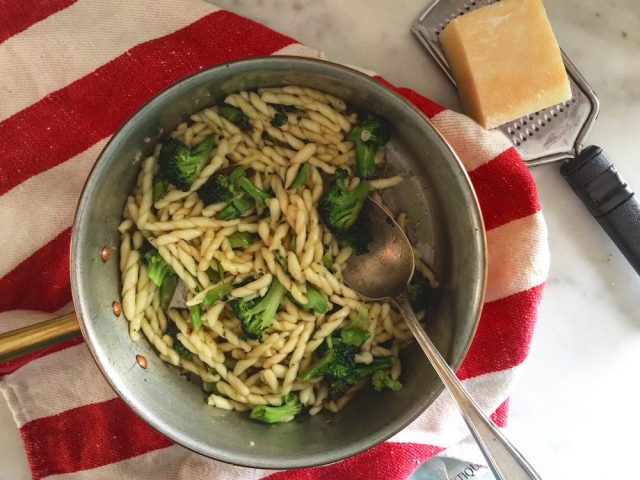 I was flipping through my cooking journal this morning, and was reminded of a lunch I made a few weeks ago I've been meaning to share with all of you. It's not a recipe, per ser, more of an idea. One you can translate into your own meal, using whatever pasta you have hanging around (preferably some cooked, leftover in the fridge). The star attraction for me in this dish is broccoli, but you can take a cue from an instagram acquaintance, and swap in Brussels sprouts.
So, what is about broccoli that makes me swoon? Why is this dish the one I crave when I want something that's both fast and satisfying? For one, broccoli is relatively inexpensive, especially if you choose the whole head, and not just the crowns. Really, though, this dish is about the method. It transforms broccoli from a rather humble, ho-hum afterthought into a complexly flavored main event.
The secret here is an extremely hot skillet. I suppose you can use cast iron if you like, but I tend to use a steel and copper skillet, one just large enough that I can eat from it, as often happens when I'm having lunch at home. There are no exact measurements here, so you need to be comfortable with cooking off the cuff, so to speak. Go with what feels right, using as much or little broccoli and pasta as you like. The great thing about cooking this way is it's easy to cook a meal for one without getting too caught up in a recipe. This is my approach most days come lunchtime.
I'd just made a pot of chickpeas the day before, and squirreled away the extra cooking liquid in the fridge. That's what I used to pull this pasta dish together. I highly recommended saving that broth from cooking beans, as it's very flavorful (read here how to cook beans from scratch). You can certainly use chicken or vegetable broth instead. A zested lemon sitting on the counter meant a squirt of lemon juice went into the pan to brighten things up. If you have a whole lemon, feel free to add some zest, too.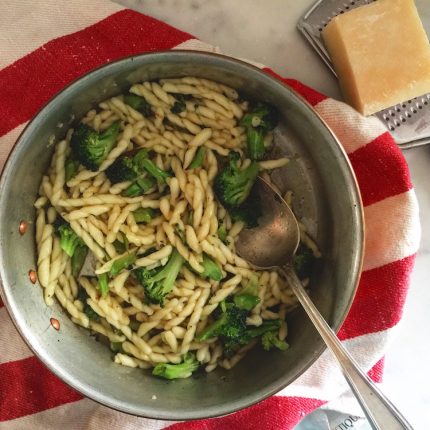 My Broccoli Crush...
Ingredients
Olive oil

Broccoli

chopped (florets & stems)

Leftover cooked pasta

Pasta cooking water or broth

vegetables, bean or chicken

Fresh lemon juice

Sea salt & black pepper

Freshly grated Pecorino cheese
Instructions
Get a dry skillet super hot over medium-high heat, and add a swirl of olive oil. Toss in chopped broccoli. Let it sit in the pan undisturbed for a minute or two until the broccoli is nicely singed.

Shake the pan to loosen the broccoli. At this point you can add some aromatics, if you wish (sliced garlic or shallots are nice). Add cooked, leftover pasta. Pour enough liquid create a scant sauce to coat the pasta. Stir in some fresh lemon juice, if desired. Season with salt & pepper.

Serve with a generous amount of freshly grated pecorino.
SaveSave
SaveSave
SaveSave
SaveSaveSaveSave
SaveSaveSaveSave