naughty & nice smashed avocado toasts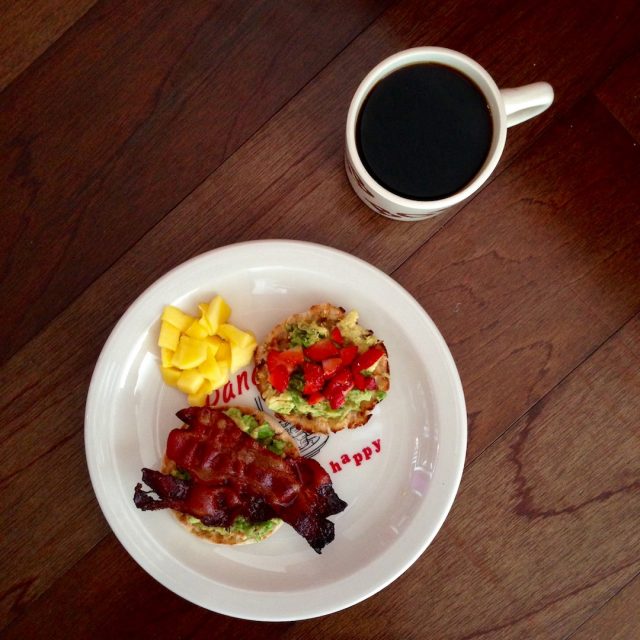 My mind is a browser with way too many tabs open today. It's all good stuff. I have an energy, emotionally and professionally, that's been lacking for a few years now. And, it's all thanks to him. My moments of insecurity crept in a lot the last few days. Worry of falling too fast, too hard, depending too much on his love to carry me; preparing myself for the moment he, too, disappears. It's hard to admit that. I want to live in the present, focus on the future. And yet my past haunts me.
In the time it takes to shop for groceries life as you know can fall apart. Do I have the strength to pick up the pieces, yet again, if destiny decides to deal a cruel hand? I don't know, really.
But I do know that I'm willing to take the chance. I was "all in" from the moment we began exchanging texts. Just thinking about the way he looks at me forces the fears from my head, and makes my lips curve upwards into a smile.
We had the great fortune of spending 10 days together, celebrating his birthday, our first Valentine's Day, and then a few days in Maryland with the girls. There are challenges ahead—distance, how to blend our families, how to step out of both our shells as single people and think as a "we". It won't always be easy, but it will always be worth it; experience has taught me that much about loving this deeply. I knew there was something very special happening from the moment we met, the way our hands felt made for each other as we walked down Fifth Avenue.
This morning I found myself thinking about breakfast at his place last week. He caught an early train to NYC for a meeting while me and the kiddos hung out at his place. I giggled a bit when I snapped the photos above. It's my first food shot here that was taken at his apartment. It doesn't look like anything fancy, but there's so much significance in it for me…there will be many more moments of me capturing moments like this at his place, in my new home away from home.
I had a few chopped strawberries from the girls' breakfast last week, and wondered what it would taste like with my smashed avocado on toast. I figured it would be either amazing, or awful, and there was only one way to find out. Surprisingly, it was the former. The sweetness of the strawberries, combined with the rich, creaminess of super ripe avocados, and some added brightness from fresh lemon zest perked me up on a cold, wintery morning. I couldn't stop there, and let my naughty side out by topping the other half of the English muffin with a bit of bacon. It was a yin and yang kind of breakfast. A little bit of naughty, a little bit of nice, and a reminder to just be happy in the moment.
One Year Ago: A Simple Roast Chicken

Two Years Ago: Chocolate Malted Waffles
Three Years Ago: Italian Fried Rice
Four Years Ago: Lemon Poppy Muffins
Five Years Ago: Homemade Vegetable Bouillon
Six Years Ago: Seriously Delicious Ribs
Naughty & Nice Smashed Avocado Toasts
Music Pairing: Where Is My Mind? by The Pixies / Where Is My Mind? by Sunday Girl
Okay, so this really isn't a recipe. It's a suggestion, and one I hope you give a try. This is what you'll need:
very ripe avocados, cut in half & pitted
salt flakes
freshly grated lemon zest
chopped fresh strawberries
good quality olive oil, optional
crispy bacon
toasted english muffins or thick-cut country bread
It might be fun to set this up as a breakfast buffet, and let everyone top as they wish. My kids would probably just go for the bacon, but that's fine—it means more avocado for me!
Scoop the avocado out with a fork, and smash as much of it as you want on the toasted muffin or bread. Top with salt, lemon zest, and strawberries. Swirl a bit of olive oil on top, if you wish. If using the bacon, skip the fruit, zest, salt, and oil.