My Current Banana Bread Obsession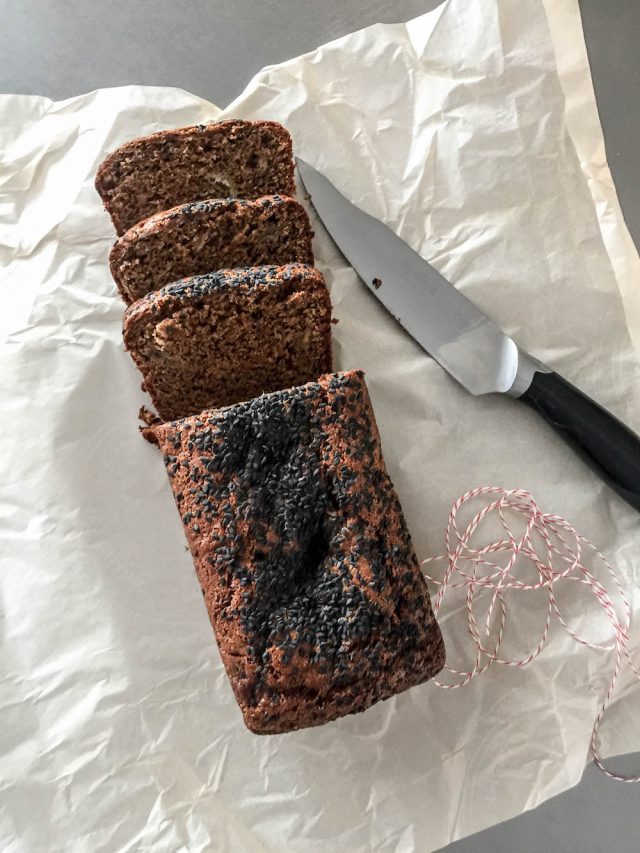 In clearing out the freezer a few days ago, I found a ridiculous stash of frozen brown bananas my past self squirreled away. Banana bread used to make a regular appearance a few times a month around here, and then my kids actually started eating them, leaving me with nary an overripe banana on the kitchen counter. And well, those frozen ones were buried so far back I'd totally forgotten about them.
The lack of banana bread baking was soon remedied after making not one, but two loaves of my recent favorite: Tahini Buckwheat Banana Bread. The recipe is less than a year old, one I created last April. I'd forgotten just how much I love it, the flavors straddling the lines between sweet and savory. Black sesame seeds peppered throughout the batter and generously dotting the top of the loaves.
I'd oddly enough run out of regular sugar, so swapped in coconut sugar with a smidge of molasses. Worked perfectly, and you could even leave out the molasses if you don't have it on hand. The banana bread isn't gluten-free, though, as it does have some regular all-purpose flour mixed in with the buckwheat. If sub in some GF flour, please share results in the comments.
One loaf went to work with me, and was promptly devoured. The other I made for us to enjoy at home. We blew through half of it while still barely warm. The leftovers wrapped in parchment paper provided enough camouflage to shield it from my children while I was at work. In fact, it's worked so well, there's still a small wedge waiting for me to nibble on with some afternoon tea.
And lucky for me, when that last bit is gone, I've three remaining overripe bananas waiting in the freezer to make another loaf.
Recipe for Tahini Buckwheat Banana Bread
More Banana Bread Recipes here!
10 Years Ago: Seriously Delicious Ribs, Recycled Breakfast