Tahini Buckwheat Banana Bread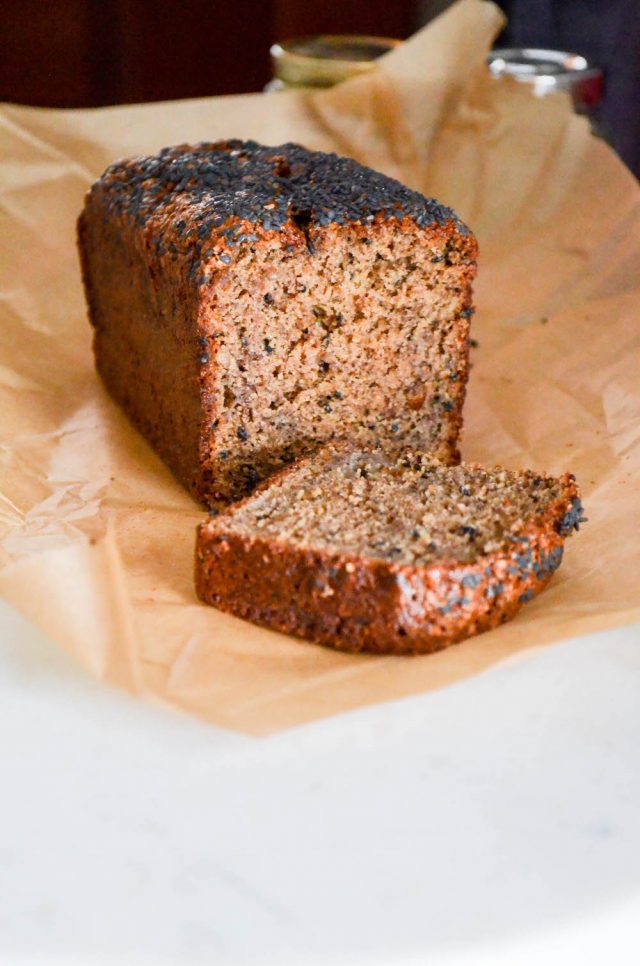 Come Saturday, my mission in the kitchen is singularly focused on using up any ingredients lingering in the fridge or counter that have a shelf life. This goes for leftovers squirreled away in containers, bits of bread on the counter, the never ending head of red and green cabbage (seriously, it takes forever to go through them unless I'm lucky enough to find small ones at the market), and bananas. I figured many of you might find yourselves in the same situation, making this Tahini Buckwheat Banana Bread a timely recipe to share for a weekend baking project.
Banana bread, like most quick breads, comes together fast enough to free you up to accomplish weekend chores, or even better—enjoy a sunny, blue-skied day doing something relaxing and fun. I'm so hoping to get out for a walk today, and it's well-deserved after scrubbing the bathroom, and freeing the rest of the house from dust bunnies. 
Before I head out, though, let's talk about this Tahini Buckwheat Banana Bread.
Why another banana bread when I already have all these recipes on the site? If pressed to choose an all-time favorite, the Buckwheat Banana Bread would be the winner. So, one day I wondered if I could up the ante even more, and make my favorite banana bread recipe even better. To all the other banana bread recipes on the site, don't worry, I love you too (especially you, Cherry Chocolate Banana Bread!), it's just me and that buckwheat one have something special going on I can't quite explain.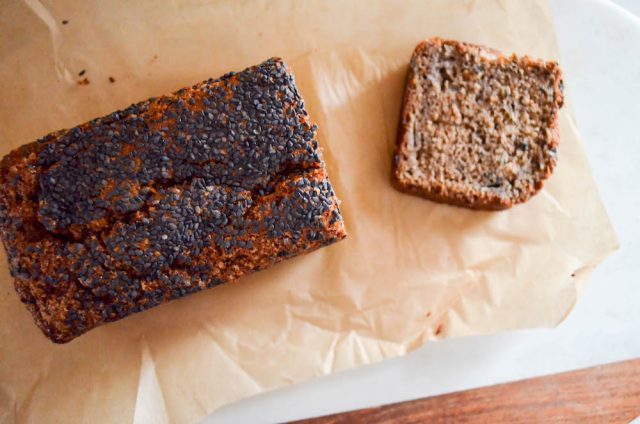 I love sesame seeds, in all forms, and that includes tahini. I decided to give my beloved banana bread recipe a little makeover, and worked on a version that replaced the melted butter with a combination of tahini and oil (any neutral tasting oil, meaning not olive oil).
I also wanted to add a little texture, and added some black sesame seeds to the batter and the top of the loaf before baking. Don't worry if you can't find black sesame seeds—blonde, unhulled sesame seeds work fine, too, and can usually be found in the bulk section of most health food stores. Hulled sesame seeds could work, I suppose, but I find them to be a lot more delicate, and think they might get a little lost in the batter.
The big surprise came when the kids tasted a slice. Like their mama, that Buckwheat Banana Bread is their favorite, and I was a little worried what they'd think about me tinkering with it. Their verdict: amazing!
Hope the weekend is a great one, filled with peace, sunshine, and lots of good eats.
xo-Jennie
p.s. you'll notice a new feature on the site here. If you feel inspired to make a contribution to support the work that goes into developing quality recipes and writing with sincerity and honesty, please accept my deepest thanks and gratitude. Above all, thank you for letting me into your homes and hearts through my recipes and essays.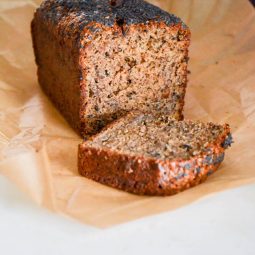 Tahini Buckwheat Banana Bread
Ingredients
¾

cup

150 grams brown sugar

1

large egg

3

tablespoons

48 grams tahini, well-stirred

2

tablespoons

oil

grapeseed, sunflower, or canola

½

teaspoon

5 ml vanilla extract

½

cup

70 grams flour

¼

cup

30 grams buckwheat flour

1

teaspoon

5 grams baking powder

¼

teaspoon

2 grams baking soda

¼

teaspoon

1 gram salt

4

teaspoons

18 grams black sesame seeds, divided

3

very ripe bananas

mashed (258 grams)
Instructions
Preheat the oven to 350ºF. Line one 8-inch by 4-inch by 2-inch loaf pans with a piece of parchment long enough to hang over the sides (this helps to lift the cake out of the pan easily).

In a large bowl, add the sugar, egg, tahini, oil, and vanilla. Beat with a whisk until well combined.

Add the flours, baking powder, baking soda, salt, and half of the sesame seeds. Stir with a wooden spoon or spatula, just long enough until blended, and there are no visible signs of flour in the batter (it will be stiff).

Fold the bananas into the batter.

Scrape the batter into the prepared pan. Sprinkle the remaining sesame seeds on top. Bake 45 to 50 minutes, until a metal skewer inserted in the center comes out clean. Set the pan on a wire rack, and let cool for at least one hour before slicing. The cake will stay fresh, wrapped tightly in parchment paper, for up to three days.
SaveSave
SaveSave
SaveSave
SaveSave