Last week I found myself with some mandatory slowing down time while I tended to a terrible cold. With my actual cold came colder temperatures outside, along with more ice and snow. I'm so over winter at this point, I'd barter a bit of my soul in exchange for an early spring.
The reality, though, is that we've at least one more month of winter to go (maybe even two), so I shall brace myself. 
I knew I was on the road to recovery Thursday afternoon when I decided it was easier to make some homemade throat lozenges than drive out to replenish the dwindling bag by my bedside. Truthfully, it was actually the easier of the two options considering the closest "store" is a gas station five miles away, and would require putting on clothes.
These sage & honey cough drops took all of 10 minutes to make, and if we're being honest were made while wearing flannel pajamas.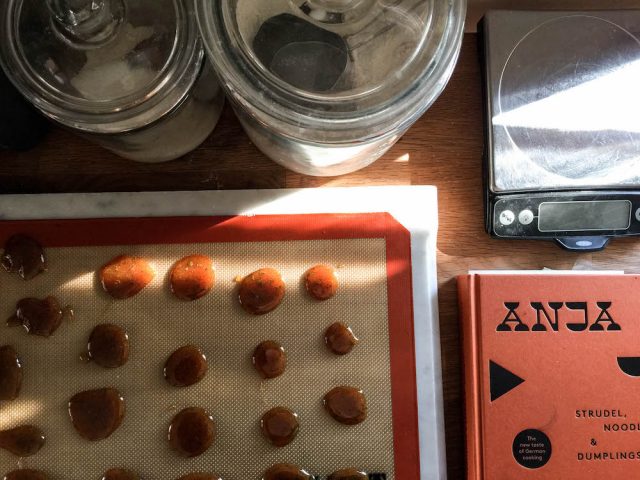 I'd made a couple batches of homemade cough drops a few months ago, and had been meaning to make more but never got around to it. Those early experiments involved starting off with a homemade tea of lemongrass and thyme from the garden, and the addition of lemon, ginger, and marshmallow root from the health food store. They were great but the two-step process of making the tea and then turning it into a candy for the drops felt a little tedious.
Then Anja Dunk's newish cookbook came in the mail a few weeks ago, and in it is a recipe for sage & honey throat sweets. No need to make a tea beforehand, and what I was especially intrigued by is her daring nose up to decades of confectionary making but swearing you don't need a candy thermometer to make them.
This is mostly true provided you've made candy beforehand, or at least caramelized sugar. Her recipe is only foolproof if you've keen a sense and confidence in the kitchen, partly due to the differences in gas ranges vs. electric ranges combined with the size pot you use (her recipe simply calls for a pot with no indication of size).
Intricate, yet I think important recipe writing details aside, her recipe is lovely and a blank canvas of sorts to springboard into your own variations, as I did.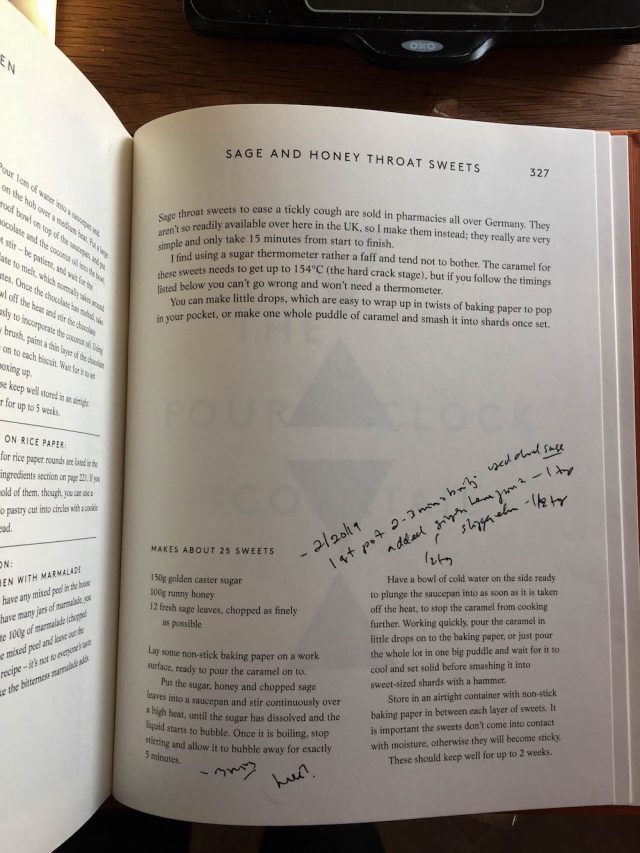 You start by adding sugar, honey, and sage leaves to a pot (I used a 1 quart pot). Stir until the sugar dissolves and it comes to a boil, then let it boil away until it reaches the hard crack stage (154ºC/309ºF), which Dunk says takes exactly five minutes. Of course, size matters here, I wonder if she used a smaller sized pot since I could tell from the burnt caramel scent that mine was ready to take off the burner at about 4 minutes. In candy making, that extra minute could be disastrous.
Another interesting but is Dunk directs you to have a cold bowl of water at the ready to place the bottom of the pot in to stop the cooking process. I've never seen this before in hard candy making recipes, and it's both genius and a little challenging because you have to work incredibly fast at pouring the drops out before it thickens and hardens to the pot, so be forewarned.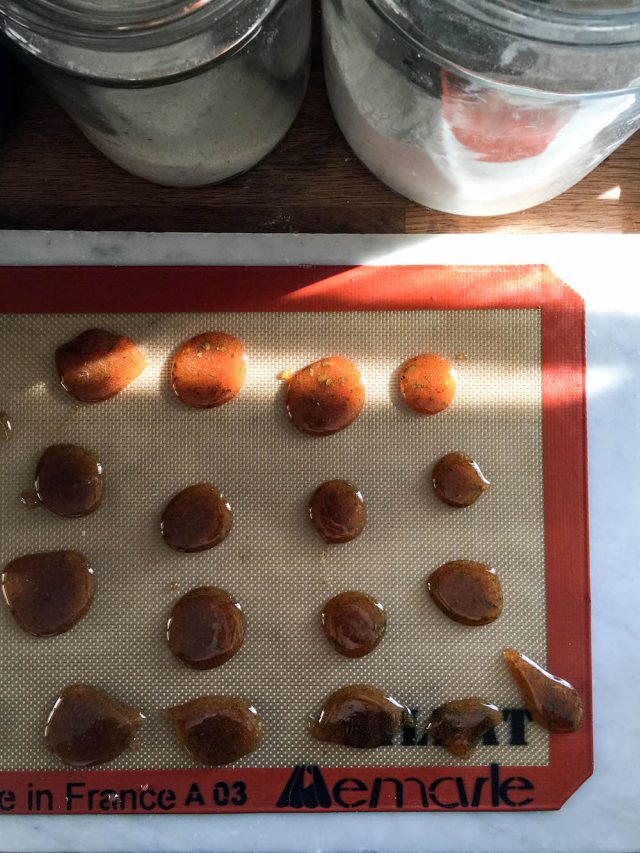 Dunk's recipe calls for fresh sage leaves. My sage bush is buried under the aforementioned snow and ice, so I used some from the dried bunches hanging in the back porch. I crushed them in the palm of my hands, and sprinkled them into the honey and sugar along with some fresh grated ginger and a few squeezes of lemon juice.
In my second batch, I upped the ginger substantially, was a little more liberal with the lemon, and decided to add some slippery elm I had hanging around, too, which helps sore throats. I also let the mixture boil away for only three minutes, resulting in a chewier cough drop akin to Pine Bros., my absolute favorite cough drop when I was a child.
The drops should be wrapped individually in nonstick parchment, or tossed with confectioners' sugar to keep them from sticking. You could use candy molds for them, or just spoon onto a silicon liner as I did (and Dunk suggests, too). Rather than write the recipe up formally, you can see Anja's recipe in the photo above with my handwritten scribble.
I'm not quite sure how many of Anja's other recipes will work their way into my everyday cooking because truthfully, they all feel a little more time-intensive than I have these days given my commute and work schedule. Still, it's a beautiful, idyllic read, and the flavor combinations are very inspiring.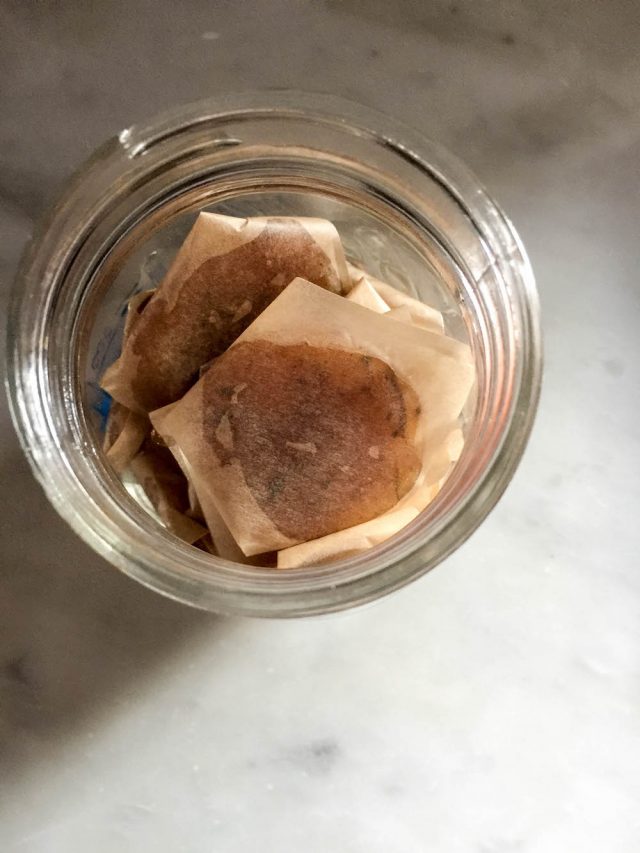 10 Years Ago: Seriously Delicious Ribs, Recycled Breakfast