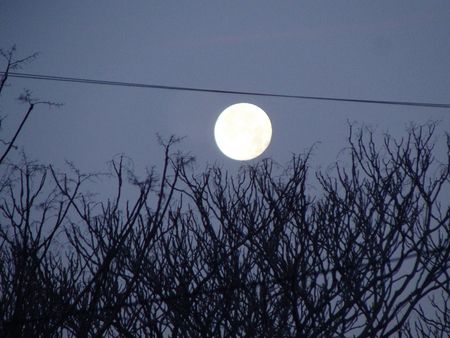 I pulled the curtains back after waking the girls last week, and happened upon this sight through their bedroom window. It was that moment after dawn, with the moon dipping into the horizon. A real-life variation on Margaret Wise Brown's childhood classic.
I called the Mr. and girls, then ran for the camera to capture this picture to help savor the memory. It set us back 10 minutes in our busy morning routines, but some things are just worth it.
The last couple months have been about taking time to appreciate moments like this more. There are many things that vie for my attention, and in the past I've been all too guilty of focusing on the wrong things. It was a welcome break to take the Christmas holiday to be with my family. If you're wondering what four pounds of hand-cut homemade pasta look like, here you go.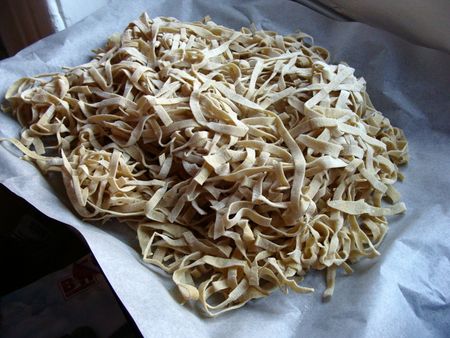 I must confess, I spent the last few months doubting myself. I have this project I've been working on, but competing in a crowded market where stats weigh just as heavily, sometimes more, than years of experience, has made the road a little more challenging to navigate.
Regardless, the last year has renewed my belief that there are droves of people out there just like me. People who want to cook. People who know fast food can be had in the comfort of their own kitchen, not a drive-thru window. I know the cookbook I want to write is one you all want to own.
So instead of a recipe today, I'm making you a promise for 2011. I will keep pushing on. I will have the patience to wait for the right agent who believes in me as much as all of you do. In the meantime, I'm going to ask one favor of you. Tell me what recipe or technique frightens you most? I want to help clear the smoke and mirrors of cooking from scratch. All you need to bring to the table is a hunger for real food, made from real ingredients. I'll help fill in the blanks.
One last bit of news I'd like to share before closing the book on 2010. This December, Yahoo! gifted their Motherboard members with seed money to help start our own Ripples of Kindness. I matched their $100 with an additional $125 earned from my Platefull advertisements. Together we helped brighten the season for four families less fortunate at Isabella's school, a kind-hearted fellow at the local CVS, helped Erin get closer to her goal in her fight against Lupus, and granted a few charity wishes to help Haven Hospice, St. Jude Children's Hospital, and Citymeals-on-Wheels.
What people often forget, though, is that these organizations, and many others need our help year-round. Starting in January, I'm pledging 20% of my monthly blog revenue to a different charity each month. My hope is that each ripple I start becomes a tidal wave of hope for a better tomorrow.